Technology
Ultra HD streaming explained
Ultra HD, which offers four times the resolution of 1080p HD, is the future of television. But how are you going to get 4K content to your brand new set?
Wednesday, January 15th 2014, 2:45 pm EST
Updated:
Wednesday, January 15th 2014, 5:01 pm EST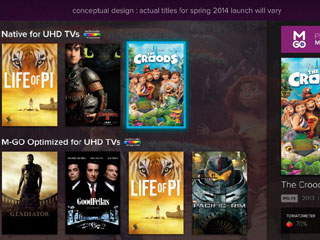 By Caleb Denison
Provided by



You couldn't take six steps at CES 2014 without running into something that had to do with Ultra HD 4K technology. Ultra HD, which offers four times the resolution of 1080p HD, is the future of television, and manufacturers of everything from televisions to Wi-Fi routers wanted to show off support for the new standard. But for consumers, many questions remain. Last year, one of the big questions was: Where's the content? This year, the industry answered: It is coming. And, for the most part, it will be streamed.

But an answer like that pries open a whole new can of worms. Who will stream it? How much bandwidth will it require? Will it be compressed? What will compression do to the picture quality? These are all good questions, and after putting them to execs from the industry's biggest players at CES, we know the answers.


Which companies will stream Ultra HD 4K content?
Netflix, Amazon, M-GO and YouTube are the four biggest streaming platforms with plans to stream Ultra HD 4K content this year. Expect a slow start from Netflix, as it is banking on a handful of nature documentaries and the second season of its original series, House of Cards, to get things started. Things look a little more promising with Amazon – at least at the start – as it has announced partnerships with Lion's Gate, Warner Brothers, 20th Century Fox and Discovery. M-GO is backed by Technicolor and Dreamworks Animation, so we can likely expect plenty of 4K animated features there. As for YouTube, it appears to be partnered with Sony, though it is unclear how Sony will reconcile any content it distributes through YouTube with its own Video Unlimited service, which is designed specifically for Sony TV owners.


What kind of TV will I need?
Broadly speaking, you'll need a 2014 Ultra HD television. The Ultra HD TVs that were released in 2013 (which are still being sold today) will not support the apps or the decoding chips necessary for viewing streaming Ultra HD out of the box. It is possible that manufacturers will have a fix in place for early adopters. Samsung, for instance, may offer an upgraded 'One Connect' breakout box to those customers who purchased a first-generation Ultra HD set.