Sales - Money
Make the most of your tax refund
6 ways to use Uncle Sam's check.
Monday, April 7th 2014, 10:11 am EDT
Updated:
Thursday, March 23rd 2017, 1:09 pm EDT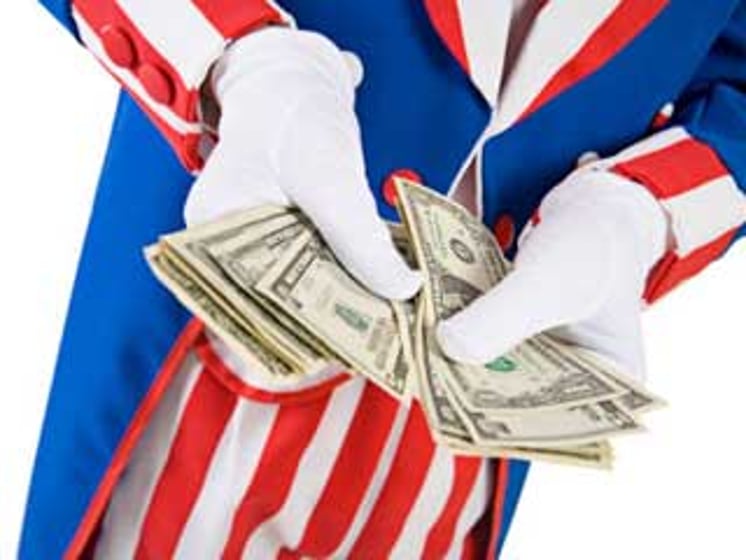 The jury is still out on this year's tax totals, but for the 2012 tax year, the Internal Revenue Service (IRS) paid close to $323 billion in individual tax refunds to 121 million taxpayers. That makes the average tax refund nearly $2,700. If you are on the receiving end of a refund like this, you may be tempted to splurge – perhaps on a vacation, flat-screen television, new clothes or other. But before you do, remember that this is money that you should have been receiving and using throughout the year to pay off debt or bolster your savings. The fiscally smart move is to treat a tax refund as you would a paycheck. That means taking one or more of these suggested actions and putting the money to good use.
Lighten your debt load. Up to 42 percent of tax filers use their refunds to pay down high-interest consumer debt. That is a wise decision given that credit card debt tends to come with an average 13 percent annual percentage rate. Paying down credit card debt reduces the amount of interest you owe and leads to a smaller minimum payment. In addition, your credit score may improve. If your credit cards are already under control, you can make additional payment(s) to a student loan or car loan if you have those debts.
Shore up savings. Use your tax refund to ensure you are well protected in the event of an unexpected emergency such as a medical crisis or job loss. Your goal should be to have at least six-nine months of monthly expenses set aside in an emergency fund. If your emergency fund is already robust, consider investing your refund in your retirement savings, which may be an individual retirement account (IRA), 401(k) or other vehicle. As a bonus, you may be able to deduct this year's contribution from next year's income taxes.
Invest in education. Use these funds to open a 529 college savings plan or add to an existing one (for your own child, or the child or a relative or friend). The money saved in these accounts can be used for educational purposes only. Another option is to sign up for continuing education courses that will help you land a promotion (and a pay raise) or help secure a job in a better-paying field.
Maintain your home. A tax refund can go to good use by taking care of neglected home maintenance issues. Certain home improvements, like the installation of energy-efficient windows and doors, can trim heating and cooling costs. In addition, you may be able to apply federal tax credits toward next year's taxes. Now also may be a good time to increase the value – and/or usefulness – of your home by spending the money on more major projects like finishing a basement.
Make an extra mortgage payment. You can apply additional payments directly to your loan's principal. This ups the equity in your home while reducing the amount of interest you owe on the loan. Even better, it means you will be able to pay off the loan a little faster. As a bonus for your security, this extra money could be available to you should you ever need to borrow from your home's equity.
Tie up loose ends. Invest in life insurance if you have not already done so. This is the best way to ensure that your spouse will be able to meet joint financial obligations should you die. Single people also may need life insurance. Without it, your parents or siblings could be liable for your debts, including funeral expenses. A will is another necessity. It helps make clear who inherits your assets upon your death (otherwise, it is up to the state to decide). You may need to hire a lawyer to learn about establishing trusts. Otherwise, it's also possible to draft a will via sites like Nolo and LegalZoom.
It is certainly more fun to get a check from Uncle Sam than to write one. However, a large refund is an indication that too much money is being withheld from your paycheck. In essence, you are giving the government an interest-free loan. Use the IRS Withholding Calculator to adjust your federal income tax withholding allowances if you would rather see more in your paycheck each month than receive such a big refund at next year's tax time.

Andrew Housser is a co-founder and CEO of Bills.com, a free one-stop online portal where consumers can educate themselves about personal finance issues and compare financial products and services. He also is co-CEO of Freedom Financial Network, LLC providing comprehensive consumer credit advocacy and debt relief services. Housser holds a Master of Business Administration degree from Stanford University and Bachelor of Arts degree from Dartmouth College.