Entertainment
Quentin Tarantino starts working on film about the Manson Family murders
Quentin Tarantino's account of the Manson Family murders should be spectacular, with big names like Margot Robbie and Brad Pitt rumored to be involved.
Updated:
Thursday, July 13th 2017, 9:36 am EDT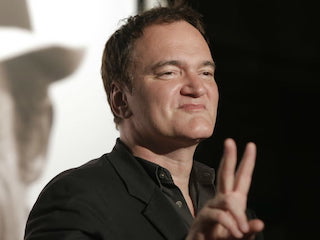 After a hiatus of nearly two years, it looks like famed filmmaker Quentin Tarantino is ready to get back in the saddle. According to The Hollywood Reporter on Tuesday, the Pulp Fiction director is in preproduction on a film centered on the murders committed by Charles Manson and the Manson Family during 1969.
Harvey and Bob Weinstein, executive producers on many of Tarantino's projects, are reportedly involved as well. Tarantino and talent agency WME are currently looking for financiers and distributors for the movie, which is slated to begin shooting sometime in 2018, assuming all goes well.
It is unclear if the movie will cover the full spectrum of Manson murders (which took place over the course of six months) or whether it will be focused on one particular incident. Rumblings have suggested that actress Sharon Tate's murder — possibly the most infamous — could be Tarantino's focus. Like many of the crimes committed by the Manson Family, Tate's murder was particularly grisly — four Manson Family members carried out the murders of Tate and four others using firearms, knives, and other weapons. Tate was eight months pregnant at the time of her death.
Tarantino is known to prefer actors with whom he has previously worked. That long list includes Pitt (Inglorious Basterds) and Samuel L. Jackson, who has played substantial parts in several of the director's films and is also rumored to be involved in the upcoming Manson movie. Pitt starred in War Machine — a satirical Netflix production — earlier in 2017 but otherwise has no confirmed acting roles before the scheduled 2019 sequel to World War Z.
Jackson has a full slate of films on the horizon, with Avengers: Infinity War and The Incredibles 2 on the docket for 2018, and Captain Marvel — plus an untitled Avengers film — the following year. Jennifer Lawrence has also reportedly been approached, though sources say she is not considering the Tate role.
The film will mark the first time Tarantino has based a project on a true story. The director is definitely not afraid of approaching controversial topics; many of his films explore themes of racism, drug use, and sexuality — not to mention his gratuitous use of graphic violence, which has earned both praise and scorn from critics in the past.