Entertainment
'Knight Rider' reboot is on the way, and it could star John Cena, Kevin Hart
Are you a fan of John Cena, Kevin Hart, and 'Knight Rider.' A forthcoming feature-length reboot could combine all three.
Updated:
Thursday, August 24th 2017, 7:54 am EDT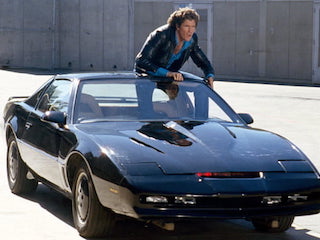 Superhero flicks aren't the only ones getting fresh coats of paint, either. The Weinstein Company has their eye on ultra-popular 1980s cop show Knight Rider, and is planning a comedic take on the show, in the same vein as Phil Lord and Christopher Miller's 21 Jump Street. Screenrant reported Tuesday that the studio hopes to snag WWE superstar John Cena to play Michael Knight (portrayed by David Hasselhoff in the original series) and comedian-slash-actor Kevin Hart to voice his car, KITT.
In recent years, Cena has followed the path set by The Rock — er, sorry, Dwayne Johnson — back in the early 2000s, splitting time between the wrestling ring and the silver screen. He's appeared in both comedic roles (Trainwreck) and dramatic ones (The Wall). Earlier this month, he signed on to the Transformers spinoff Bumblebee, due out in December 2018.
Hart, meanwhile, rose to fame as a stand-up comedian before settling into his role as Hollywood's go-to short guy, vacuuming up roles alongside badass co-stars like Johnson (Central Intelligence) and Ice Cube (Ride Along). He currently has the lead role in BET's parody series Real Husbands of Hollywood.
If the movie actually gets made, it'll be a minor miracle, considering the litany of failed Knight Rider reboots. A 2008 series on NBC crashed and burned after just one season, and a Justin Lin-helmed Machinima webseries failed to gain traction last year. Hell, even Hasselhoff himself approached Robert Rodriguez about producing a dark, Logan-inspired take on the franchise.
Given the show's goofy concept (and the fact that talking cars are now commonplace), a Jump Street-style comedy seems like a good fit, with both Cena and Hart possessing serious funnyman chops. There's no guarantee of success, however, as similar reboot projects like Baywatch (hi again, Rock!) and CHIPS failed to impress this year.