Entertainment
Lowest box-office weekend since 2001 puts Mayweather vs. McGregor in top 10
The lowest box-office weekend since 2001 pushed a theatrical screening of the Mayweather-McGregor fight into the top 10 movie rankings.
Updated:
Tuesday, August 29th 2017, 9:19 am EDT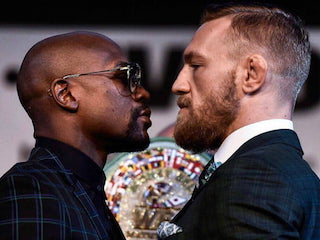 Whether it was the effects of Hurricane Harvey, the draw of the highly publicized boxing match between Floyd Mayweather and Conor McGregor, or simply a lack of appealing films at theaters, the August 25-27 box-office weekend was one of the worst in more than 15 years.
Those low marks give the August 25-27 weekend the worst box office since the weekend of September 21-23 in 2001, when the total box office generated just $59 million overall and the top 12 films earned just $43.5 million. That weekend was led by Keanu Reeves' sports drama Hardball. The previous low mark was set a year earlier when the top 12 films generated $37.9 million and the total box office tally was $53.7 million for the weekend of September 15-17, 2000.
While The Weinstein Company's animated feature Leap! (known as Ballerina outside the U.S.) took advantage of the box-office lull to post a $5 million opening weekend, the weekend's list of highest-grossing movies was particularly noteworthy for including the aforementioned Mayweather-McGregor boxing match. The event was shown in more than 500 theaters as part of a Fathom Events promotion, and earned approximately $2.6 million — averaging $4,884 per theater. That impressive per-theater total — even in the midst of a box-office lull — suggests we could be seeing more events like this down the road.
This upcoming weekend is likely to be another slow one in theaters,with no high-profile films arriving in theaters. The biggest draw is likely to be the raunchy comedy The Layover, which features Alexandra Daddario (True Detective) and Kate Upton (The Other Woman) as a pair of friends competing for the affections of the same guy during an unplanned layover in St. Louis.