Entertainment
Sony pulls Kevin Spacey's 'All the Money in the World' from film festival
The list of high-profile projects affected by the molestation and sexual harassment allegations against Kevin Spacey is growing, and now includes a film that had previously been surrounded by Academy Award buzz
Updated:
Wednesday, November 8th 2017, 7:43 am EST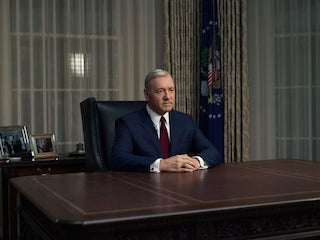 After Spacey was dismissed from House of Cards by Netflix and had his upcoming Gore Vidal biopic dropped by the company, his upcoming film All the Money in the World — which casts him as oil tycoon J. Paul Getty — has been removed from the American Film Institute's annual festival by Sony Pictures. The studio also ended its Academy Awards campaign for the film, although the movie will still get a theatrical release on December 22.
"All the Money in the World is a superb film and more than worthy of its place of honor in the AFI Fest," Sony said in a statement issued to Variety. "But given the current allegations surrounding one of its actors and out of respect for those impacted, it would be inappropriate to celebrate at a gala at this difficult time. Accordingly, the film will be withdrawn.
"However, a film is not the work of one person. There are over 800 other actors, writers, artists, craftspeople and crew who worked tirelessly and ethically on this film, some for years, including one of cinema's master directors," continued the statement, alluding to the involvement of director Ridley Scott. "It would be a gross injustice to punish all of them for the wrongdoings of one supporting actor in the film."
Spacey was initially accused of making a sexual advance toward Star Trek: Discovery actor Anthony Rapp when the latter actor was just 14 years old, and several additional actors have come forward recently with additional allegations of sexual harassment against the former House of Cards star. The actor's apology, issued shortly after the initial accusation was levied against Spacey, earned him additional criticism.
Netflix previously announced that House of Cards would conclude after its upcoming sixth season in the wake of the scandal, but indicated that spinoffs from the popular series — which won't include Spacey's character, of course — are being developed. There is also talk of Spacey's character meeting an untimely end during the upcoming season in order to wrap up his story arc as swiftly as possible.