Entertainment
Amazon shuts down Anime Strike channel, rolls it over into Prime Video
Less than a year after it premiered, Amazon is shutting down its Anime Strike channel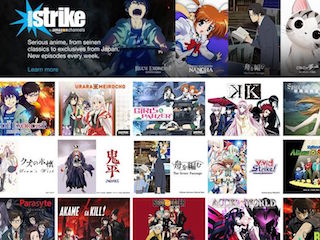 Less than a year after it premiered, Amazon is shutting down its Anime Strike channel, which offered more than 1,000 episodes and movies for fans of the Japanese animated style. In addition to classic hits like Tokyo Godfathers and Paprika, the channel was also home to streaming exclusives for the U.S. market like Scum's Wish, Onihei, The Great Passage, Vivid Strike!, Crayon-Shin Chan Gaiden: Alien vs. Shinnosuke, and Chi's Sweet Adventure.
The news will come as a double-edged katana for anime fans, however, as all the content from Anime Strike will be moved under the umbrella of Prime Video, along with the niche Bollywood channel Heera.
"We have decided to move the curated catalogs of Anime Strike and Heera into Prime Video so that more customers can enjoy this content as part of their Prime membership," an Amazon spokesperson confirmed to Kotaku.
Forbes reports that all active Anime Strike memberships have been discontinued as of January 5. "Amazon has notified subscribers that content from Anime Strike is now available in Prime Video and included with their Amazon Prime membership. Amazon also automatically canceled their Anime Strike subscriptions, refunding any portion of their final monthly payment that extends beyond Jan 5th," the company said.
Despite its impressive lineup, Anime Strike never caught on with fans when it was launched to compete with Crunchyroll, Funimation, and Netflix's own anime offerings. A primary objection was the double-whammy tier pricing — on top of the $99 yearly Prime membership, Anime Strike cost an additional $60 per year ($5 per month). Many viewers complained that there was no ad-supported free viewing option.
In addition, the search function was unwieldy, and it was difficult to find shows amidst the clutter of manga and related merchandise in the Amazon store. Anime Strike was also only available in the U.S.
It's unclear what this means for the future of anime on the platform, as Anime Strike was the first branded on-demand subscription service for Amazon. It was obviously spending some money for all those exclusives, and as recently as a few months ago, was touting the popularity of the channel.
"Anime Strike is performing great. Signups are higher than initial projections as we add more content and more features," Amazon told Forbes in May. "Besides new episodes every week and new shows every season, we've been able to introduce new things that anime fans weren't able to get before."
So if you didn't have an Anime Strike account, now's the perfect time to click over to Prime Video for some anime binge watching.