Education
SUNDAY EDITION | Steep attendance drop for Louisville football games raises questions about stadium expansion
Louisville home football game attendance fell sharply last year, even as a $63 million expansion of Papa John's Cardinal Stadium is underway. Was the project needed?
Friday, February 2nd 2018, 9:02 pm EST
LOUISVILLE, Ky. (WDRB) --  In 2014, when then-University of Louisville athletics director Tom Jurich and his staff were weighing a second expansion of Papa John's Cardinal Stadium, they hired a consulting firm to evaluate demand for additional seats.
With Louisville about to enter the vaunted Atlantic Coast Conference, "it is reasonable to assume the average attendance will continue to grow with higher profile teams coming to play at Papa John's (Cardinal) Stadium," Chicago-based Johnson Consulting Inc. wrote in the June 2014 report.
Jurich chose a significantly larger and more expensive expansion than the consultant recommended, adding 10,000 seats to the 55,000-seat stadium at a cost of $63.25 million. I 
The project to enclose the north end zone is now scheduled to be done ahead of the Cards Sept. 8 home opener against Indiana State.
But despite the rosy predictions,  football attendance has been uneven during U of L's first four ACC seasons, at least according to official "announced" figures, which are loosely estimated.
And just as construction in the north end zone ramped up last season, Louisville's home crowds dropped sharply, leading to what interim Louisville athletics director Vince Tyra calls the "obvious question" of whether the additional 10,000 seats will be filled. 
Officially, Louisville's average per-game attendance fell to 46,160 in 2017, from 54,065 in 2016.
But those "announced" figures don't tell the whole story. They are merely estimates, according to athletics department spokesman Kenny Klein, that include not only fans at the game but also non-ticketed people such as concession workers, security and media, and – paradoxically – "no shows."
The number of ticketed patrons coming to games was much lower, and dropped even more sharply last season than the official "announced" attendance, according to figures obtained under the Kentucky Open Records Act.
On average, 33,785 ticketed fans showed up to Louisville home games last year, down from 41,928 in 2016, according to the "scanned" ticket figures provided by the athletics association.
Louisville officials are quick to point out that a severe storm kept many fans away for the home finale against Syracuse on Nov. 18 – when only 19,715 tickets were scanned, according to the figures. The weather ultimately forced a brief stadium evacuation.
But even if that game were excluded, ticketed attendance still dropped to an average of 36,598 in 2017, a 13 percent decline.
Victor Matheson, a sports economist at College of the Holy Cross in Worcester, Mass., warned against making too much of any single season's attendance.
"One year does not a trend make," he said in an interview.
The Cards also failed to live up to expectations in their final season with Heisman Trophy-winning quarterback Lamar Jackson, finishing with a record of 8-5. And other than ACC champion Clemson, which visited Louisville for the biggest matchup in week three of college football, the Cards didn't have a marquee opponent at home.
When deciding on stadium capacity, athletics officials have the unenviable task of predicting demand 10 to 30 years in the future, Matheson said, when attendance naturally "bumps around year to year."
While both ticketed and official attendance dropped by double-digit percentages in the 2017 season, Louisville still sold an average of 51,147 tickets per game, a drop of only 3 percent from 2016.
What should be troubling, Matheson said, is the number of Louisville fans that didn't show up to games last season.
"Where you do worry is that a person who buys that ticket and never uses it all season. That would be a clear concern to any athletic director," he said.
While last season's drop was acute, declining football attendance isn't unique to Louisville.
NCAA figures show official per-game regular season attendance for the roughly 130 teams in the top-tier Football Bowl Subdivision dropped by 1 or 2 percentage points in each of the last four seasons for which data is available, to an average of 43,070 in 2016.
Average attendance appeared to decline again in 2017 to 41,694, according to WDRB's analysis of team-by-team figures available on the NCAA's website.
Tyra won't say if expansion was right call
Tyra, a Louisville businessman who stepped in for Jurich on a temporary basis last year, refused to defend the decision to expand the stadium, calling it "water under the bridge" in an interview last week.
"I know the expansion is going on and I see empty seats; it's the obvious question," Tyra said. "But, am I going to go back and try to undo the stadium (construction) and tear it back down? No. We're going to take it from here. It's a situation we have and we're going to figure out how to create business and marketing plan around what we have."
Jurich, who is in a legal fight with the university over his firing, did not respond to a request for comment relayed through his spokesman, Bob Gunnell.
On Friday, Tyra terminated Jurich's son, Mark, who spearheaded the stadium expansion project from his position as associate athletics director for development. Mark Jurich and two high-ranking athletics officials were let go in a "restructuring" of the department, with no explicit connection between the termination and the stadium project.  
Schnatter questions project
The expansion has become a bone of contention for the namesake of the stadium, Papa John's International founder and chairman John Schnatter.
Schnatter, who sits on the university's board of trustees and the board of its nonprofit foundation, has questioned the expansion project several times since April, when he had a public falling out with Jurich.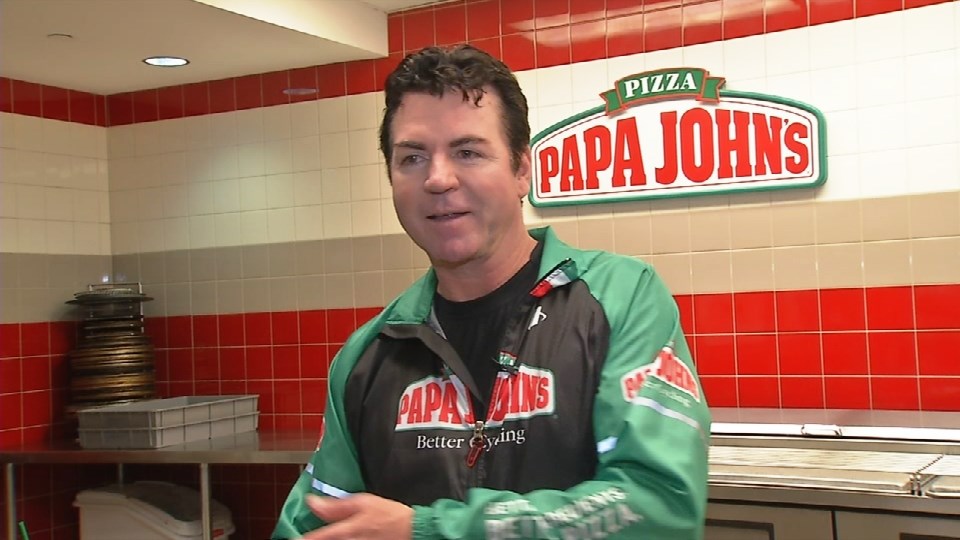 While Papa John's holds the naming rights to the stadium through 2040, neither Schnatter nor his company is among the 784 corporations and individuals that have pledged donations to the expansion project, according to a list obtained under the open records law.
In 2016, Schnatter quietly diverted the final $1.5 million of a $6 million athletics pledge to the academic side of the university with the approval of then-U of L President James Ramsey, according to documents published last year by the Kentucky Center for Investigative Reporting.
Approached by a reporter last week, Schnatter declined to say whether he supports the expansion project. A spokesman for Papa John's did not respond to a request for comment for this story.
Some of the features of the expanded stadium were drawn from a visit Schnatter and Tom Jurich made together in 2013 to AT&T Stadium, home of the Dallas Cowboys, which was built in 2009.
Tyra said he respects Schnatter's decision to shift his giving to academics and doesn't begrudge his lack of support for the stadium expansion.
"There will be a time when we need John, or need Papa John's in general, but I think for now, there is not a need to go fill that void," Tyra said. "I think his support is here, there is no question around that."
Improving the 'fan experience'
For Tyra, the expansion presents an opportunity to enhance the "fan experience" with better, if more expensive, seats.
"If you can trade seats from a generic bleacher seat up in the UPS Flight Deck (the upper level of the stadium) for something in the end zone like we are offering them, I think you are going to see that," he said.
Tyra noted that the 2014 consultant study included a survey showing two-thirds of fans would be willing to pay $5 to $10 more per ticket to have "a more enjoyable experience" in an expanded stadium.
But, when it comes to how many new people might be drawn to football games, the survey was not so instructive. More than 75 percent of the 4,400 people who completed the online survey were already season ticket holders, according to the Johnson Consulting report.
Charlie Johnson, of Johnson Consulting, declined to comment for this story.  
Tyra said instead of wringing their hands, athletics officials need to make it easier for fans to show up to games.
For example, only recently did Louisville update its Cards Mobile App to allow the transferring of tickets with an email or text message, eliminating the need to exchange paper tickets, Tyra said.
"If they can't be there, somebody needs to be there in their seats," Tyra said. "The 'honeycomb' effect of when you have people who don't show up is more worrisome to me, as much as trying to figure out how to go fill the upper deck … I want the lower bowl to be filled."
Tyra 'comfortable' with project's financing
Louisville is paying for the project with $55 million in university bond debt raised in 2016, which will cost a total of $83 million, with interest, to retire over 20 years.
Tyra said he is "comfortable" with the athletic association's ability to repay the debt "based on what I see from the original projections."
In a positive sign, officials have almost entirely sold or gotten commitments for all the special, high-dollar seats in expansion area, Tyra said.
That includes the 12 field-level suites, which cost about $45,000 per year a piece, as well as 70 boxes, 1,000 club-level suites and the Adidas-branded "three stripe zone" seats that provide "unique vantage points."
The bulk of the 10,000 expansion seats hasn't gone on sale yet.
The plan to repay the stadium debt involves a mix of private fundraising for the expansion ($53.7 million), season ticket sales ($26.25 million) and donations that are required for the privilege of buying certain season-ticket packages ($15.75 million), according to figures provided by Klein, the athletics spokesman.
Klein said the debt retirement plan is based on a "conservative" assumption that 75 percent of the ticket and seat-donation revenue will be realized.
But a list released under the Open Records Act shows the department has inked only $33.7 million in pledges, or promises to pay over several years. The contributors are mostly individuals, with some high-dollar donations from businesses.
Another $20 million is listed as "committed-in progress," with no specific donors named. The $20 million represents "corporate gifts in which there is high confidence," Klein said.
"We are pretty locked in on the other $20 million," Tyra said.
Klein said there is no date by which the department needs to the raise the full $53.7 million.
Mark Jurich, who was laid off Friday, was the project's chief fundraiser. 
Among the committed donors, the biggest are Norton Healthcare and Pepsi-Cola Co., which each pledged $5 million.
University spokesman John Karman said even if ticket sales and donations don't come in as planned, the university's regular funding, such as state money and tuition, won't be on the hook to repay the stadium debt.
The athletics association "has other sources of funds it can use" to retire the debt, he said in an email.
Tyra noted that the stadium expansion project is not only about adding seats, but also making a major upgrade to the attached Schnellenberger Football Complex.
As part of the project, the player training facility will grow from 30,000 to 100,000 square feet and include the most modern technology, Tyra said.
That will help Louisville recruit better players – potentially leading to success on the field, which boosts attendance, he said.
"Recruiting-wise, we stack up well. When this is complete, we'll have the full package," he said.