Entertainment
'Bill & Ted' 3 has a title, a director, and a most excellent photo
Have no fear, metal-heads. The Wyld Stallyns are finally getting their long-awaited reunion tour
Updated:
Tuesday, April 3rd 2018, 10:27 am EDT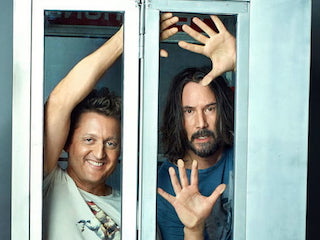 Have no fear, metal-heads. The Wyld Stallyns are finally getting their long-awaited reunion tour.
Fans have been asking for another adventure with the time-traveling, death-defying, hard-rocking duo of William "Bill" S. Preston Esq. and "Ted" Theodore Logan — as played by Alex Winter and Keanu Reeves, respectively — ever since 1991's Bill & Ted's Bogus Journey. More than 25 years later, that film might finally find its way to the screen, as momentum now appears to favor a third installment of the franchise, likely titled Bill & Ted Face the Music.
The film's title was revealed in a March 2018 feature in Entertainment Weekly that reunited Winter and Reeves with screenwriters Chris Matheson and Ed Solomon, who penned the first two films. According to Winter, the film has more than just a title, too.
"We went out and found a director," revealed Winter. "Dean Parisot, who we love, did Galaxy Quest, which is a masterpiece."
According to Solomon, Steven Soderbergh is currently attached as a producer on the film, along with original franchise producer Scott Kroopf. Talk of a potential third film dates back years, but after decades of uncertainty, the film finally seems to be moving forward.
Adding to the sudden closer-than-ever feel of Bill & Ted Face the Music is the news that there is even some casting in the works beyond Winter and Reeves' iconic slacker heroes. Solomon indicated that William Sadler, who played the Grim Reaper in Bogus Journey, will reprise the role for Face the Music.
"We are hoping to close a deal with some financiers," Solomon said. "Hopefully within the next month or so, we'll have news that will stick."
As for the plot of the film, the quartet plans to explore Bill and Ted's lives long after they were expected to save the world with their music, but never quite got around to it. Still struggling to create the musical masterpiece that will shape their lives and bring about peace, prosperity, and happiness for an entire world (and then some), Bill and Ted find themselves fearing what their inability to craft that ultimate song might mean for the future.
"You're told you're gonna save the world," explained Matheson. "And now you're 50 and you haven't done it. Now they're married, and it affects their marriages, and it affects their relationships with their kids, and it affects their everything."
"Everybody's a little older now," added Reeves. "A little afraid."
There is currently no timetable for production on Bill & Ted Face the Music.