Entertainment
The best new movie trailers: 'Ant-Man and The Wasp,' 'Robin Hood,' and more
Everyone loves a good trailer, but keeping up with what's new isn't easy. To simplify things, we've rounded up the best new movie trailers and teasers, including the new trailer for Ant-Man and The Wasp.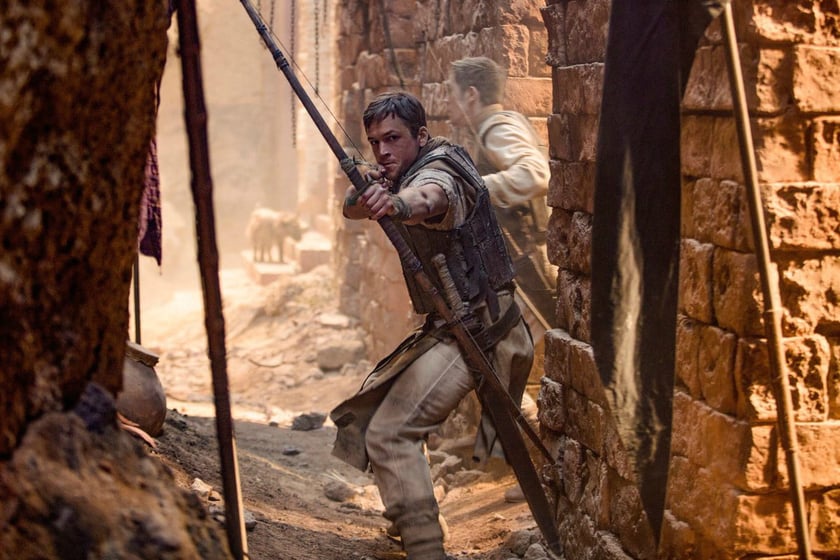 Crafting the perfect movie trailer is hard work. There must be enough intrigue to get the audience excited without revealing too much about the film's plot points and key moments (even then, things don't always work out perfectly). Because of the sheer volume of new movie trailers being released in a given week, we've taken the liberty of rounding them up and separating the good from the bad for you. Check out the latest must-see trailers below, whether you're looking for action, horror, comedy, or something else.
It probably goes without saying, but we'll say it anyway: Spoiler alert! Tread carefully, friends.
Note: All release dates are for the United States.
Each trailer for this film looks better than the last one, and the latest preview is the most epic so far. An adaptation of Philip Reeve's novel of the same name, Mortal Engines is set in a post-apocalyptic future where massive "predator cities" roam the land, hunting and consuming smaller cities. When an engineer from London, one of the largest cities, crosses path with a mysterious fugitive, their adventure changes not only their lives, but the entire world around them. The film is the feature directorial debut of Christian Rivers, a former visual effects supervisor for Weta Digital, and it shows in the fantastic scope of the film. Peter Jackson co-wrote the script and executive produces the film, which only makes it more intriguing.
Release date: December 14
A crossover nearly 20 years in the making, M. Might Shyamalan's Glass has a new trailer that does a nice job of stoking the fires for this sequel to 2016's Split — which surprised audiences by being a secret sequel to 2000's Unbreakable. There was a lot to like about this film already, but the new trailer is the best preview we've had so far and adds to the considerable buzz that's been building for a story that brings together the hero and villain characters from both of Shyamalan's aforementioned movies for a big ol' crossover brawl.
Release date: January 18, 2019
The Creed franchise has been getting all of the attention lately as far as boxing dramas go, but the first trailer for Tiger appears to be a worthwhile contender for your attention, too. The film dramatizes the real-world story of Sikh boxer Pardeep Nagra, who was banned from competing at the highest levels of the sport due to his beard — an important element of his religion. Nagra's fight to win in both the ring and the courtroom is chronicled in the film, which features Oscar nominee Mickey Rourke, an accomplished amateur and professional boxer in his own right, in a supporting role.
The 1989 film based on Stephen King's Pet Sematary is considered a horror classic, but the first trailer for this new spin on the story shows some seriously scary potential. Sure, there will always be a contingent of fans who ask why another adaptation is necessary, but given how great of a movie the version of King's It turned out to be, it's best to keep an open mind these days. The story follows a doctor and his family who move to a rural region of Maine, only to set a terrifying series of events in motion when they discover a burial ground near their home that can resurrect the dead.
Release date: April 5, 2019
Action fans should take note of this film, as it's been earning rave reviews on the festival circuit and high praise from just about anyone who caught a press screening of it. The first full-length trailer offers a great indication of why there's so much buzz around it. The film follows a triad assassin who has a change of heart and sets out to protect a young girl he was initially tasked with killing, only to set in motion a violent battle with his former gang. Iko Uwais, who put himself on action fans' radar as the star of The Raid and its sequel, co-stars in the film with Timo Tjahjanto (Headshot), who plays the former assassin. Netflix appears to have a bona fide genre hit on its hands with this one.