News
Louisville's resident royal cake maker shares rarely seen video of experience
Chef David Dodd with Sullivan University designed and created the cake for Princess Anne's 1973 wedding. He's sharing rarely seen video of the process with WDRB.
Saturday, May 19th 2018, 9:46 am EDT
by
Updated:
Tuesday, May 22nd 2018, 10:41 am EDT
LOUISVILLE, Ky. (WDRB) -- As the Royal Wedding captures the world's attention, did you know Louisville has its own resident royal cake decorator?
Chef David Dodd, Sullivan University's Executive Director of National Center for Hospitality Studies, designed and created the cake for Princess Anne's 1973 wedding. Anne is the only daughter of the Queen.
At the time, Dodd was serving in the British Army. He was a young 30-year-old chef who caught the eye of Her Majesty. "Really it's the Queen that makes the final decisions," said Chef Dodd.
Months before the lavish affair, Dodd drew up designs that Queen Elizabeth herself approved. "She was delighted and I was delighted," he said of the experience.
Much like today, the wedding was all the buzz. When details of the princesses' dress got out, the royal family took extreme steps to keep the cake a secret.
"They put me on the 11th floor of a 12-floor building," he said. "They white washed the windows. They sprayed the windows so they couldn't have a helicopter. They didn't want helicopters taking pictures through the window."
To keep up appearances and his job, Dodd agreed to keep it under wraps, or so Buckingham Palace believed. "I was not to take any photographs, I was not to take any movies, I was not to do anything. And that's when I decided I would," he said.
He's sharing this video that few have ever seen with WDRB.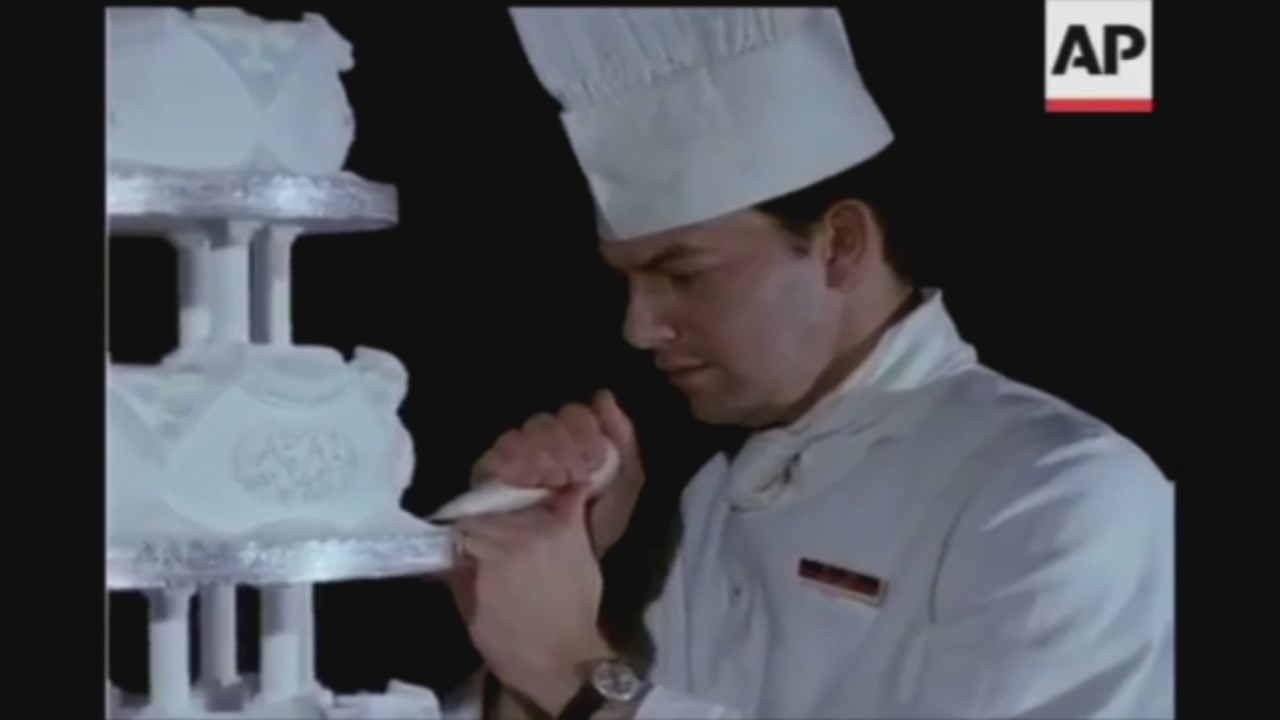 "Naturally you're the first people out of this school I've shared that with," he said.
The grainy video shows behind the scenes of the cake making process. Dodd spent hours every day for months leading up to the big event making sure every detail was perfect.
"Princess Anne was not a fussy, frilly person, so it was to be a traditional wedding cake," said Chef Dodd.
He applied 16 coats of royal icing on the five tier cake, which kept with tradition.
"That's a heavy fruit cake, it's a really heavy fruit cake and it's always made three months before the wedding," said Dodd. "The reason for that is we put needles in there and we soak it heavily with brandy and port and sherry."
Details of Prince Harry and Meghan Markle's cake have already leaked to the press. They're straying from tradition, hiring an American born baker and not serving fruit cake to their wedding guests. With this royal couple baking up non-traditional flavors, Dodd wonders how it will be received.
"I'm sure it's going to be delicious for an American palette. I'm not sure the Queen is going to enjoy this," he said.
Regardless of the flavor or presentation, Dodd is certain the cake will satisfy the appetite of even the biggest of royal fans.
If you're wondering, Chef Dodd says he did not watch the Royal Wedding.
Copyright 2018 WDRB News. All rights reserved.