News
U of L trustees approve tuition increase
The four percent increase is the maximum allowed by state law.

Wednesday, June 20th 2018, 1:47 PM EDT
LOUISVILLE, Ky. (WDRB) -- The University of Louisville's Board of Trustees approved a 4 percent tuition increase, as part of the school's 2018-19 operating budget.
The $1.2 billion operating budget was unanimously approved during a meeting on Wednesday afternoon. In a release, the university said the budget is focused on "student success, enhancing recruitment and retention and improving the university's financial sustainability."
U of L president Neeli Bendapudi said the budget isn't ideal, but they worked hard to keep any increases as low as possible.
Board member Vishnu Tirumala called the tuition increase unfortunate, and said the board should consider helping students repay debt.
The four percent increase is the maximum increase allowed by state law.
Full-time undergraduate students who are residents of Kentucky or have in-state rates will pay $11,460 in tuition and fees in the 2018-19 year. 
In-state graduate students will pay $12,684.
The Board of Trustees did cut student athletic fees from $50 per semester to $25. 
The budget also includes almost $4 million in additional funding for financial aid.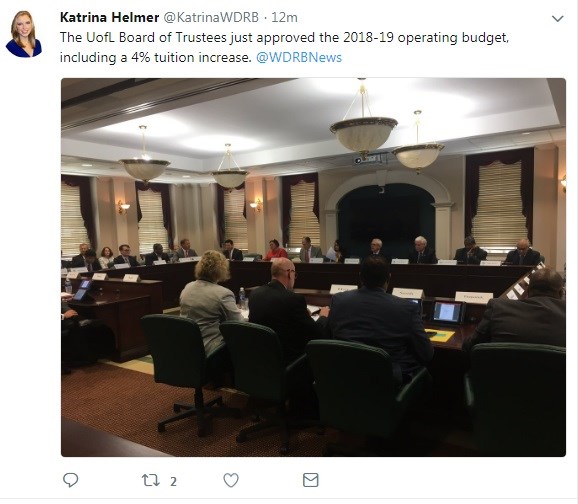 The university faces a 5-percent cut to its general fund budget, which is about 1.7 percent of its overall budget. So more cuts are likely on campus, as deans, vice presidents and others evaluate what additional cuts can be made. 
In a recent note to faculty and staff, Bendapudi said, "I ask for your patience and support as we make changes to strengthen the university while dealing with our fiscal reality." She called the current budget a "short-term fix" and promised long-term solutions in the best interest of students. 
Copyright 2018 WDRB News. All rights reserved.