News
IMAGES: Honor Flight Bluegrass treats veterans of 3 wars to trip to Washington, DC
Kentucky veterans from World War II, Korea and Vietnam are spending the day in Washington, DC. 
Wednesday, June 27th 2018, 8:32 am EDT
LOUISVILLE, Ky. (WDRB) -- Kentucky veterans from World War II, Korea and Vietnam spent Wednesday in Washington, DC. 
The trip was made possible by Honor Flight Bluegrass. 
The veterans toured the nation's capital and visited the memorials to the men and women who gave their life so that others could enjoy freedom.
Dozens of people were on hand as they boarded the Honor Flight at Louisville International Airport early Wednesday. 
Cletis Evans Jr. is chairman of Honor Flight Bluegrass, the nonprofit organization that honors the veterans from several wars with a VIP trip to see their memorials. He says it's the trip of a lifetime for many of the vets. 
"For most of them, they've never been able to go to Washington, DC, because they might not be able to afford it or it might have been too far away," Evans said. "So we're taking 18 World War II, 18 Korean War vets, and 30 Vietnam vets today -- a total of 66 vets to see their memorials."
The veterans are all wore matching T-shirts with the Honor Flight Bluegrass logo on the front and a message on the back: "If you can read this, thank a Teacher. If you can read it in English, thank a Veteran."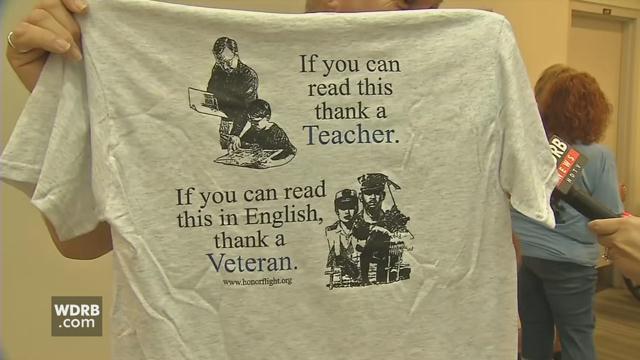 Evans says sometimes it's not easy to convince some of the veterans to make the trip "because they don't feel like they're worthy enough.
"And we try to tell them that maybe the real heroes did not come home, but they're heroes too, because they can be a hero's representative. And keep telling the stories of their lost buddies, and how they didn't make it back. 
Dozens of people were on hand when the flight landed around 9:40 a.m. at Dulles Airport, and the veterans received a "water salute" on the runway. 
Inside the airport, a crowd greeted the vets and thanked them for their service. 
Senate Majority Leader Mitch McConnell did the same as the vets showed up at the World War II memorial Wednesday afternoon. 
It did rain in Washington on Wednesday, but ponchos helped everyone stay dry as the vets spent the afternoon visiting their respective memorials and sightseeing.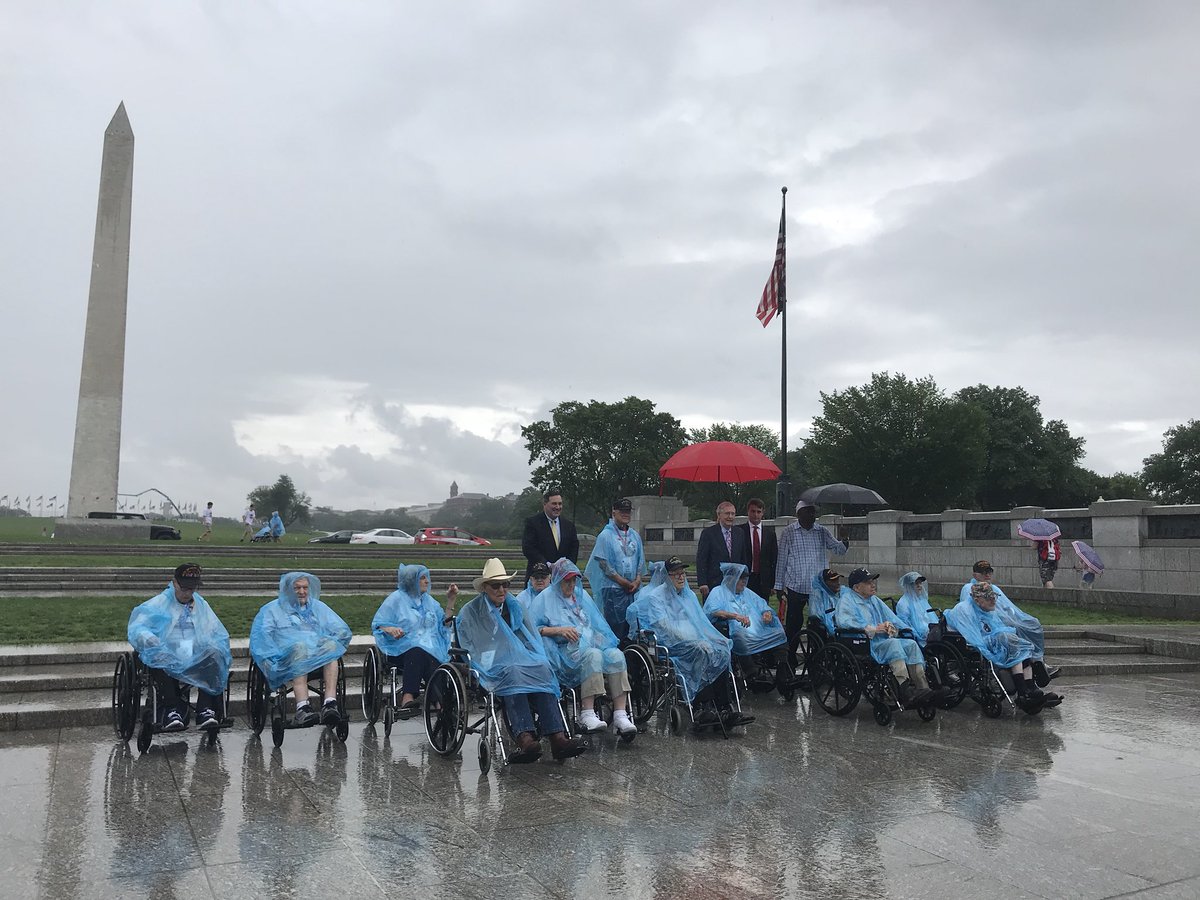 Veterans attended a wreath laying ceremony at Arlington National Cemetery and the U.S. Air Force Memorial before heading back to Louisville. 
When the vets returned to Louisville, they were welcomed by a huge crowd carrying American flags. 
"This day was a very moving experience because it takes you back to remembering the men and women that died for the freedom of our country," said Dorothy Weaver, who served in Vietnam. 
Copyright 2018 WDRB Media. All rights reserved.