News
Elaine Chao tells protesters to leave husband, Sen. Mitch McConnell, alone
The protesters asked questions as the GOP leader, with Capitol police, climbed into his SUV. 
Wednesday, June 27th 2018, 1:34 pm EDT
WASHINGTON (AP/Fox News) -- Transportation Secretary Elaine Chao told immigration protesters to leave her husband, Senate Majority Leader Mitch McConnell, alone.
That's according to video of an exchange between Chao and a handful of protesters who confronted the couple after an event on Monday evening in Georgetown.
The couple was departing an event held at Georgetown University, The Hill reported, when the individuals approached the building.
Chao told the protesters, "Why don't you leave my husband alone?"
The protesters asked questions as the GOP leader, with Capitol police, climbed into his SUV. They said, "Why are you separating families?" They also asked her, "How does he sleep at night?"
Chao was later heard saying "He is not," seemingly in response to the repeated questions about "separating families."
Chao, an immigrant who came to the U.S. as a child, was confirmed by the Senate in 2017 as President Donald Trump's Transportation secretary.
McConnell's office said they do not typically comment on protests.
The encounter comes amid a controversial "zero tolerance" immigration policy that's led to migrant children getting split up from their parents after coming across the U.S. border. Following backlash, President Donald Trump last week signed an executive order allowing children to remain with their families.
Trump tweeted in capital letters Wednesday: "HOUSE REPUBLICANS SHOULD PASS THE STRONG BUT FAIR IMMIGRATION BILL, KNOWN AS GOODLATTE II, IN THEIR AFTERNOON VOTE TODAY, EVEN THOUGH THE DEMS WON'T LET IT PASS IN THE SENATE. PASSAGE WILL SHOW THAT WE WANT STRONG BORDERS & SECURITY WHILE THE DEMS WANT OPEN BORDERS (equals) CRIME. WIN!"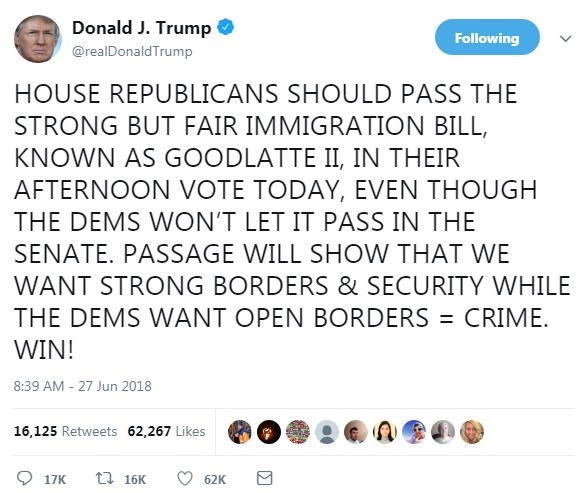 The tweet gives potential new life to a measure that was widely expected to lose in voting Wednesday.
On Friday, Trump told his fellow Republicans in Congress to "stop wasting their time" on immigration legislation until after the November elections.
A far-reaching Republican immigration bill is careening toward likely House rejection.
A defeat would be a telling rebuff of GOP leaders, who crafted the measure as a compromise between the party's conservatives and moderates.
GOP lawmakers are already considering the alternative of passing legislation by week's end, curbing the Trump administration's contentious separating of migrant families.
The House plans its showdown roll call on the Republican immigration bill for Wednesday. Democrats are set to vote solidly against it.
The measure would give some young immigrants a chance of citizenship, finance President Donald Trump's proposed border wall and bar the Homeland Security Department from taking children from immigrant families caught entering the U.S. illegally.
House Speaker Paul Ryan says the measure is "a great consensus bill" but Democrats call it "punitive."
Copyright 2018 Associated Press/Fox News. All rights reserved.