Sport - MLS
CRAWFORD | Losing O'Connor hurts, but he laid foundation for LouCity success
James O'Connor said coaching in MLS was an opportunity he couldn't pass up.
Friday, June 29th 2018, 9:22 pm EDT
LOUISVILLE, Ky. (WDRB) – These things happen, of course. When you are a minor league franchise, even if you're a championship franchise -- especially if you're a championship franchise -- hanging onto the best people is difficult.
Talent flows upward. It flows toward opportunity.
So Louisville CIty's talented head coach James O'Connor is headed to Orlando and Major League Soccer. He and assistant Daniel Byrd will be on the sidelines for Louisville City FC one more time Saturday night, against New York Red Bulls II, then three LouCity players will take over until a permanent coach can be hired.
The timing is tough. The circumstances for a team fighting for position in the USL standings are difficult. But these things happen, and they'll keep happening unless and until Louisville itself joins the big-league ranks.
"This has been a difficult decision for myself and my family and in such a short space of time," O'Connor said. "While I will be forever grateful for my time here with Louisville City FC, the opportunity to coach in Major League Soccer is simply one I cannot pass up."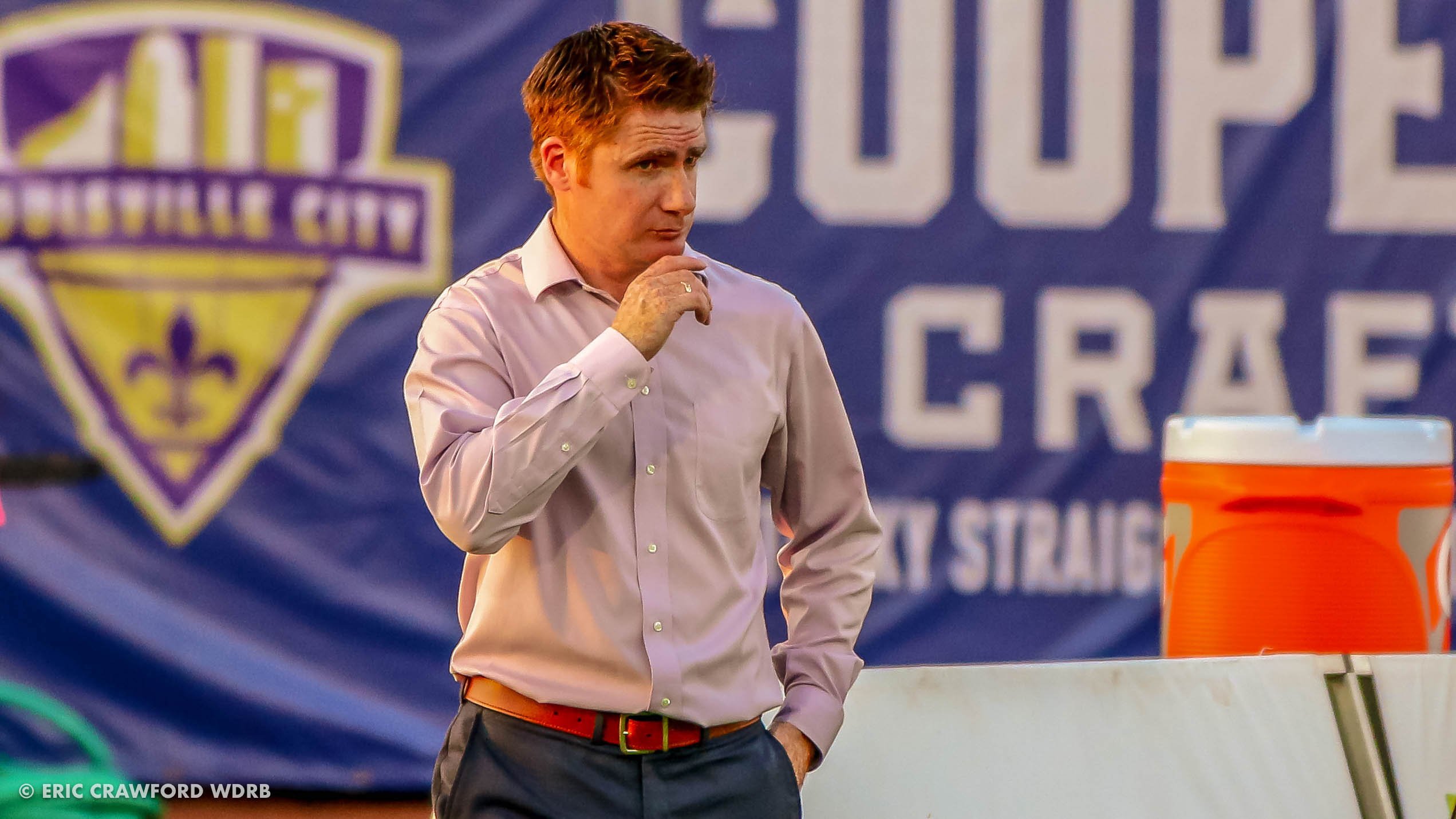 And there you have it. Nobody will begrudge him a big-league opportunity. It's just a shame he couldn't have it here.
Before O'Connor leaves, it should be noted that he built a big-league team. He helped lay the groundwork for a team that, on the pitch, is ready for prime time. LouCity will play in the U.S. Open Cup quarterfinals against the MLS Chicago Fire on July 18. It is the only non-MLS team left in the field.
Louisville City's first USL season was 2015, and they went to the conference finals. They did it again in 2016. Last season, they won the league championship.
This is what O'Connor built.
"James built this from the ground up, in 3 ½ years to one of the top teams in USL," said Luke Spencer, one of three players – along with George Davis IV, Paolo DelPiccolo – who will serve as interim coaches. "You can't really put it into words what he's done here. The emotions that were there this morning show kind of show you what he's done. Hopefully we can send him off with a win tomorrow, and hopefully everybody can get out to the game to see his last game here."
Things move pretty quickly. Just three weeks and three days ago LouCity celebrated a win over the MLS New England Revolution. Just Thursday, they celebrated the groundbreaking of a new, 11,000-seat soccer specific stadium.
Today, many of the players are in shock.
When things like this happen, it's easy to point a finger at the city and shake your head. Louisville didn't really show up to the MLS table with any kind of force, was outmaneuvered by bigger brethren to the north and south, and at the moment, while the new stadium that broke ground Wednesday will be nice, it isn't big enough to meet MLS standards without an expansion, though it is an important first step.
Sometimes it's worthwhile to state your goals, and setting MLS out there as a goal at least lets everyone know that's the aim, if indeed it is.
It doesn't have to be. USL has been good for Louisville. It will remain so. But if you're a minor league city, you have to get used to losing the best when you happen to get them more times than not.
On Thursday, at the groundbreaking, O'Connor said of the franchise: "The owners have had tremendous vision, a tremendous commitment over the years to be able to see it through, to be able to show people it's not a silly idea to get soccer in Louisville."
It wasn't silly. That it has taken off the way it has is a testament to O'Connor. Whether it keeps going will be a testament to that ownership, and the city itself. The support is there. The stadium is coming. In the fledgling years of LCFC, when there was no soccer stadium, when there were growing pains, the franchise could count on having a winner on the field, if nothing else. That's his legacy.
Going forward, this team will be challenged. This three-player interim arrangement will be difficult to sustain, no matter how well they get along and how good a job they may be capable of doing. You need a head coach. Somebody has to be the decision-maker.
I don't know if Louisville will ever have a spot in Major League Soccer. I do know they got a great head start on building a major league team, and for that, O'Connor can take a great deal of credit.
Copyright 2018 WDRB Media. All Rights Reserved.