Sport - MLS
CRAWFORD | O'Connor says an emotional goodbye to LouCity
Louisville City's first coach leaves behind a foundation of success.
Sunday, July 1st 2018, 4:44 AM EDT
LOUISVILLE, Ky. (WDRB) – Louisville City Football Club coach James O'Connor has worked his whole life for the opportunity he is about to embrace, as head coach of the Orlando City Soccer Club in Major League Soccer.
It was an opportunity that even those affiliated with LouCity told him he couldn't pass up. His players, though surprised by the swiftness of the decision and the midseason timing, said they're excited for him.
But O'Connor didn't look like an excited man as he prepared to say goodbye to a Louisville Slugger Field crowd of 7,689. He gathered his team after they rallied for a goal in the final minute of stoppage time to pull out a 3-3 draw with New York Red Bulls II. Then he hugged chairman of the team's ownership group John Neace, and spoke briefly with him as the team huddled and assistant coach Daniel Byrd took his turn addressing the crowd.
What was O'Connor thinking, his head bowed now and then as Byrd and Neace spoke?
"Yeah, I was saying to myself, 'Just make sure you don't cry like a baby," O'Connor said. "That's what I was saying to myself all day. I'm going to make sure I don't. It's hard. It's really difficult. The players and the program mean a lot to me. . . . It was just a very emotional time. . . . But it's a very exciting time for me, the most exciting time of my life."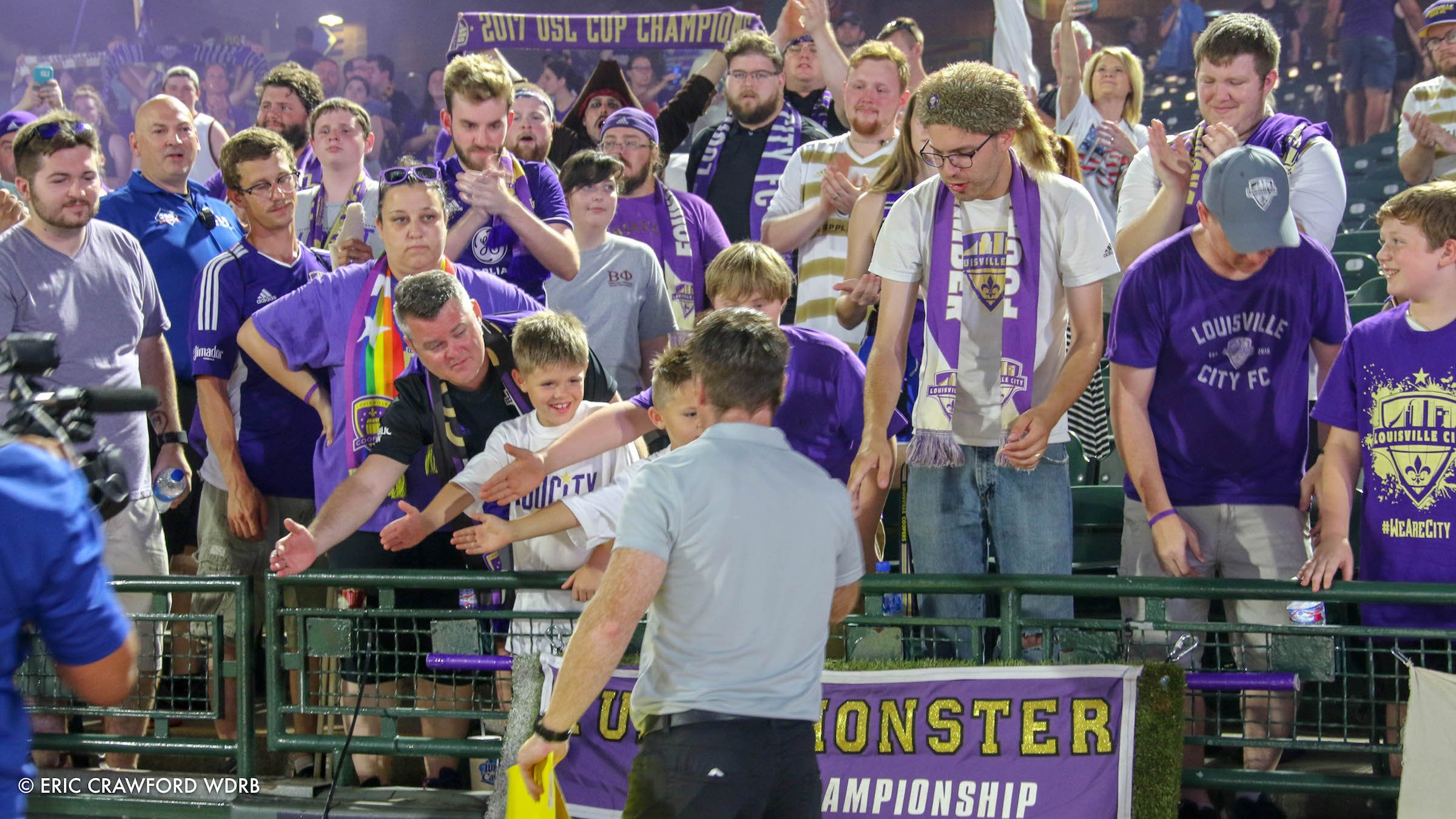 LouCity fans came ready. Someone hung a banner in the corner of the stadium which said, "O'Connor's Louisville," with a drawing of him.
He thanked the fans for unwavering support. He credited them with helping to make the franchise a success from Day One.
"From where we started June 4th, 2014, in that space of time to go to the championship, to go to the Eastern Conference final every year, to have a $65 million stadium in three-and-a-half years, it's pretty exceptional," he said. "The owners, the players, the supporters. I'd like to apologize to everyone in Scouse's House. I didn't get a chance to get down there. I came to the Coopers and by the time I finished there, there wasn't a chance to go back. Genuinely want to tip my hat to all the supporters. They've been incredible."
The scene after the game for the players, both on the field and in the locker room, was one of mutual appreciation. Midfielder Paolo Del Piccolo said that players took time to tell the coaches how grateful they were for their efforts.
After his second first-half goal of the match, Cameron Lancaster didn't celebrate, but ran straight to O'Connor to embrace him on the sideline.
"He's passed along so much knowledge to all of us, "Del Piccolo said. "Not only that, he's built such an incredible organization and team and culture here. But what can get lost is what a good person he is, someone who really, truly cares about everything off the field and what is going on in your lives and how he can help you. . . . His record speaks for itself, but he's a really good person, and we're all sad to see him go."
Nobody could speculate on whether any Louisville players would wind up joining O'Connor in Orlando. Del Piccolo, along with George Davis IV and Luke Spencer will take on interim coaching duties. And O'Connor didn't want to talk much about Orlando at all, other than to say it was the destination, as much as its MLS affiliation, that made him want to go.
While the last two days have been a whirlwind for players, who were surprised by the timing of the move, none were surprised that an MLS franchise was looking his way.
"I was more shocked it took this long, to be honest," Del Piccolo said. "When you look at what he's done here, if you ask me it should have happened two years ago. It's unfortunate that it happened midseason, but when you look at it, we'd have been mad at him if he'd not taken it, if he'd stayed. I was talking to the owners here and they said that everybody's ambition here is to get to MLS, ownership included. They want LouCity to be in MLS, and everyone is working that way. So we're just so happy for him and proud of him and we want not just him to do it but the next guy and the next guy. When you have a chance to move up, you take it."
However he fares at the next level, O'Connor has written a major chapter in the history of soccer in Louisville. He'll always be on the first pages of this club's history in the city.
"There's never a perfect timing for something like this," O'Connor said. "Obviously, it's something that's way ahead as well. When you go through professional sports when you go through the years of having the game you see a lot of things happen. Situations like this – it's my first real experience as a coach. As a player obviously it's slightly different. It's something that when I look back at my time at Louisville, I have immense pride."
Del Piccolo said he remembered his first meeting with O'Connor. He came to Louisville to take a look at the city and the facility. O'Connor had him hop in his car, then he took a right turn onto Main Street, going the wrong way on a one-way street, people honking at him. Del Piccolo signed to play that season in Charlotte. He wound up in Louisville, though, because he knew O'Connor would point him the right direction on the soccer field.
He's hoping the team can continue in that direction now. O'Connor leaves things in a good place. He took his time walking along the stadium walls Saturday night, shaking hands, posing for selfies. The picture of this franchise as he leaves, certainly, is far more attractive than it was when things began.
"I think when you look at the players that have been here throughout the years, you look at the quality they've got, they've got a quarterfinal now against Chicago in the (U.S.) Open Cup. They've got excitement with the new stadium. It's a huge platform to be able to build off and spring forward," he said. "My hope is that they go on and excel as they have done at times here and go on to better things, as I'm sure they will."
Copyright 2018 WDRB Media. All Rights Reserved.