News
Activists hold 'peaceful occupation' outside Louisville ICE office
The group says it is protesting the "horrific, inhumane policies and practices of Immigration and Customs Enforcement.
Monday, July 2nd 2018, 9:01 am EDT
LOUISVILLE, Ky. (WDRB) -- A coalition of activists held an immigration protest outside Louisville's ICE office.
The activists are holding what they call a "peaceful occupation" outside the Immigration and Customs Enforcement office on South Seventh Street at Broadway.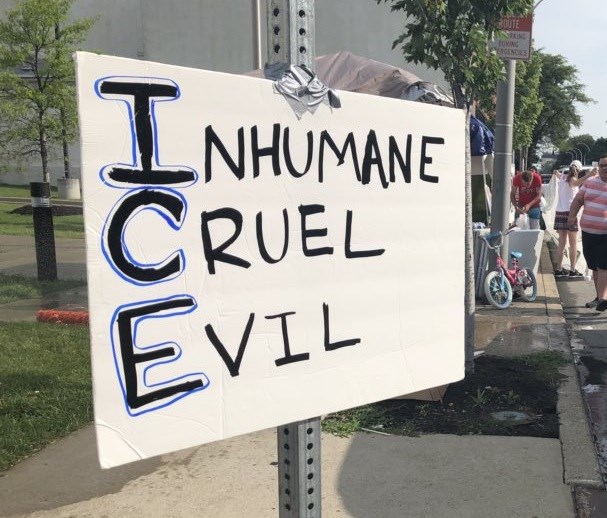 Early Monday, federal agents did remove protesters who were blocking an entrance. And two agents are monitoring what's happening outside the ICE headquarters. LMPD was called to the scene, but the department says it is limited in how much it can help in assisting federal agents. 
The group of activists says it is protesting the "horrific, inhumane policies and practices of the agency, and to echo the national call for ICE to be defunded and dismantled."
They raised a flag that said "Not Everyone Is Free" as a replacement for the American Flag outside the federal building in downtown Louisville. 
Chanelle Helm from Black Lives Matter is part of the group she says practices inhuman policies. "We want people to understand that when the system embarks on human trafficking, that they've got to pay attention. not only is this happening in Texas, it's also happening in Kentucky," she said. 
In other states, protesters have blocked buses from taking immigration detainees to detention centers, and they have set up what they call Camp Compasión to call for ICE to be abolished.
Copyright 2018 WDRB Media. All Rights Reserved.