News
REMEMBER: WDRB travels to DC with vets to mark freedom and sacrifice
Veterans of WWII, the Korean War and Vietnam made a pilgrimage to the nation's capitol to revisit memories -- some of them painful.
Tuesday, July 3rd 2018, 1:53 pm EDT
LOUISVILLE, Ky. (WDRB) -- As the nation comes together to celebrate freedom this Fourth of July, WDRB-TV is paying special tribute to the men and women who made that freedom possible.
On June 27, WDRB's Valerie Chinn and photojournalist Doug Smith traveled to Washington D.C. with 60 veterans from Kentucky and southern Indiana. They were veterans from World War II, the Korean War and the Vietnam War and they were traveling to the nation's capitol -- some for the first time -- to visit grave sites and monuments that bring back special meaning.
It was all a part of Honor Flight Bluegrass, the local chapter of a national group that provides free flights for the veterans. This was the second flight of the year for Honor Flight Bluegrass. Another flight is scheduled for September.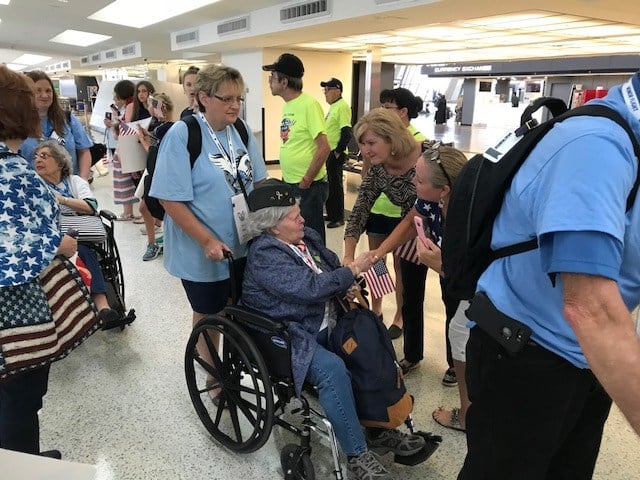 Some of the veterans on this trip were finally making the journey after having been asked three times.
Lee Wilcher is World War II veteran who is 93 years old.
"I wanted to see it before I died -- Washington and everything," he said.
Paul Coffman will turn 95 years old next month and served in the Army Air Corps. He worked on the Manhattan project, an effort to design and build an atomic bomb. He says he joined the Corps in October of 1942 and spent almost four years in service.
"The secrecy of what we were doing while we were doing that brought an end of the war," Coffman said.
A day before the Honor Flight, there was nervousness about what the experience would be like in the nation's capital.
Coffman had worked there for two decades.
"I have seen every monument that is in the Washington D.C. area except the one that was built in honor of what we did," he said. "I'll probably cry for those that will never see it. That's a price they paid that allows me the freedom to see it."
The Graves -- Bob and his wife, Marj -- are both Vietnam War veterans.
"I have so many memories of my year in Vietnam, good and bad," Bob Graves said. "It was probably the most notable year in my life."
He shows his military hat that has the Combat Infantry badge. 
"That means you've actually seen combat and most military people have highest respect for CIB when they see it," his wife, Marj, says.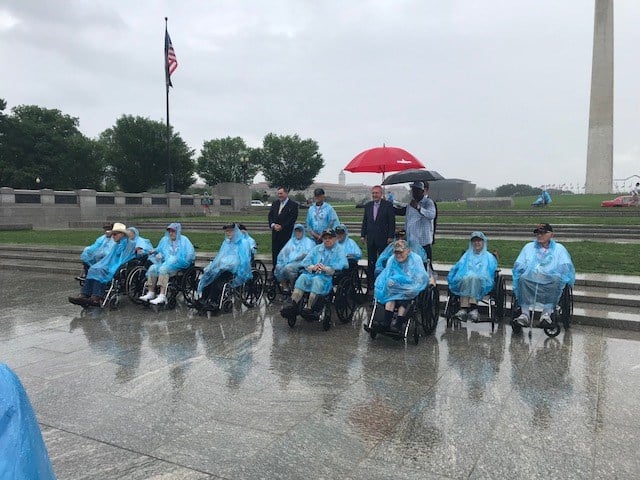 Bob Graves was in the Combat infantry and Marj Graves was a U.S. Army nurse. Bob wears a bracelet every day, remembering his roommate who died in combat.
"You wonder why it was certain people that were lost, and how you survived and others that you knew didn't," he said. "Sometimes I think there's maybe a little guilt -- survivor's guilt."
A Chinook helicopter crash on May 10, 1972, changed Marj's life forever. 
"There were 34 crispy critter dismembered bodies that were brought back to us," she said. "I was one of the senior nurses at that point. I was one of the body identifiers. It was probably one of the most horrific situations I could have ever imagined."
She tried to put those memories behind her and worked a successful career at UPS. She never talked about the incident for decades.
"I started having a problem with depression," she said. "I wouldn't let any medical professionals near that. In 2005, when I made an attempt to end my life, that's when I decided to open up and realized I needed help."
Marj now helps other veterans across the state speaking about war trauma. She knows how veterans on this Honor Flight feel.
In the pouring rain, the pitter-patter of water marked the first stop at the World War II Memorial.
Coffman's grandson tried to shield him from the rain.
"I'll try to get keep you dry Papa," he said.
"I'm all wet anyway," Coffman replied.
Many of the veterans in wheelchairs sat in front of the Washington monument.
"It's cold. It's wet, but it's an expression of courage sacrifice and victory," Coffman said.
The veterans got their pictures taken with local politicians, including Senate Majority Leader Mitch McConnell. They looking with awe at the World War II Memorial, a memorial that honors them. There are 4,000 gold stars on a wall there, and each one represents 100 people killed in action. The gold star was a symbol of family sacrifice during World War II.
"I'm happy," Coffman said. "I'm excited. I'm grateful, but I'm sad. I'm sad because we get to see it and those that paid the ultimate price will never know it."
Nineteen stainless steel statues remember those who fought and died during the Korean War. And then there's the Vietnam memorial.
"When you think of the names of the helicopter crash soldiers, it's got to take up a pretty good chunk on the wall," Marj Graves said.
She searches for the names, but wasn't able to find them.
"For whatever reason, I go back every couple weeks and I Google 'May 10, 1972 helicopter crash,'" she said. "All their names, the cities they are from, how old they were and their date of death is right there. I'm OK not to find them here because I've already found them."
The long day ended at Arlington National Cemetery as Honor Flight Bluegrass laid a wreath for those who never made it back home.
"I think about them quite often," Wilcher said. "They are in the Philippines, France, Europe. They are in places like this." 
In the calm of waiting for flights back home it was mail call. Organizers yelled out veterans' names. Family, friends and school children wrote cards of thanks to the men and women for their sacrifice. Veterans faces lit up as they read each card and letter. It was small gesture to honor true American heroes.
When looking back at her war experience, Marj Graves says it was, "life changing, but I'd do it all over again."
On a day celebrating the nation's freedom, the veterans want people to remember just what it took.
"Words cannot express the sincerity of my feelings for the Americans that gave their lives that I might be free -- and the rest of my family be free," Coffman said.
"The Lee Greenwood song, that generally sums it up," Bob Graves said. "You're proud to be an American. You'd stand next to the military today."
Copyright 2018 by WDRB News. All rights reserved.