News
ICE protesters in downtown Louisville say they have no plans to move
Officials have not yet said when the city could take action to remove the protesters.
Tuesday, July 10th 2018, 11:18 AM EDT
LOUISVILLE, Ky. (WDRB) -- ICE protesters were still camped out downtown Tuesday, even though they did not meet a 9 a.m. deadline to obey several police orders.
The city took some new steps to enforce ordinances at the camp along Seventh Street and West Broadway, clearly marking where demonstrators are allowed to protest lawfully.
City officials say they have been trying to work with the demonstrators, but Occupy ICE organizer Jesús Ibanez disagrees. 
"It kind of feels like they just want to push us and push us, and not have any push back from us," he said. 
The most recent LMPD push came in the form of white markings on the street to create a required four-foot walkway through the Occupy ICE camp at 7th and West Broadway.
Officers pointed out several other areas of non-compliance, like blocking parking spaces for the public and law enforcement.
 LMPD Maj. Eric Johnson says police recognize the people's right to protest, but they must follow the law. 
"Nobody has tried to prohibit their ability to be here or protest," Johnson said. "But they have to be in compliance with law and ordinance and basic understanding such as trying to park at a meter and trying to walk down a public sidewalk."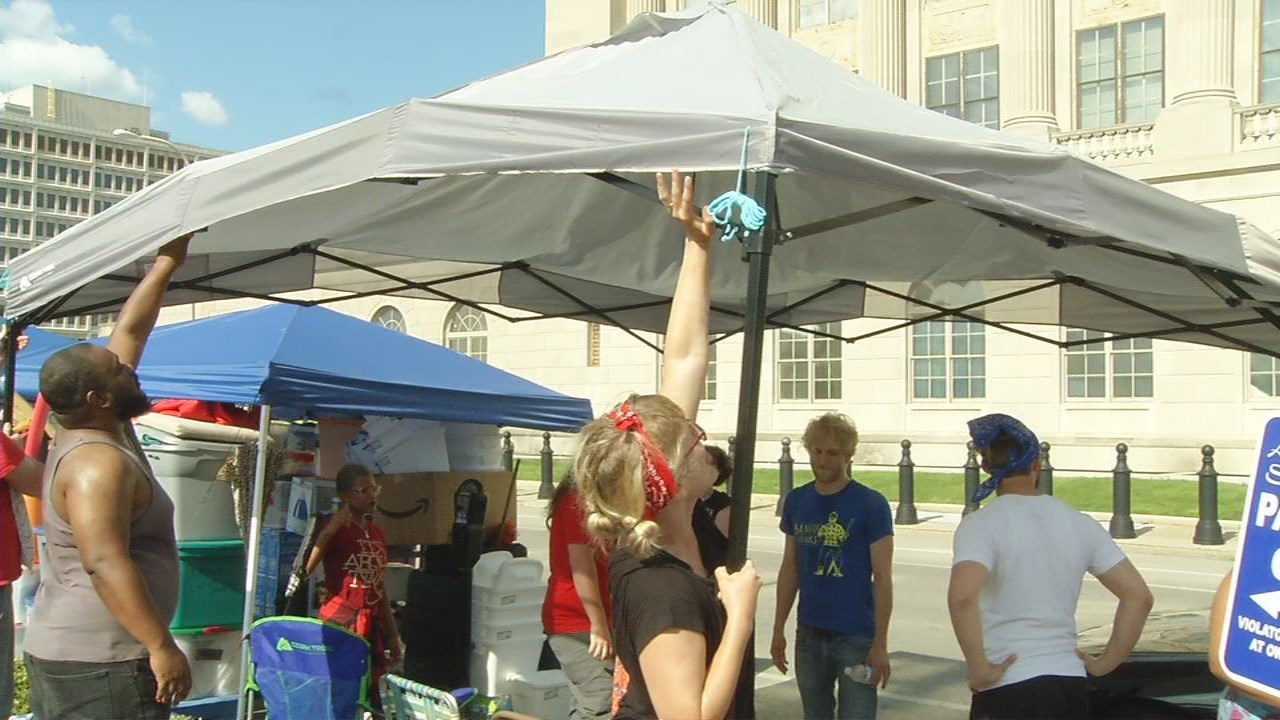 LMPD officials have not yet said when further action could take place. 
"I don't have any timeline to give you," Johnson said. "We're hopeful that they'll be in compliance before we have to make that decision."
Ibanez says the group has no plans to leave until ICE is abolished.
"Our mission has not changed, we are here for the abolition of ICE," Ibanez said. "And it's very shameful that these tactics by the LMPD and the city government have shifted that narrative." 
Ibanez did say they will discuss the requests, and may make changes. 
"We've tried to be in compliance, no one is here to get arrested," he said. 
More than two hours after the deadline, no major changes were noticeable.  
Ibanez says protesters will not leave the camp unless they're forcibly removed.
"We are waiting on the city and LMPD to let us know what their next move is going to be," Ibanez said. "We're not going anywhere." 
Copyright 2018 WDRB Media. All rights reserved.