News
2 Nelson County dogs found shot and killed and dumped in a ditch
The owners of the two dogs found shot, killed, and dumped in a ditch in Nelson County are looking for answers.
Monday, July 16th 2018, 3:51 PM EDT
BLOOMFIELD, Ky. (WDRB) - Two American Staffordshire Terriers were found shot and killed in a ditch in Nelson County on Saturday after being missing for four days.
The dogs, Peaches and Muffin, belonged to Megan Johnson and her husband, who had just moved to Bloomfield in May. Their dogs are sisters and would have been 3 years old in August. The family adopted them from Barktown Rescue in Boston, Kentucky, when they were 6 months old.
"They were our babies," Johnsons said. "We don't have kids, so they were our kids."
Johnson said she took her dogs to their backyard before 6 a.m. Tuesday. She said the two took off running to the back of their property toward trees. The early morning was too dark to see, but she believes the dogs were chasing a rabbit. Neither dog had a collar on, because one was chewed up by Peaches. The backyard was not fenced in like their previous home, although the couple had discussed the idea. 
"They adjusted really well, and that's what was so strange about that Tuesday morning," she said. "And that's why we never got the in ground fence. We would call for them, and they would come back. They were never gone for long."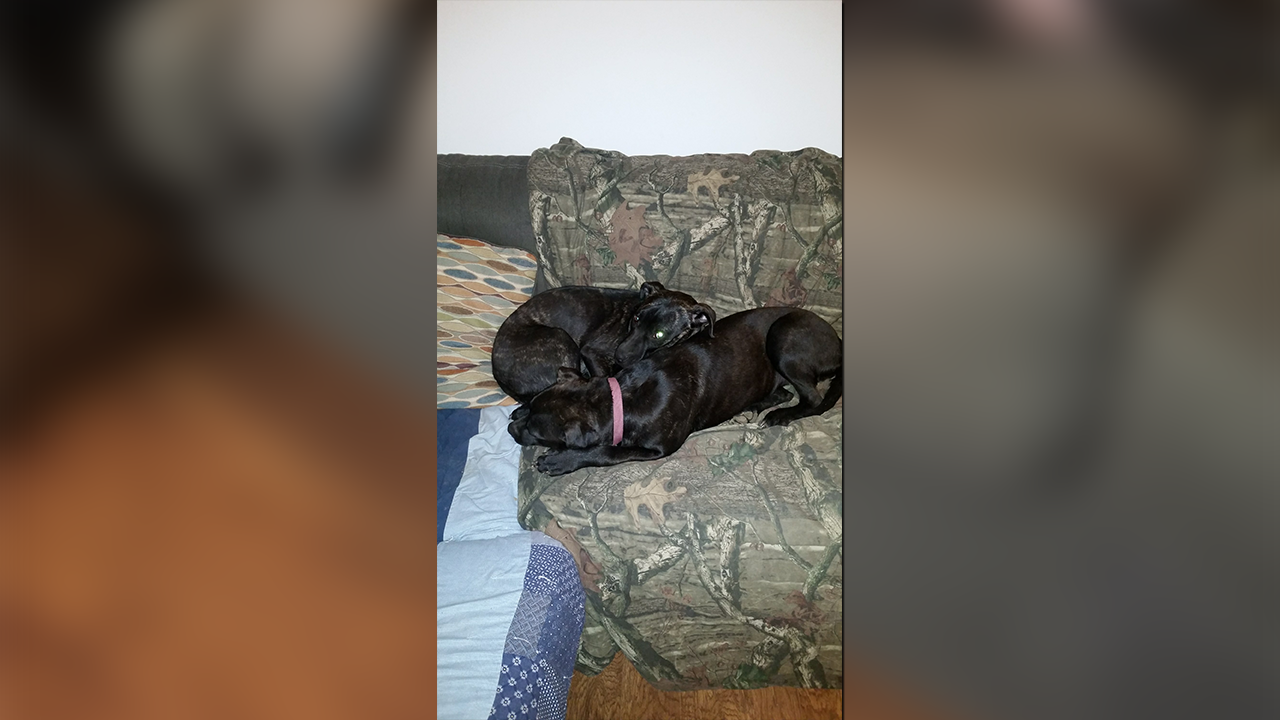 Hours, then days, passed, and the dogs never came home.
"It was sickening," Johnson said. "It was scary too, because they are like my children, and I was terrified for them."
The Johnson family flooded mailboxes and poles with missing posters that had a picture of Peaches and Muffin on it. Johnson said a neighbor who lives near their home on Thomas Lane was driving about five minutes away on Campground Road when he smelled something rotting. She said he noticed dogs wrapped in a blanket in the ditch. 
"My husband went to see if they were our dogs," she said.
Johnson said her husband came back home and told her the dogs were Peaches and Muffin. She said she collapsed to the floor in tears.
"A buzzard was actually pulling one onto the road, and they were decomposed,"Johnson said. "Muffin has a giant white spot on her, and that was pretty much all that was left of her."
The family had Barktown Rescue pick the dogs up. A veterinarian examined them and told the Johnsons that the dogs had been shot in the head with a shotgun at close range. Johnson said the idea of someone shooting her dogs in self-defense did not add up.
"To me, if you're shooting an animal in self-defense, wouldn't you want to call animal control? Call the police?" Johnson said. "And none of them were called."
She said, in her mind, this was just a senseless act of cruelty.
"Dogs and animals die from age or illness, but the fact that someone was that cruel to do that to my animals, when my animals are so nice, ... I feel like it was the stigma that was put on my animals," Johnson said.
Barktown Rescue is working with the family and trying to come up with a reward for any information that may lead to an arrest. The Nelson County Sheriff's Office said it is currently investigating the incident but does not have a public comment to make at this time.
Copyright 2018 WDRB Media. All rights reserved.