Crime
Police arrest suspect in murder of Louisville man days before Christmas 2016
Police say a 5-year-old boy was found crying next to the victim as he took his last breaths.
Tuesday, July 17th 2018, 2:25 pm EDT
by
Updated:
Tuesday, July 17th 2018, 6:46 pm EDT
LOUISVILLE, Ky. (WDRB) -- A man is charged with complicity to murder over a year-and-a-half after authorities say he shot and killed a man days before Christmas, leaving a 5-year-old boy standing next to him weeping.
According to court documents, 22-year-old Isaiah Jenkins was indicted by a Jefferson County grand jury earlier this month. Online jail records show he was booked in Louisville Metro Corrections on July 16.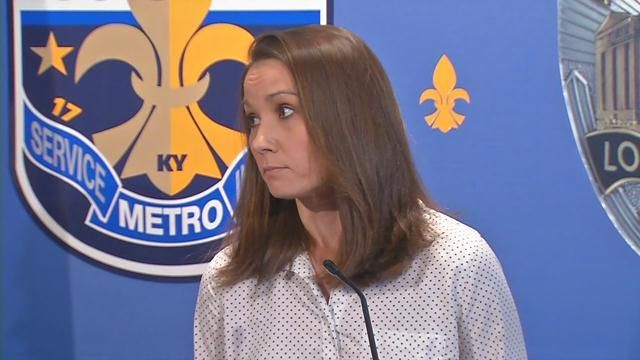 Jenkins is charged in connection with the Dec. 17, 2016 shooting death of 51-year-old George Robert Brown, who was found shot to death in front of a home in the 1300 block of Olive Street, near Dumesnil Street. A 5-year-old boy was found standing next to him, crying in the rain.
The shooting, coming so close to Christmas, brought a vivid plea for more information from Lt. Emily McKinley, head of the Louisville Metro Police Department's Homicide Unit, days after the murder:
"I don't normally do this for cases that we have. I don't normally release this much information, but on this particular one, I kind of just want to paint a picture for everyone on how this happened, and how this run came out, and how we responded to this run.

If you remember that night, it was raining – it was pouring down rain. It was about 6 o'clock. It was unseasonably warm that day, but it was starting to get a little bit colder. It was pouring down rain, the puddles were starting to form, and there's Christmas lights up. And the rain is reflecting the Christmas lights. And you have the red and blue police lights, and the rain, and the red and blue police lights, and the reflection of that. And you have the chaos of the police radios and the EMS radios going.

And then you have a 5-year-old little boy standing next to his dad – the man he called his dad – while he takes his last breaths. And the 5-year-old little boy is crying in the rain, with the Christmas lights, and the red and blue lights, and it's getting cold, and it's the week before Christmas.

So that should never be. That's not okay. That is not Christmas. And that is not any holiday that anybody celebrates.

Unfortunately, 2016 has been a pretty rough year for our city when it comes to violent crime. And I just want that to bring home the impact that when these incidents happen – [the impact] that they have on families and kids because it's not okay.And now that little boy's Christmas – that is Christmas for him.

And I don't want that to be Christmas for him. And none of us should want that.

This weekend – Santa Claus is coming this weekend. And one thing I hope that he brings is some answers for him – for us and for our city. And some peace for that little boy. Because right now that is his Christmas and I don't want that to be his Christmas."
Days later, officers from the LMPD Homicide Unit went shopping for the boy. A picture posted to the LMPD Facebook page showed them crowded around Target shopping carts -- carts filled to the brim with gifts. The picture had the following caption:
"Today, members of the LMPD Homicide Unit put their money together to provide an incredible Christmas to the family of one of the recent homicide victims. Great work guys! #LMPD #ourlouisville #respect"
It's not the first time Jenkins has been charged with murder.
In February 2016 -- in an unrelated case -- murder and robbery charges were dismissed against Jenkins, who along with Maunyeh Haggard was accused of shooting 31-year-old Andrew C. Key-Roper on Jan. 28, 2015, at the Russell Apartments at the corner of S. 18th Street and Muhammad Ali Boulevard.
WDRB's Jason Riley reported that, at the time, Julie Kaelin, who represents Jenkins, said her client had nothing to do with a robbery or murder and was only indicted because of "false, misleading and calculated" testimony from LMPD Sgt. Scott Beatty, according to a motion she filed in February, while the case was still pending.
Beatty, according to court records, had told a grand jury that "both suspects were positively identified through witness statements and photo-packs as being the ones responsible for the victim's death."
"This is simply untrue," Kaelin said in a Feb. 10 motion to Judge Olu Stevens, asking to dismiss the case. "The grand jurors of Jefferson County were led to believe that multiple witnesses indicated Isaiah Jenkins was responsible for the victim's death. This is categorically false."
Prosecutors, according to Kaelin, did not have a single witness who "actually makes such a statement or anything even resembling such an accusation."
Prosecutors and police said Kaelin's motion had nothing to do with the prosecution agreeing to dismiss the case.
Beatty was ultimately exonerated on a charge of untruthfulness on Sept. 19, according to a letter written by Chief Steve Conrad.
That charge of murder was expunged from Jenkins' record.
Related:
Copyright 2018 by WDRB News. All rights reserved.