News
Refugees using handmade crafts to build better life in Louisville
The Maya Collection offers items including earrings, necklaces, bracelets and bags.
Saturday, July 21st 2018, 9:51 AM EDT
LOUISVILLE, Ky. (WDRB) -- Refugees starting over in the U.S. are using jewelry and handmade crafts to create a new life.
Eight years ago, Mangali Neupane was in a refugee camp in Nepal waiting to come to the United States.
"It's hard in Nepal," she said. Then, Neupane's family had the opportunity to come to Louisville. But life wasn't easy for them when they arrived.
"We [didn't have] enough money," said Neupane. Her husband had a job, but it wasn't enough to support their small family.
That's when she joined the Maya Collection. "These women need income, and so I love the fact that we can help them," said Karen Aroh, who started the collection nine years ago after a chance meeting with a refugee.
"Before I started working with refugees, I didn't even know what a refugee was," said Aroh.
She wanted to help the growing population of refugees in Louisville, but wasn't sure how. "I asked them go home, bring things that you made in the refugee camp, and let's see what skills you have," said Aroh.
That sparked an entire line of hand crafted items created by about 20, mostly Nepali, women.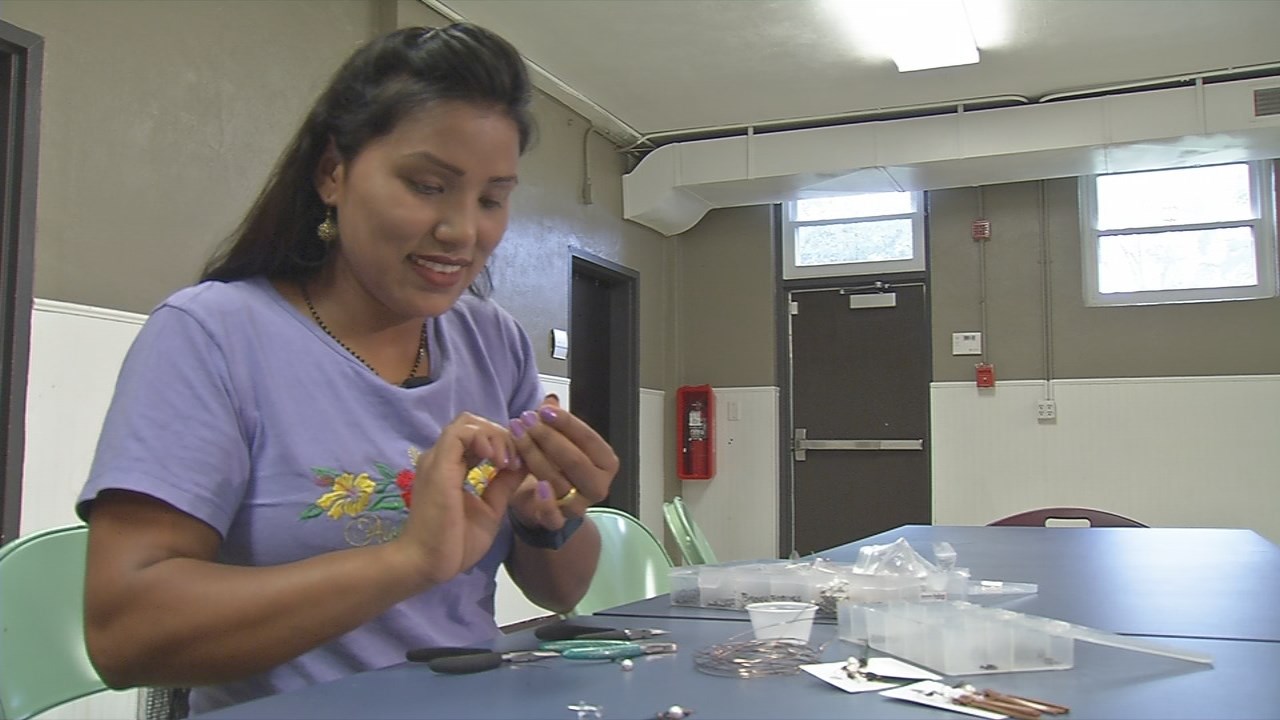 "Maya means love in Nepali, so we say everything's made with love," she said.
Once a week, the women gather in the basement of the Hope Place to make items such as earrings, necklaces, bracelets and bags. One by one, the women teach each other the skills needed to succeed. "They are just naturals. They're very teachable. They're very hard working," said Aroh.
On each piece, the name of a refugee who made it is written on a tag. The goods are then sold and 100 percent of the proceeds go to the women, which gives them an opportunity to become financially independent, while sharing the love of creating beautiful, wearable art.
"I had one woman that bought eyeglasses, or they'll use it for medications or use it for bills," said Aroh.
Neupane is now making enough to help support her family and make a better life for her two sons.
"I work this (job), and help my family also," said Neupane.
The Maya Collection is just one of the many art makers that will appear at the Made Market on Saturday, July 21 from 10 a.m. to 5 p.m. at the Mellwood Art Center.
The Maya Collection is also available at area markets, five local boutiques and online.
Copyright 2018 WDRB News. All rights reserved.