Weather
Damage Surveys Find Tornado Touchdowns
The National Weather Service has surveyed the damage caused by Friday afternoon/evening storms and determined tornadoes did touch down. We showed you video and pictures from the Harrison county storm all day. Here are the official findings from NWS Louisv
Saturday, July 21st 2018, 8:24 PM EDT
The National Weather Service has surveyed the damage caused by Friday afternoon/evening storms and determined tornadoes did touch down. We showed you video and pictures from the Harrison county storm all day. Here are the official findings from NWS Louisville: 
EF SCALE RATING: EF-1
ESTIMATED PEAK WIND: 105 MPH
PATH LENGTH/STATUE/: 6 MILES
PATH WIDTH/MAXIMUM/: 250 YARDS
FATALITIES: 0
INJURIES: 0
START DATE: 07/20/2018
START TIME: 2:04 PM EST
START LOCATION: 4 MILES SOUTH OF CORYDON, IN
START LAT/LON: 38.1531 / -86.1449
END DATE: 07/20/2018
END TIME: 2:20 PM EST
END LOCATION: 1 MILE SOUTHEAST OF NEW MIDDLETOWN, IN
END LAT/LON: 38.1571 / -86.0369
THE NATIONAL WEATHER SERVICE IN CONJUNCTION WITH HARRISON COUNTY EMA
CONDUCTED A STORM SURVEY AROUND THE NEW MIDDLETOWN AREA WHERE THE
SUPERCELL WENT THROUGH ON FRIDAY. A TORNADO WAS CONFIRMED OF EF1
SCALE WITH A MAXIMUM WIND SPEED OF 105 MPH. THE TORNADO FIRST TOUCHED
DOWN ALONG JUSTIN'S TRAIL IN THE SOUTHWIND ESTATES SUBDIVISION.
THERE WAS SIGNIFICANT TREE DAMAGE ALONG PLEASURE RIDGE ROAD WHERE A
LARGE TREE FELL ON A GARAGE. FARTHER EAST ALONG PLEASURE RIDGE ROAD,
SEVERAL SMALL FUNNELS FROM THE MAIN FUNNEL DID EXTENSIVE DAMAGE. A
2X8 IMPALED A CONCRETE GRAIN SILO. AT LEAST FOUR BIG BARNS RECEIVED
EXTENSIVE DAMAGE, INCLUDING A TURKEY BARN. FURTHER EAST, SEVERAL
FUNNELS CONGEALED INTO ONE MAIN TORNADO DOING EXTENSIVE DAMAGE TO
HARDWOOD TREES AND SIGNIFICANT ROOF DAMAGE TO SEVERAL HOMES. ALONG
SOUTH PLEASANT ROAD, ONE HOME HAD MUD SPATTER ON THE BACK EAST SIDE
OF THE HOUSE WHERE SEVERAL PIECES OF WOOD WERE IMPALED IN THE
GROUND. AT THAT PROPERTY, A POLE BARN WAS COMPLETELY DESTROYED AND
THROWN IN DIFFERENT DIRECTIONS. A TRUCK AND HORSE TRAILER WAS MOVED
AND TWISTED 50 FEET. THE WIND SPEEDS IN THIS AREA WERE THE STRONGEST
AT 105MPH AND THE MAXIMUM WIDTH WAS 250 YARDS.
AT THE END OF SARABETH WAY, THERE WAS EXTENSIVE HARDWOOD TREE DAMAGE
WHICH INCLUDED UPROOTED, TWISTED, AND MANGLED TREES. THIS INCLUDED
SEVERAL HEALTHY HICKORY TREES WHICH WERE SNAPPED. FURTHER EAST ON
SINKER ROAD, THERE WAS AN IMPRESSIVE CYCLONIC CROP DAMAGE ACROSS A
CORN FIELD WITH CORN LAYING IN EVERY DIRECTION. ON SIMLER ROAD,
THERE WAS CONSISTENT SNAPPED TREE DAMAGE AND WE OBSERVED A CAMPER
THAT HAD BEEN TOSSED AND FLIPPED OVER AND SEVERAL BARNS RECEIVED
EXTENSIVE DAMAGE. DURING THE FINAL STAGES OF THE TORNADO, IT STRUCK
HOMES ALONG PEYTON ROAD FLIPPING OVER SINGLE WIDE TRAILERS, LIFTING
THE ROOF OF A BARN, AND DOING EXTENSIVE TREE DAMAGE. PARTS OF THE
BARN, INCLUDING INSULATION AND SHEET METAL, WERE THROWN INTO THE
TREES.
Next up was the storm in Hart county, specifically around Bonnieville.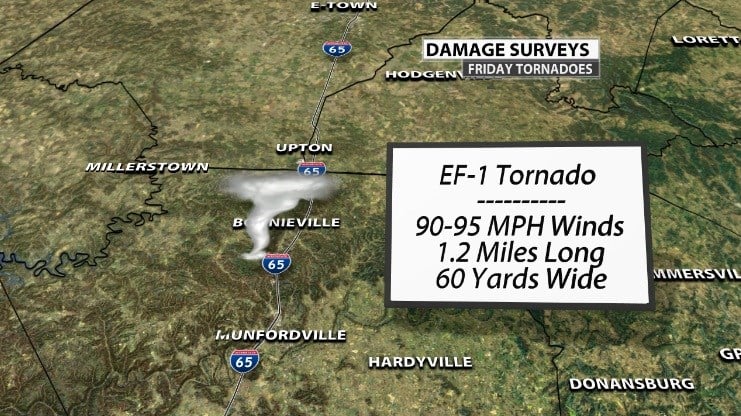 EF SCALE RATING: EF-1
ESTIMATED PEAK WIND: 90-95 MPH
PATH LENGTH/STATUE/: 1.2 MILES
PATH WIDTH/MAXIMUM/: 60 YARDS
FATALITIES: 0
INJURIES: 0
START DATE: 07/20/2018
START TIME: 9:56 PM CDT
START LOCATION: 2.5 MILES WNW OF BONNIEVILLE START
LAT/LON: 37.3887 / -85.9462
END DATE: 07/20/2018
END TIME: 9:59 PM CDT
END LOCATION: 1.9 MILES SWS OF BONNIEVILLE
END LAT/LON: 37.3739 / -85.9377
SURVEY SUMMARY: THIS TORNADO TOUCHED DOWN IN A WOODED AREA MIDWAY
BETWEEN J RIGGS RD AND COPELIN RD NORTH OF STATE HIGHWAY 728,
SNAPPING TREES AS IT MOVED SOUTHEAST ALONG A HAY FIELD, WHERE IT
DESTROYED TWO 1200 LB HAY BALES AND ROLLED NUMEROUS OTHERS UP TO A
TENTH OF A MILE INTO A SOYBEAN FIELD AND UPHILL ONTO A KNOLL.
SNAPPING TREES ON THE LAND ADJACENT TO THE HAY AND SOYBEAN FIELDS,
THE TORNADO TOOK A SLIGHT RIGHT TURN, CROSSING HIGHWAY 728, AND
DESTROYING A LARGE BARN. LARGE PARTS OF THE BARN DEBRIS WERE LOFTED
INTO TREES SOUTHWEST OF THE STRUCTURE, SNAPPING THEIR TRUNKS. A
20'X 20'SECTION OF THE BARN WAS BLOWN 500 FEET TO THE SOUTH-
SOUTHEAST. THE TORNADO CONTINUED SOUTHWARD FOR ANOTHER TWO-TENTHS
OF A MILE, DOWNING TREES ALONG CAMPGROUND RD BEFORE LIFTING. THE
NWS THANKS HART COUNTY EMERGENCY MANAGEMENT FOR THEIR ASSISTANCE IN
THIS SURVEY.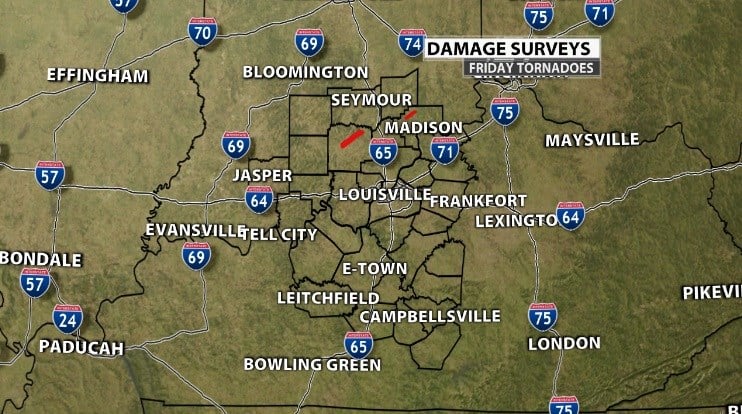 The biggest hail report in our WDRB counties was estimated at 2.75" near Milton in Trimble county - that's the size of a baseball!! The strongest recorded wind gust in our area was 60 mph recorded in St. Matthews and in Campbellsville. NWS Louisville shared a map showing they also planned to do a survey in Washington and Jefferson counties in Indiana. We will share those updates with you as we get them.