Weather
Delta Aquariid Meteor Shower Peaking
It's time to start looking for the Delta Aquariid meteor shower! This one actually lasts roughly from July 12 - August 23 every year, but the moon is going to get in your way this year. The full moon happens Friday, July 27
Monday, July 23rd 2018, 1:13 pm EDT
by
Updated:
Monday, July 23rd 2018, 2:25 pm EDT
It's time to start looking for the Delta Aquariid meteor shower! This one actually lasts roughly from July 12 - August 23 every year, but the moon is going to get in your way this year. The full moon happens Friday, July 27, and all that moonlight will make it tough to see the meteors.  This shower technically peaks July 27-28, so watch for it now and again in mid-August to avoid full moonlight. August 11 is the new moon (with minimal light), so that will be another good chance to see this shower. During that time it will also overlap with the Perseid shower!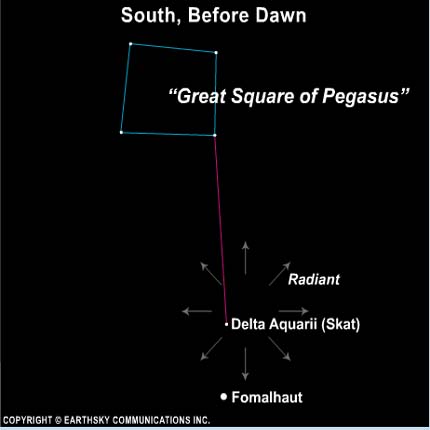 If you want to see the uncontaminated Delta Aquariid shower, watch for it now. Based on the moon and the meteor shower, your best chance to see the Delta Aquariids is Tuesday morning, July 24, around 3 AM. They average 10-20 meteors per hour maximum in a completely dark sky. If you want a better chance to see meteors, mid-August will be your best bet. Minimal moonlight plus overlapping meteor showers will provide optimal viewing conditions.