Weather
Weather Service Adds Tornado to Friday Total
The National Weather Service has changed their initial report of straight line wind damage in Washington county. That was the report given to us Sunday morning after they looked at Washington County. Tuesday afternoon that report was changed to now be an
Tuesday, July 24th 2018, 3:32 pm EDT
by
Updated:
Tuesday, July 24th 2018, 4:49 pm EDT
The National Weather Service has changed their initial report of straight line wind damage in Washington county.  That was the report given to us Sunday morning after they looked at Washington County. Tuesday afternoon that report was changed to now be an EF-0 tornado. "The path stretches from 2 miles north of Salem on Sparks Ferry Road to 4 miles north of Salem on Delaney Park Road." Winds were up to 80 mph in the tornado, higher than the initial straight line wind estimate of 60-70 mph.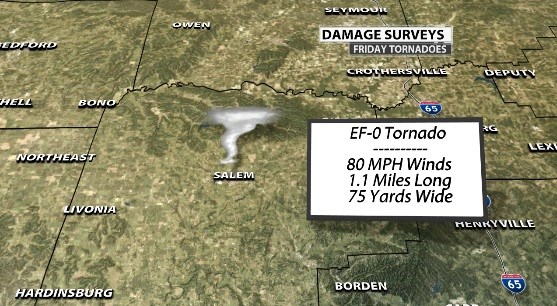 That makes three tornadoes in our WDRB counties Friday.  This one north of Salem, Indiana; an EF-1 outside Bonnieville, Kentucky; and an EF-1 near New Middletown, Indiana.