News
Ford Motor Co. changes severe weather policy for North American plants
The change follows a June 26 incident in which Kentucky Truck Plant kept operating even as a tornado tracked just north of the facility in eastern Jefferson County.
Wednesday, July 25th 2018, 4:19 PM EDT
LOUISVILLE, Ky. (WDRB) – Ford Motor Co. has adopted a more cautious policy for determining when its North American plants should shut down so workers can seek shelter during severe weather.
The revised policy "will make our members safer in the event we face severe weather," according to a memo dated Tuesday from Allen Hughes, the plant's building chairman with UAW Local 862, the union representing most rank-and-file workers at Kentucky Truck Plant.
Ford spokeswoman Kelli Felker confirmed the change and said it applies to all of the automaker's plants in North America.
Some workers criticized Ford for keeping Kentucky Truck operating as normal last month despite the facility being within the polygon tornado warning area promulgated by the National Weather Service's Louisville office. The plant employs more than 8,000 people making F-Series Super Duty pickup trucks and SUVs.
The weather service's survey would later show the June 26 tornado tracked through Worthington Hills, a neighborhood immediately northeast of the plant: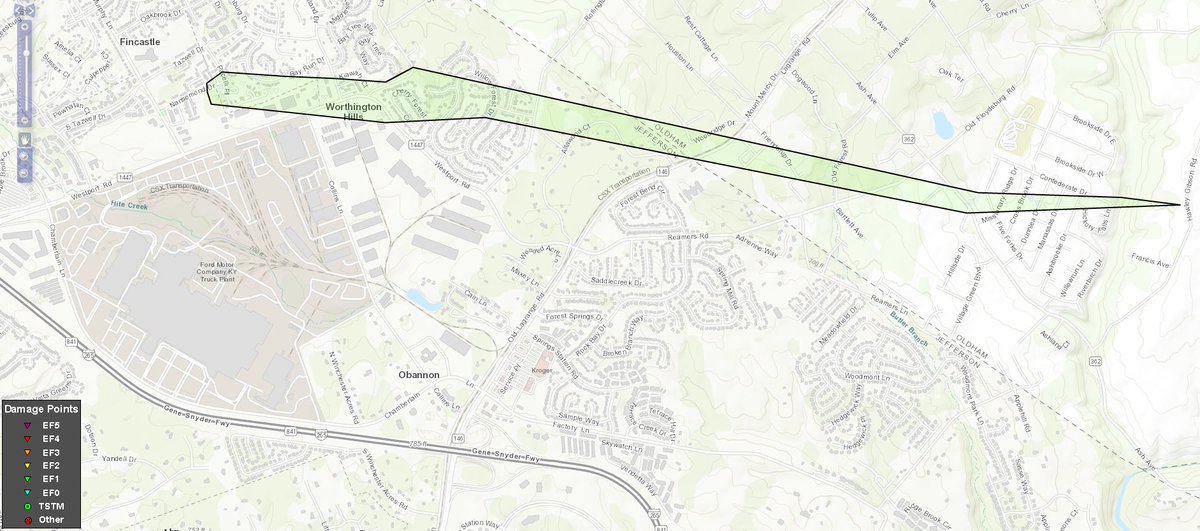 Official track of the EF-1 tornado that hit Louisville yesterday while in a tornado warning from the NWS. Notice the Ford Truck Plant on the bottom left of the image. I want to know why Ford was advised "the storm was not tracking close enough to present a danger or threat". pic.twitter.com/9wCHmyTmj4

— Marc Weinberg (@MarcWeinbergWX) June 27, 2018
The day after the tornado, Ford said its weather monitoring contractor AccuWeather determined that the storm "was not tracking close enough to present a danger or threat to our employees or facility."
Ford maintained that position in a statement Wednesday.  
"While our workers were never in danger from the June storm, we listened to their concerns and revised our policy," Felker said in an email.  
AccuWeather will use a wider radius when deciding whether to issue a "Level 3" notice to take shelter, Hughes told union workers in the memo.
Hughes said the previous policy was for a Level 3 to be issued if a tornado was detected within a 3-mile radius from the center of the plant – if the tornado was moving toward the plant.
The new policy calls for a 5-mile radius from the eastern, western, southern and northern edges of the plant and for a take-shelter order regardless of the direction in which the tornado is moving.
Hughes said the policy will be reviewed annually.
A spokeswoman for AccuWeather said she would try to arrange an interview or respond to a reporter's email on Wednesday, but no response was given. AccuWeather did not respond last month when concerns were first raised.