News
NAFCS prepared for school year with new construction projects
School district leaders held a ribbon cutting ceremony for the new Green Valley Elementary School on Wednesday morning.
Wednesday, July 25th 2018, 6:46 PM EDT
FLOYD COUNTY, Ind. (WDRB) -- School district leaders held a ribbon cutting ceremony Wednesday for the new Green Valley Elementary School.
Construction crews have been working non-stop to finish the brand new building behind the old one before the 2018-19 school year starts Thursday. The school's principal said he hopes everyone is filled with pride when they walk in to the brand new building.
"My hope would be they never lose that feeling of 'Oh my gosh! We're so fortunate to have this,' said Brian Kehrer, principal of Green Valley Elementary School. "I want them to come in with a sense of wonder and a sense of 'I can't wait to be here and just learn.'"
Floyds Knobs Elementary School will also start the new school year with a few upgrades. The cafeteria was expanded and remodeled over the summer. While the new kitchen will not be complete until after winter break, meals will be prepared at another school and brought over every day for students.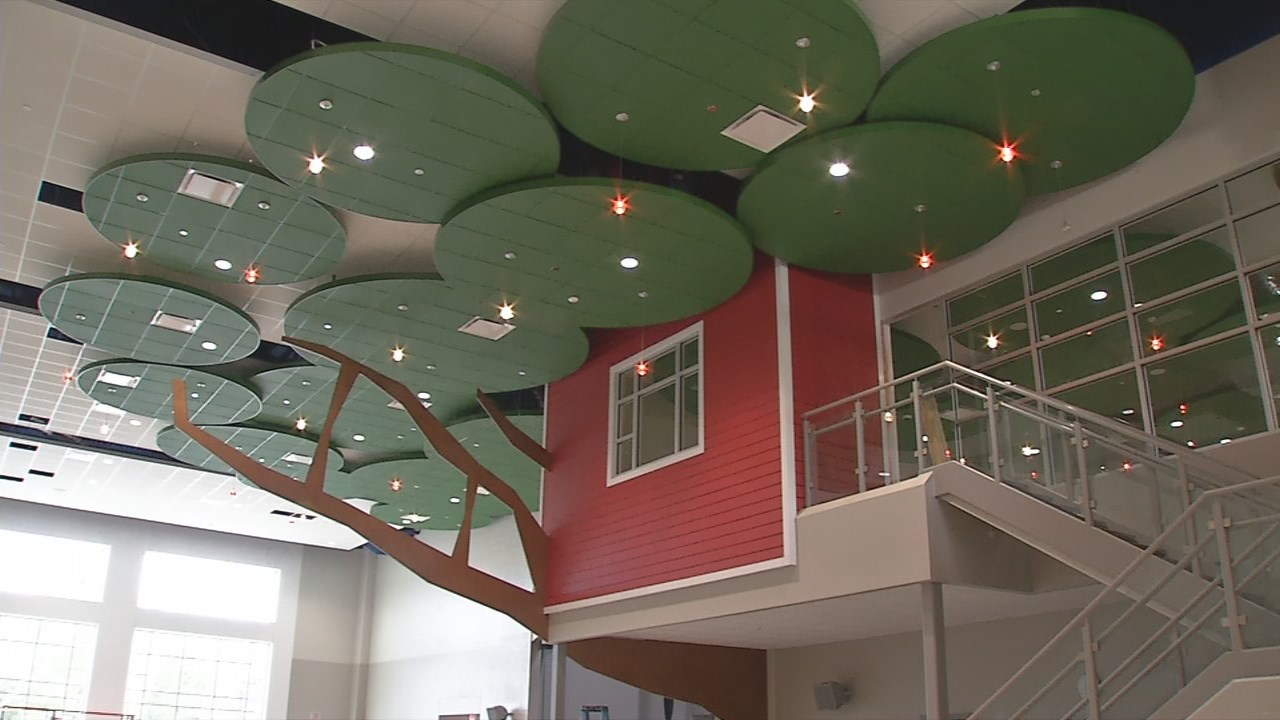 With so little time in the summer to complete everything, people wondered if everything would get done on time.
"We have a lot of really good people that are very well coordinated working on these things," said Bill Wiseheart, NAFCS facilities manager. "And that's been kind of the surprise. You'd walk into a space and think there's no way. Two days later, it's ready to go."
The $87 million referendum passed in 2016 supported seven different school upgrades or construction projects.
"When you think what a school does for a community, as far as having a new school and the excitement around that, and what it also does for property values, it brings everything up," Wiseheart said. "I think it also shows that we care about our kids. Our community voted to allow us to do these projects. And we've been fulfilling the promises that we made to the community."
Here is a status update for the seven projects:
Highland Hills Middle School – A longer driveway for car riders, along with new sidewalks and curbing, was built to help with traffic concerns from an increase in car riders (COMPLETE)
Green Valley Elementary – A brand new school was built on property behind the current one, with a price tag of around $18.5 million (COMPLETE)
Slate Run Elementary – A brand new school is being built on the current site location. The old building was torn down and the frame for the new structure is being built now. This project will cost about $16.5 million and is expected to be complete by spring. Students will go to school in Graceland Baptist Church during the construction (UNDERWAY)
Prosser Career Center – A brand new addition of about 35,000 square feet was finished over the summer. The current structure was gutted and replaced with a brand new building to match the addition. The major project will include new technology features and safety features. This is expected to cost $21 million. Construction is expected to be finished in 2019 (UNDERWAY)
New Albany High School – A new library, media center and cafeteria are being built. The spaces will be larger and include more up-to-date technology. It is expected to be finished in December 2018 and cost around $3 million (UNDERWAY)
Floyds Knobs Elementary – A larger kitchen and cafeteria will be built. The cafeteria was expanded to accommodate more students. The kitchen construction is still underway, and new equipment will be delivered later in the fall. It is expected to be complete after winter break and cost about $2 million (UNDERWAY)
Greenville Elementary – Finishing touches from the last renovation project will cost about $2 million. Crews plan to replace old doors, windows and carpets and update the security cameras. These are upgrades that could not be done in the last remodel, because funding ran out. These projects are also planned to start later next year. Because the district saved money on some of the other projects, they plan to use the surplus to add five new classrooms to the building (PLANNING PHASE)
Copyright 2018 WDRB Media. All rights reserved.