Crime
ARRESTED: Suspect in custody for murder of Washington Co., Indiana man
The body has yet to be identified, but police say the man responsible for the murder is already in custody.
Thursday, July 26th 2018, 1:52 PM EDT
WASHINGTON COUNTY, Ind. (WDRB) -- The suspect wanted for the murder of a Washington County man was arrested Thursday afternoon.
According to a news release from Indiana State Police, 34-year-old Michael Joseph Sanders was taken into custody by Austin City Police just after 12:30 p.m. He was reportedly driving a stolen gold Ford Focus when police stopped him near the intersection of Boatman Rad and West York Road in Austin, Indiana.
At the time, the Washington County Prosecutor was in the process of obtaining an arrest warrant for Sanders on a murder charge. 
The charges came after a body was discovered in the woods on East New Cut Road in Little York, Indiana. An autopsy was performed on the body on Wednesday, but authorities were not able to make a positive identification. DNA and dental records will now be used to try and identify the victim. Authorities did say the autopsy showed the cause of death was a gunshot wound to the head. Toxicology results are pending.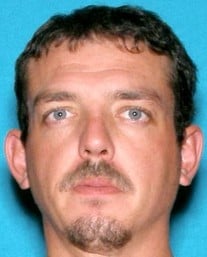 According to officials, the unidentified person is likely 35-year-old Washington County resident Skyler Naugle. The body was found while authorities were searching for Naugle. 
Sgt. Jerry Goodin said Sanders lives where the body was found on East New Cut Road. 
Police say officers spoke with a property owner in Little York, and authorities say it's believed Naugle had been on that property before he disappeared. He was last seen on Monday, July 16, and was reported missing on Saturday, July 21. During the search, officers found the body in a wooded area near the home.
Sanders is now charged with Naugle's murder. Additional charges are pending, according to Indiana State Police. He is currently being held in the Washington County Jail.
Copyright 2018 WDRB News. All rights reserved.