Weather
Weather Helps Carr Fire Double in Size Saturday
A fire in northern California nearly doubled in size Saturday and can be seen from space. The image above is reflectivity from the GOES satellite showing several different fires across northern and central California. You can also see the smoke from the G
Saturday, July 28th 2018, 7:56 pm EDT
by
Updated:
Saturday, July 28th 2018, 7:56 pm EDT
A fire in northern California nearly doubled in size Saturday and can be seen from space.  The image above is reflectivity from the GOES satellite showing several different fires across northern and central California.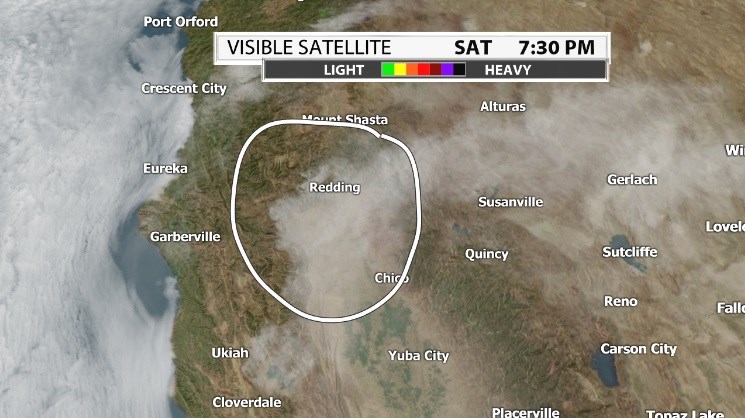 You can also see the smoke from the GOES satellite just outside Redding, California.  The fire is nearly the size of the city of Philadelphia now - more than 80,000 acres - and is only 5% contained. Humidity remains incredibly low and winds are gusting up to 50 mph as temperatures soar past 100º this weekend. 
Authorities say the fire was started Monday by a car that was having some sort of mechanical issue. The National Weather Service notes that conditions favorable for fire to spread continue through Monday morning. Five people, including two fire fighters, have been killed by this blaze.  Thousands of people have been evacuated and hundreds of buildings have been damaged since Monday.