News
Ft. Knox soldier receives top Army honor for pulling driver from flaming truck
Sgt. First Class Mario King got a standing ovation when he was presented with the Soldier's Medal on Friday.
Friday, September 7th 2018, 12:11 pm EDT
LOUISVILLE, Ky. (WDRB) -- A Fort Knox solider who pulled a driver from a burning semi truck received one of the U.S. Army's highest awards on Friday.
Sgt. First Class Mario King expressed humility and gratitude as post commanders draped the Soldier's Medal over his neck. It is the highest peacetime honor for heroism a soldier can receive. 
"Not in a million years would I have thought something like this would happen," King said. "I am at a loss for words." 
King and his wife, Sgt. Adriane King, both serve in the U.S. Army's Human Resources Command at Fort Knox. On Mother's Day, they were heading back to the post in Radcliff from vacation in Atlanta, taking an unconventional route involving a lot of back roads. It put them at the intersection of Highway 150 and Highway 70 in Rockcastle County.
"My wife was driving at the time, and the next thing I know, I heard, 'Oh my god!'" King said.
A semi truck flipped and caught fire after colliding with a car, trapping the driver, Doug Bowling, inside the cab. The truck was carrying 8,000 gallons of fuel. 
"Not just anybody would come to a flaming tanker and try to help anybody ... It's rare, " Bowling said at Friday's ceremony. 
Three others were trying to help Bowling, but it was King who was finally able to get the trapped driver to safety. 
"(King) grabbed me by the collar and took off with me, and here come the other guys trying to chase us down, because we were going places," Bowling joked. "We were getting away from the fire." 
The truck driver suffered five broken ribs and a punctured lung but is now back on the road hauling gasoline. Bowling said when he passes by the crash scene, he calls it the "hot spot."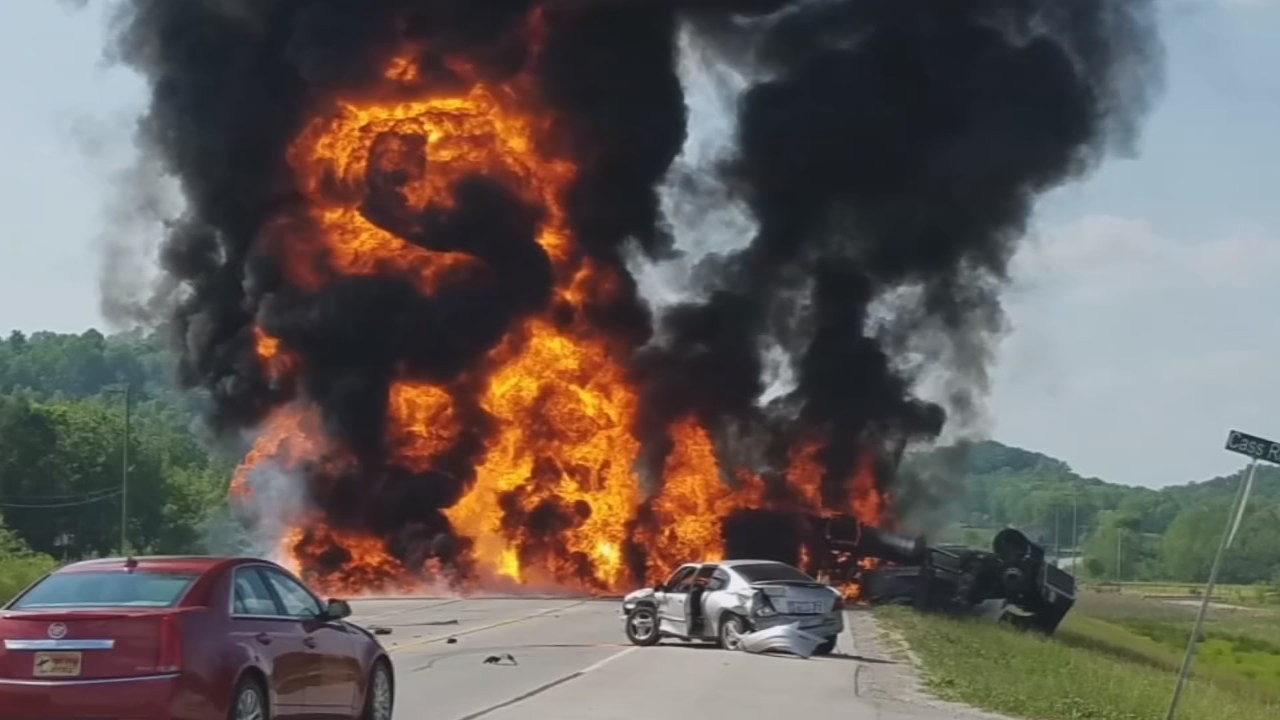 Those in attendance for Friday's ceremony gave King a standing ovation. It marked the first time the solider had spoken to the man he rescued. King is bashful about the attention. 
"I'm not big on 'Hey, look at me' type activities, and this is definitely a 'Hey, look at me type' activity," King said. "It's really not about me.
"It's about Mr. Bowling here and the fact that he's present and he's still here with us today. That's all that I can say. That's what I am truly grateful for."
King has served 17 years in the military, including three deployments. He's currently assigned to the Human Resources Command at Fort Knox. 
"(King) made us all proud as Americans and he made us all proud as soldiers," said Maj. Gen. Jason T. Evans. commanding general of the Army's Human Resources Command. 
Copyright 2018 WDRB Media. All rights reserved.