Business
Kentucky's cities lead recovery from Great Recession, report finds
Louisville, Lexington and northern Kentucky are the only regions of the state that have outpaced the nation in job growth since 2009, according to a new report for the Kentucky Chamber.
Monday, September 10th 2018, 4:38 PM EDT
LOUISVILLE, Ky. (WDRB) – Kentucky's urban areas have led the state's seven-year recovery from the Great Recession, with 61 percent of the state's net, new jobs since 2009 coming in three counties – Jefferson (Louisville), Fayette (Lexington) and Boone, home to Cincinnati / Northern Kentucky International Airport.
Coomes said the story of Kentucky's economy from 2009 to 2017 is the same as before the downturn: Urban areas in the middle of the state, off Interstates 65 and 75, are thriving while the far eastern and western areas of Kentucky continue to shed jobs and population.
"These are the same trends I have been seeing for 20 years," Coomes said in a phone interview Monday.
Coomes found that Kentucky has lagged the nation as a whole in each key metric – job, wage and population growth – during the economic recovery. It also lags border states Indiana and Tennessee in those metrics.
But three of Kentucky's nine economic regions – Louisville, Lexington and northern Kentucky – outpaced the national average in job growth, according to Coomes' analysis, which draws on government data.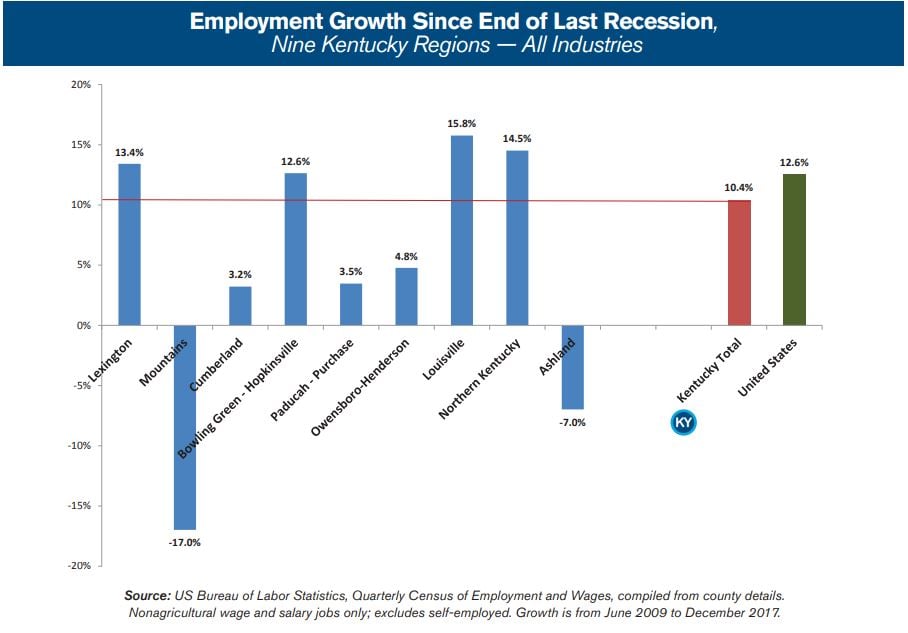 Louisville has led the way, with 15.8 percent more jobs than before the downturn compared, to 12.8 percent for the U.S. as a whole.
Coomes said the state's urban areas are benefiting from national trends: the growth of professional "office" jobs – corporate headquarters, accountants, architects – and growth in suburban "distribution" jobs, like warehousing for online shopping.
Bullitt County, home to several Amazon fulfillment centers, led all 120 counties in the state with 70 percent more jobs than before the downturn, according to the study.
Coomes added that the urban areas have also gotten a boost from the bounce-back in manufacturing.
Ford and GE Appliances, some of Louisville's biggest manufacturers, have added thousands of jobs since their low-points following the downturn, for example.
While the number of factory jobs remains in long-term decline nationally, Kentucky has a bigger share of that shrinking pie, Coomes said.
"We have brought back manufacturing here more than national average. Kentucky has benefited from that," he said.