News
Louisville's abandoned building supply still exceeds demand from buyers, city says
The city says relatively new tools and programs helped the city sell 125 vacant, abandoned properties, but there's still one big challenge: supply far exceeds demand.
Wednesday, October 10th 2018, 10:12 PM EDT
LOUISVILLE, Ky. (WDRB) -- As he strolls through the art gallery he helps manage in west Louisville, Charles Booker is absorbed by so many of the pieces.
"Looks like somebody that's working really hard, and that resonates a lot with me," Booker said as he looked at a framed photograph of a man's tired face with his rough hands supporting his chin.
Booker is one of the directors of 1619 Flux. Though it's an art gallery now, that wasn't always the case. In fact, years ago, it was far from it.
"This was a run down space," Booker said. "This doorway was not there. Of course, there was no paint. Bushes and everything growing tall."
But the gallery's founder had a vision to transform it from an old warehouse into a space the community can enjoy. Now, Booker is hoping that same vision can spread elsewhere to many of the city's other abandoned properties.
"We can transform our own spaces," he said. "We can invest in our own community. There are tools and supports out there for us."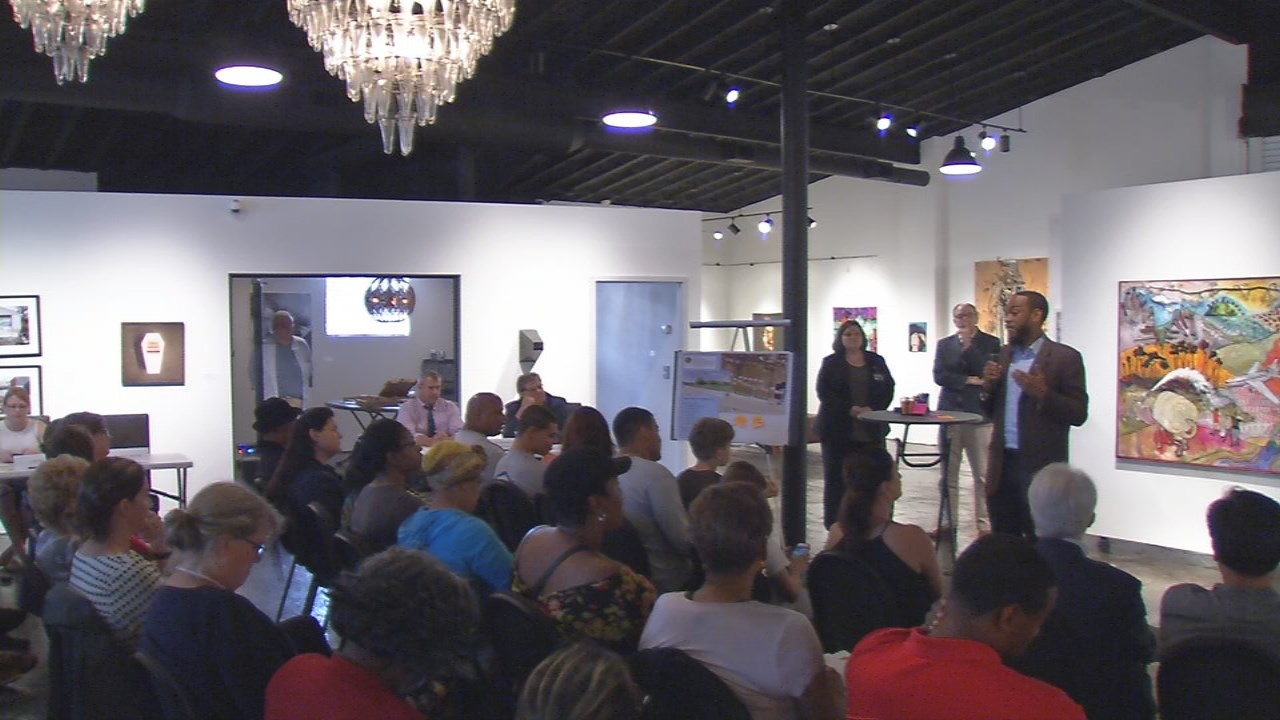 The city's Office of Vacant & Public Property Administration introduced some of those tools roughly a year ago: a program to allow people to buy demo homes at cheap prices (Last Look), a program that lets people buy homes if they agree to maintain them (Cut It, Keep It) and a program for cash-strapped developers to buy city-owned plots anyway (Flex Rate).
"We had the greatest fiscal year that we've had really on record," said Laura Grabowski, the director of the office.
Grabowski said the new tools helped the city sell 125 properties, but there's still one big challenge: supply far exceeds demand.
"Really, the goal here is to get more small investors, small developers, interested in our properties," she said.
That's where Booker, 1619 Flux and the meeting held Wednesday night enter the picture. Booker's gallery welcomed Grabowski, other city officials and dozens of community members in an effort to drum up more interest in abandoned buildings.
The meeting gave the city a chance to advertise a group of properties it's hoping to sell to interested buyers. Grabowski said it's beneficial to connect with those interested buyers in their communities and believes the city will be part of more meetings and community partnerships to reinvigorate more abandoned properties.
"I see a beautiful foundation that if we invest in it now and support it, it can be brilliant," Booker said.
Copyright 2018 WDRB Media. All Rights Reserved.