Sport
CRAWFORD | Duke dominates Kentucky 118-84 in opener
Duke handed Kentucky its most lopsided loss ever under John Calipari.
Wednesday, November 7th 2018, 12:22 AM EST
INDIANAPOLIS, Ind. (WDRB) – First off, Duke is really good. As the season goes on, opponents will find its weaknesses and probe them. But on the season's first night, Kentucky was not that team.
Duke is the ridiculously early "best team in college basketball," after running Kentucky out of Banker's Life Fieldhouse 118-84 on Tuesday night in the nightcap of the State Farm Champions Classic.
And Duke is ridiculously good. At least, freshmen R.J. Barrett, Zion Williamson and Cam Reddish are ridiculously good. Duke is better than Kansas. Duke should be the new No. 1 whenever the next polls come out. The young Blue Devils came into a crowd that was heavily partisan to the Wildcats, and they were unfazed.
"If there was any doubt about what the No. 1 freshman class in the country is," ESPN's Jay Bilas said, "it has been erased in this game."
"We played great," Duke coach Mike Krzyzewski. "They were magnificent. They embraced the stage. . . . I shouldn't say I'm surprised at how well these guys played, because I see them. But to play on this stage against Kentucky, I am a little surprised.  . . . They didn't play as well as they're going to play, and we played great. If we played again, they might beat us. We know that."
"I've got to give them credit," Kentucky coach John Calipari said. "They made shots. They passed. They attacked at the rim. We only created four turnovers. Either they're a great handling team or we're not doing enough defensively. Those three players, they're not running a lot of stuff, they're just getting them in position to attack. They were just better than us. I just told them I got outcoached, you got outplayed. We'll just look at the tape and move on."
There are worse ways to start the season than a complete tail-kicking, especially if you're a talented team like Kentucky. A healthy dose of humility can't hurt, if it is used constructively.
And even if it isn't, a heaping dose of humility is exactly what Kentucky received from the opening tip on Tuesday, with Duke jumping out to an 18-8 lead and never looking back. Kentucky stayed within single digits of Duke for about six minutes. After that? Not even close. Duke was up 17 at the under-12 timeout. And from then on, it did what it wanted.
"As the season goes on," Kentucky senior Reid Travis said, "we'll be able to stop the bleeding, but we didn't do that tonight. . . . They're a great team. A lot of talent. Their young players played very mature. . . . It's tough when you go down early like that. We were really hyped up to play, and that's a blow to your chest. . . . But I love our guys because everyone really does want to get better, and this hurts."
Kentucky made some brief runs when Williamson sat down with foul trouble. But when he came back in, he and Barrett hit the gas again.
Barrett finished with 33 points in 32 minutes, and dished out six assists. Williamson finished with 28 points on 11 of 13 shooting. Duke scored on two-thirds of its possessions. It made 11 of 23 three-pointers.
If Krzyzewski said he was surprised, Barrett said he wasn't.
"We weren't surprised at the score, because we know how hard we work," he said. ". . . We did look up at the scoreboard a couple of times . . . and that's when they went on runs."
Keldon Johnson had 23 points for Kentucky and Tyler Herro had 14, points, eight rebounds and five assists. Graduate transfer Reid Travis showed solid leadership and had 22 points and seven rebounds. But Kentucky's experienced players, Quade Green, P.J. Washington, Nick Richards, were very quiet. And experience was supposed to be Kentucky's edge.
Consider this stat: Duke's big three freshmen combined for 83 points. Kentucky's three returning sophomores combined for 9.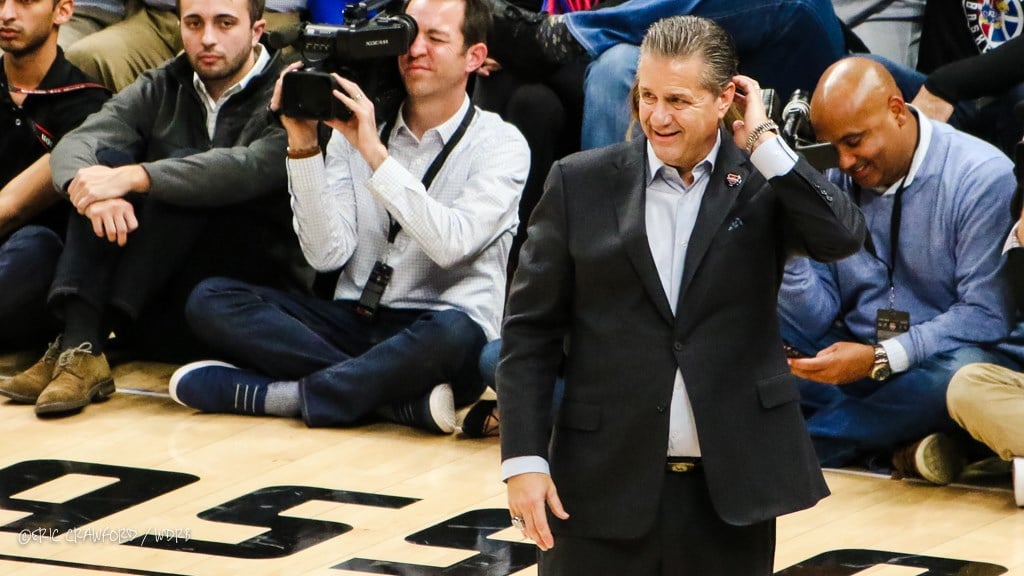 Calipari will take the tape and run with it, will use it to show his team of phenoms where it better get serious and get better.
But for this moment, no one has ever seen a Calipari Kentucky team, one ranked this highly, and with this much highly touted talent, dominated like this, dominated completely.
It was the most lopsided loss of Calipari's Kentucky career, eclipsing a 30-point loss at Tennessee in 2013. It was the worst loss for any UK team since a 76-41 loss at LSU on Jan. 18, 1987. It was Kentucky's largest margin of defeat in a season-opener since 1926, and marked just the fourth time any Calipari-coached team has lost by 30 or more. It was the most points ever given up by a Calipari-coached team, and the most given up by a Kentucky team since North Carolina scored 121 in a 1989 meeting.
Duke flew past Kentucky. It made the Wildcats look pedestrian, with a 26-12 edge in fast-break points. It had 90 points at the under-12 media timeout – and 37-point lead. It got the better of Kentucky's guards and bulled the Wildcats' big men, with the exception of Travis, in the paint.
Duke broke the Champions' Classic record for points in a game. It had only four turnovers, and had a 27-8 edge in points off turnovers, and 60-38 in the paint. It was also the biggest blowout ever in the event, eclipsing a 32-point win by Kentucky over Kansas in 2014.
Kentucky scored some window-dressing points late, but this was Duke's show.
"This is a very confident group," Krzyzewski said. "And our veteran players have gotten better. So that's a good mix. . . . I would hope this would make us more confident."
Kentucky's turn may come later. But only after reliving this one in a painful manner, and moving forward off of it.
"I haven't had many of these games, but I've had a few," Calipari said. "And you learn that they wanted it more than we wanted it. . . . We had some chances early, but we kind of broke off. . . . But I haven't lost any faith in these guys. They're good guys and they're learning. I grabbed the two point guards and told them I'm get with them going to work with them on some stuff. . . . We've all got to do some soul searching here. We'll figure this out."
Copyright 2018 WDRB Media. All Rights Reserved.