Sport
CRAWFORD | Mack survives debut, but wins big in the postgame
Louisville's performance was uneven, but Mack's reaction was a hit.
LOUISVILLE, Ky. (WDRB) – In Chris Mack's debut as head coach, the University of Louisville basketball team didn't crush the opposition. The Cardinals twice took 14-point leads but couldn't put away Nicholls State, and led by only two with just over three minutes to play before pulling away to an 85-72 victory in the KFC Yum! Center.
Mack, however, was a blowout winner of the press conference, if fan reaction counts for anything.
It's not that Mack threw any of his players under the bus after the game. He just calmly but very clearly kept things real. He didn't try to send messages, other than that despite the win, he wasn't very happy.
Asked about how he felt upon winning his first Louisville game, Mack opted not to play the "happy-talk" card.
"Not very good, to be honest with you," he said. "I don't think we played very well. I don't think we were very tough. And we've got tougher games coming. I'm happy that we won. But I'm certainly not happy the way we won. We have to figure it out."
A number of fans, tired of hearing about how things are fine, or about how they don't understand what they just saw or about how good the opponent was, sat back and enjoyed the reality, perhaps more than they enjoyed the game. While Mack gave Nicholls credit at the outset of his remarks, he wasn't about to let his own team off the hook.
"Love that he said not very tough," Mike Soult replied on Twitter. "What I expected from him."
Mack praised his team's free-throw shooting and some of its stretches of defense. But in all, he wasn't interested in shining a light only on the positive.
"Hopefully, tonight was a little dose of reality for some of our guys," Mack said. ". . . Who knows what to expect? That's part of taking over a new program and new personalities. There were some occasions on the floor tonight when I didn't like what I saw with our attention to detail, our toughness on the defensive end, on the glass. But, Game 1, we have to learn from it."
Mack, as was the case in exhibitions, entered the arena to little fanfare. The pep band had no theme music. He reached into the crowd and fist-bumped a little boy, then was out talking to his assistants as his team finished its warm-ups.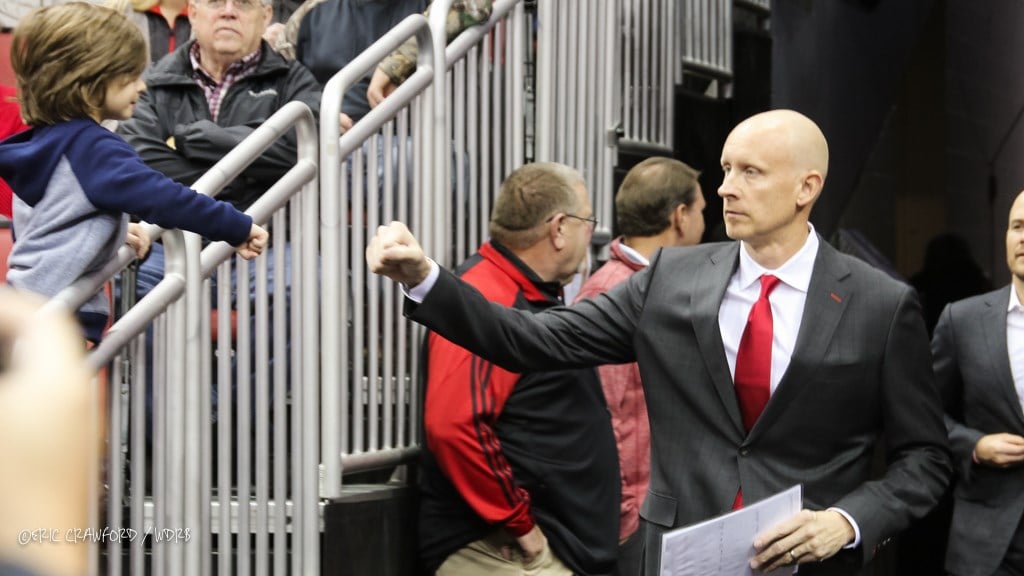 U of L installed a new light show for starting lineups, but when he was introduced for the first time and the spotlight went to him, he didn't acknowledge the ovation that followed.
Several fans during the course of the game Tweeted support that Mack was getting on officials from time to time.
While there's no question, his team's grasp of what he is trying to teach sometimes is tighter than others, Mack's command of what he wants is unquestionable. So is his grasp of the talent he has, and what it needs to be by the time the competition ramps up, which is very soon.
"We've got a long way to go," he said. "We have to get better in a hurry."
Already, Mack's players seem to be picking up his tone.
"None of us really feel very good about that win," Ryan McMahon said. "Ten, 12 points up with a few minutes to go, that's when you want to lock in and close them out, go out to 20, not give them some hope. They got hot and made some tough shots. . . . I have to give credit to them, but there were some areas he (Mack) was more disappointed in than just them making tough shots, some of the loose balls, some of the turnovers, just carelessness, that will drive a coach crazy."
But on a night when not many people were thrilled with the performance, everybody came away from the press conference feeling pretty good, or at least on the same page.
Copyright 2018 WDRB News. All Rights Reserved.