News
VIDEO | George W. Bush shares a moment with Michelle Obama at funeral
In a touching gesture before his father's funeral, the former president appeared to give her a piece of candy.
WASHINGTON (AP) -- Former President George W. Bush appeared to hand former first lady Michelle Obama something at his father's funeral, recreating a moment from Sen. John McCain's funeral earlier this year.
At McCain's funeral, Bush and Obama were seatmates and he appeared to hand her something during a eulogy. The bipartisan moment went viral, and Obama later told NBC's "Today" show Bush slipped her a mint.
On Wednesday, Bush dug into his pocket right before he shook the hands of the former presidents and their wives gathered for the funeral of his father, former President George H.W. Bush. He appeared to switch something into his right hand before he shook Mrs. Obama's hand and then hand something to her. She smiled at him after the exchange.
During the funeral President George W. Bush said that he told his father just before he died that he had been a "wonderful dad" and that he loved him. Delivering a eulogy Bush said the last words his father "would ever say on earth were, 'I love you, too."'
George W. Bush extolled his father not only for his service as president but also as a role model as a loving husband, father and grandfather.
Bush choked up at the end of his eulogy before regaining his composure. He patted his father's flag-draped coffin twice as he went back to his seat at the Washington National Cathedral. Former first lady Laura Bush wiped her eyes with a tissue as her husband sat next to her.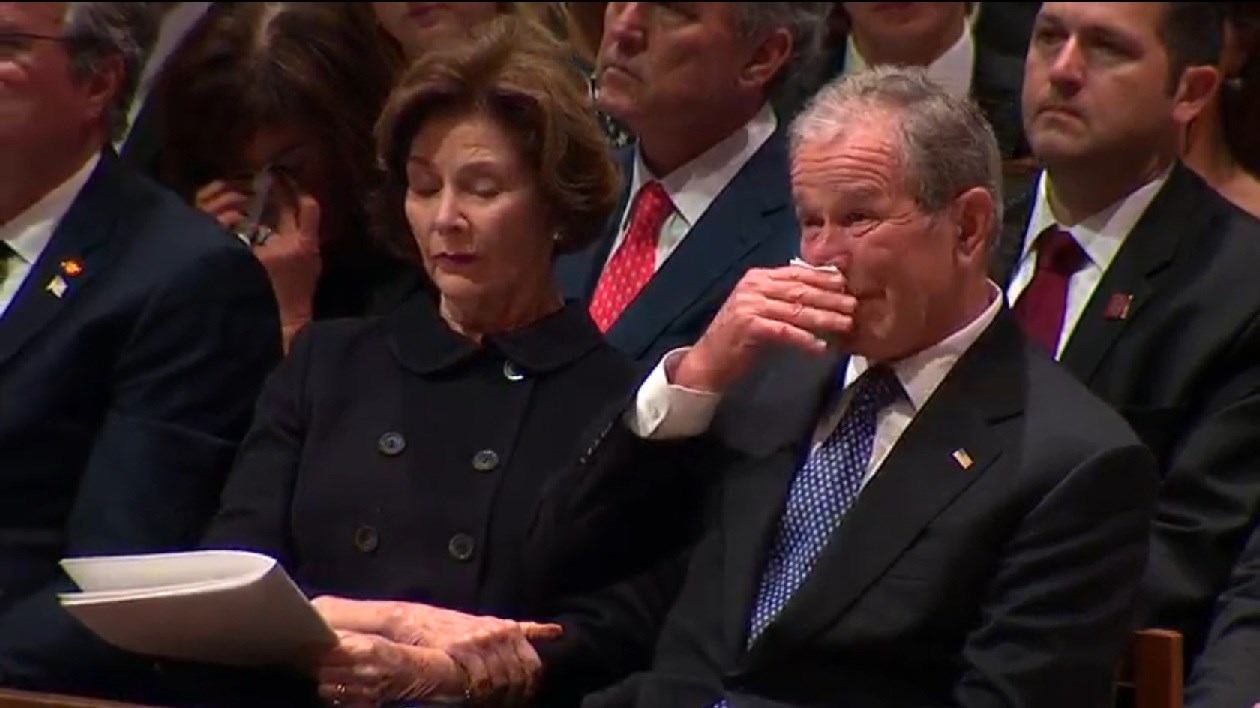 Following the funeral, former President George H.W. Bush's body left Washington for the last time. Bush's flag-draped casket was carried in a motorcade to Joint Base Andrews outside the capital city following his state funeral at Washington National Cathedral.
An aircraft that often serves as Air Force One and designated "Special Air Mission 41" is flying the casket to Houston. Former President George W. Bush and former first lady Laura Bush waved from the top of the stairway before boarding the plane, followed by other family members.
In Houston, Bush's body will be transported by motorcade to St. Martin's Episcopal Church. A public viewing of Bush's casket will be held at the church until early Thursday, followed by a private funeral. Burial will take place at the presidential library in College Station, Texas. Bush will be buried next to his wife Barbara, who died in April.
Copyright 2018 The Associated Press. All rights reserved. This material may not be published, broadcast, rewritten or redistributed.