News
Cincinnati priest accused of molesting boys arrested in Philippines
He is accused of molesting several Filipino boys.
LOUISVILLE, Ky. (WDRB) -- A Cincinnati priest was arrested in the Philippines Tuesday night after federal authorities say he sexually molested several underage Filipino boys.
According to a news release from the U.S. Department of Justice, 77-year-old Kenneth B. Hendricks, a Catholic priest from Cincinnati, was arrested while serving as a missionary priest in the Philippines.
The federal government learned of the allegations on Nov. 13. The criminal complaint was unsealed on Thursday.
Victims included boys who said they were 12 and 7 years old when the abuse started. They claim Hendricks began by kissing them and then escalated to fondling and sex.
"Hendricks allegedly had a number of minor boys residing with him," the news release states. "It is alleged he insisted they take baths together, and would molest the victims alone or with other boys. The priest allegedly warned the victims that if they told anyone they would all go to prison."
The news release recounted an alleged recorded conversation between Hendricks and one of the victims, in which Hendricks said:
"This will probably be the scenario is, there will be a meeting and then it will be decided, you know what your parents want to do about anything. Do they want to try ... want to press charges, uh, whatever see, but that's between them and the Bishop. I have nothing to do with that. I just get the fallout afterwards."
In the same recording, Hendricks is alleged to have said:
"They will decide, ask you what your decision is, what you're going to do, whether there will be a case or not or whether, you know, a settlement, I don't know. But as far as after that, I don't know what's going to happen. I really will have to probably really resign, retire now."
Hendricks is federally charged as a United States citizen with engaging in illicit sexual conduct in foreign places, according to the news release. The charge is a federal crime punishable by up to 30 years in prison.
Anyone with additional information about Hendrick's alleged crimes is asked to call Homeland Security Investigations at (513) 246-1461.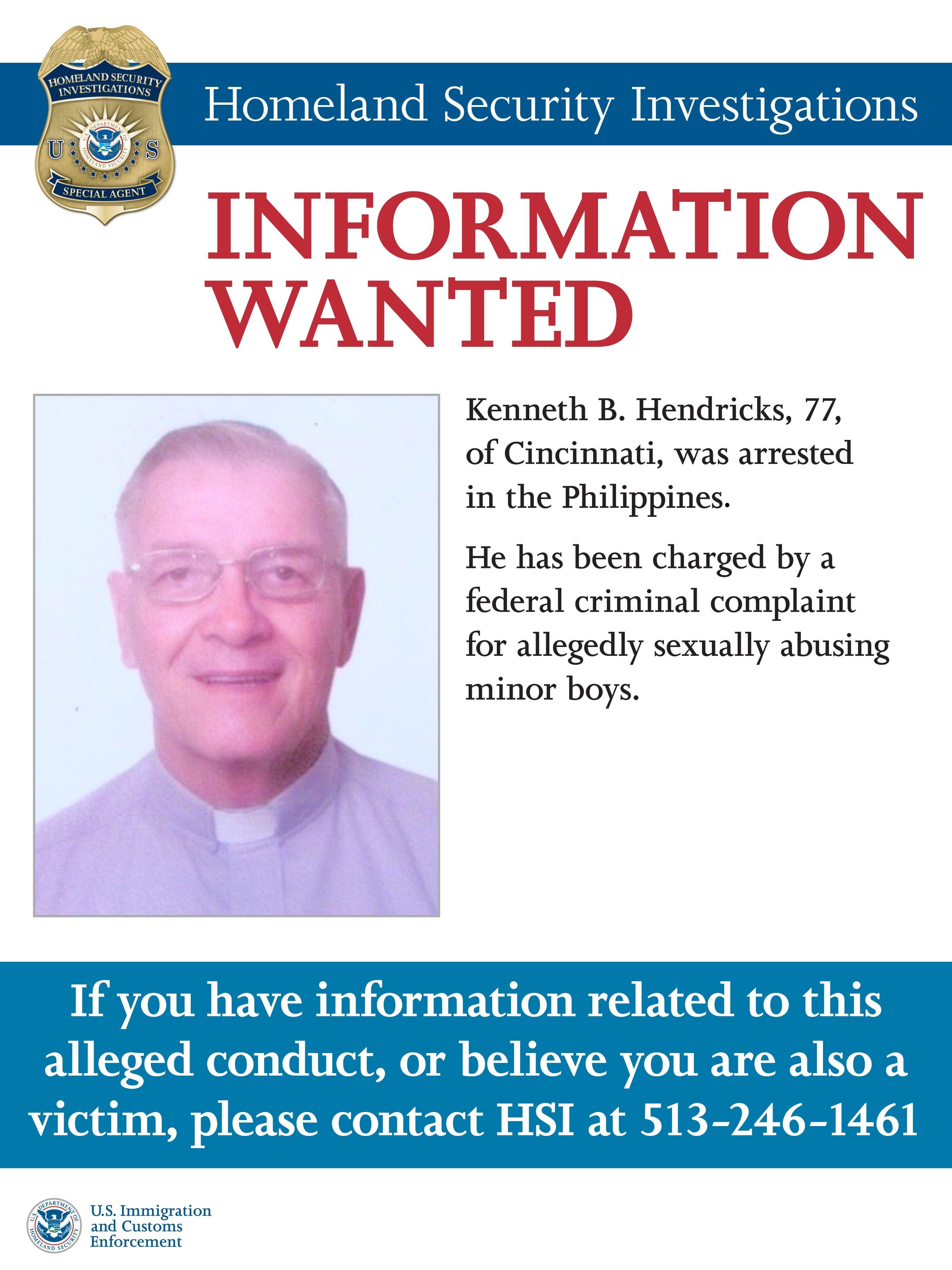 Copyright 2018 by WDRB Media. All rights reserved.