News
Oldham County elementary students learn to code
At Crestwood Elementary School, a class of third graders coded their own digital dance parties.
Thursday, December 6th 2018, 5:59 PM EST
OLDHAM COUNTY, Ky. (WDRB) -- Oldham County School students are getting a crash course in coding during Hour of Code Week.
Across the globe, students of all ages are taking an hour each day to learn about computer sciences. Oldham County Schools has more than 12,000 students in the district, and at least 6,500 have participated this week.
Angie White, director of instructional technology for Oldham County Schools, helped facilitate the program.
"Ninety-something percent of all parents nationwide want their students to learn computer science, but less than 65 percent of schools actually teach computer science," White said. "We're very fortunate here. We have several STEM teachers and computer science is in the forefront."
White said, as part of the week-long initiative, kindergarten through high school students will learn about coding through different interactive programs, depending on their level in school. Older students are using online programs called Code Academy and also using little robots. Younger students are using "unplugged activities."
One kindergarten class developed a dance by listing different moves on a board then acted those moves out. White said this teaches them about programming through computational thinking, logic and algorithms.
"They may not have known that the word algorithm existed before the Hour of Code event," she said. "But the teachers as part of teaching coding help teach that vocabulary and that language, so it becomes a natural part of what they do."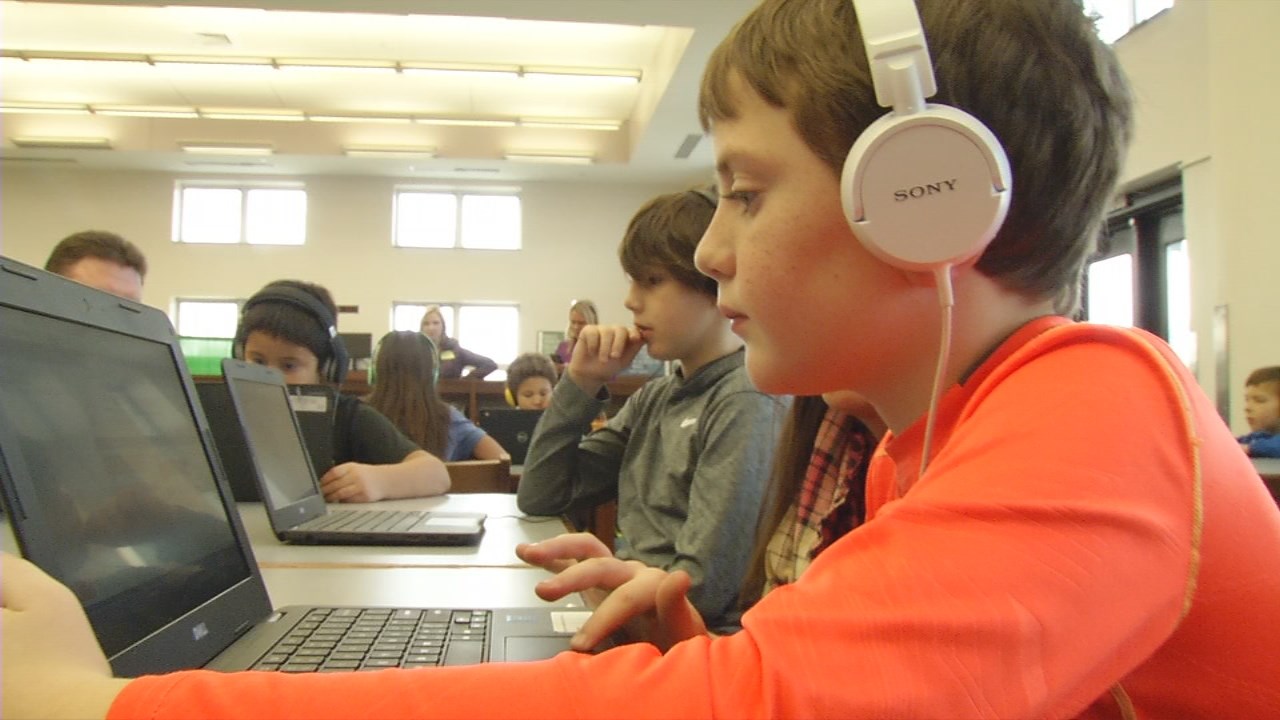 Another goal of Hour of Code is to encourage diversity in computer science careers.
"We don't have as many women or minority groups represented," White said. "So this is a great opportunity for them to say, 'Hmm ... It's not quite as mysterious as we thought.'"
By making it into a game, technology and coding becomes less intimidating.
At Crestwood Elementary School, a class of third graders coded their own digital dance parties Thursday. Each student picked their characters and music and programmed instructions for different dance moves. Each level comes with a different challenge to accomplish.
"We do coding on a very basic level with computational thinking on a daily basis," she said. "This just lets them have that success, experience and exposure. And who knows what it can lead to in the long run."
The UPS Airlines IT department helped lead some of the programs for different classes throughout the week.
As a fun reminder for what the students learned and accomplished, every student who participated in Hour of Code Week will get a silicone wrist band. The Oldham County Schools educational foundation donated $1,000 to make and purchase the bracelets.
To learn more about Hour of Code, click here. To create your own dance party like the Crestwood Elementary students did, click here.
Copyright 2018 WDRB Media. All Rights Reserved.