FORT KNOX, Ky. (WDRB) -- Fort Knox is warning nearby residents to expect more noise than usual as the Ohio National Guard conducts live-fire tank training on the post.
More than 600 national guardsmen are spending a month honing their battle skills.
"They have to be able to load rounds, identify a target and hit that target within seconds to be proficient," said CSM Michael Burress of the Ohio National Guard.
The four-person tank crews are learning to work together to position their tank, take aim and fire. Their goal is to blast a target a mile away and then fall back into a defensive position.
"It's a lot of training all at once, but that really kind of helps those crews get together and get more cohesive," said SSG Matthew Mingus of the Ohio National Guard.
Ft. Knox used to be the home for armored training, so the post's facilities are perfectly suited for the tank training.
"The ranges are just pretty phenomenal for us to be able to go and shoot and maneuver on," Burress said.
The "war on terror" has de-emphasized tank warfare, but these soldiers must remain prepared.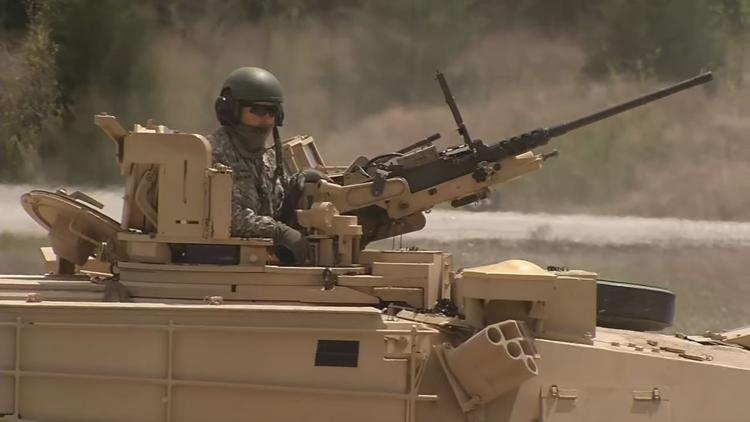 The 68-ton machines are what Burress calls "showstoppers."
"When you put tanks somewhere, it means business," he said.
"It's an effective tool, especially when someone is looking down at you from the other end," added SPC Kyle Donoghue of the Ohio National Guard. "They kind of tuck tail and run the other way."
It's hard work and long days, but the soldiers admit it's also lots of fun.
"Anytime you ... go ahead and get down in the gunner's hole and operate the main gun and shoot the big rounds downrange, it's a lot of fun," Donoghue said. "It's a good time."
The unit returns to Ohio at the end of April, more prepared for the call they hope never comes. 
Copyright 2019 WDRB Media. All Rights Reserved.