LOUISVILLE, Ky. (WDRB) -- This year's Pegasus Parade is issuing a call for all Marvel Comic superhero fans!
On Tuesday, it was announced that the theme for this year's parade will be "Pegasus Power," and several Marvel Comic characters will serve as grand marshals. The characters that will be featured are Black Panther, Spider-Man, Captain America and Black Widow.
"The parade has been bringing families and the community together for more than 60 years," KDF President and CEO Mike Berry said in a release. "This year's parade will be one for the kid in all of us and we can't wait to see fans in their favorite superhero costumes!"
Fans who attend the parade are encouraged to dress up in superhero costumes.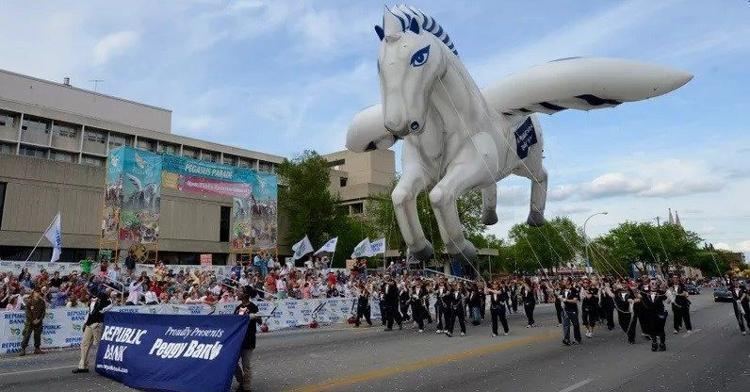 This year's parade will include 11 floats that will be sponsored by the following organizations:
City of St. Matthews
Grand Lodge of Kentucky
Hwang's Martial Arts
Kentucky Farm Bureau
Kentucky ProudKosair Shriners/Kosair Charities
Louisville Parks & Recreation
Louisville Zoo
Norton Healthcare
Second Chance at Life
The Fillies, Inc.
Inflatable balloon characters that will be featured in this year's parade include:
CareSource "Super Grover"
Central High School "Daniel Tiger"
Horseshoe Southern Indiana "Horseshoe"
LG&E "Louie the Lightning Bug"
Republic Bank "Peggy Bank"
Waystar "Secretariat"
This year's parade will take place on May 2. Fans can also view the floats and inflatables at the Pegasus Parade Preview Party on Tuesday, April 30 at the Kentucky Exposition Center in South Wing C. A Pegasus Pin is needed for admission to the preview party.
Tickets to the parade are available online.
Bleacher seats cost $10 and it's $12 for chair seating.
Copyright 2019 WDRB News. All rights reserved.