JEFFERSONVILLE, Ind. (WDRB) -- The side room near the kitchen in Marcus Edwards' Jeffersonville home used to be where his kids played video games. 
That's no longer the case. Now, it's Edwards' dialysis room, filled with needles, gauze and wipes.
"This became my life," Edwards said, referencing the medical equipment he needs."
It became his life in June when what he thought was the flu on a business trip to Florida turned out to be much worse. His kidneys are failing, so he sits in that homemade dialysis room five days a week, three hours at a time for the machine to flush his blood and do what his body cannot.
"Your kidneys flush your system," Edwards said. "That's why we urinate, to get the toxins and waste out. I'm not making enough urine."
The 49-year-old husband and father of four needs a kidney transplant after a complication from diabetes.
After a summer tied to machines, Edwards said his wife surprised him. Last week, she gave him tickets to see his favorite football team: the Chicago Bears. During the game, he held up a sign asking the world for help. It said, "I NEED A KIDNEY. O POSITIVE. 502-767-6267."
"I think this is just God's way of telling me, 'You got to do something. I'll be there for you, but this is what you need to do,'" he said.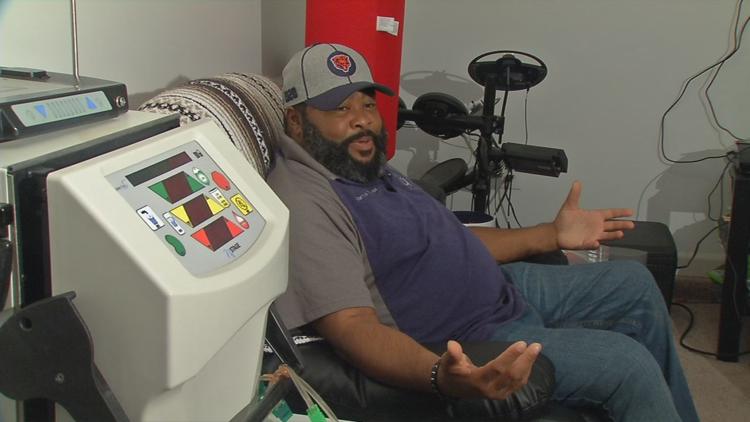 Jessica Jenkins was the stranger sitting next to Edwards, and she swooped in like an angel.
"Her exact words were, 'We're going to take this and make it go viral. We're going to find you a kidney,'" Edwards said.
Jenkins saw this as a sign.
"You can replace stuff, but you can't replace lives," Jenkins said. 
Jenkins has been on a mission to pay forward random acts of kindness every since a stranger saved her kids from a house fire last year.
"We've just done what we could here and there to help people, and Marcus just happened to be one of those people," Jenkins said.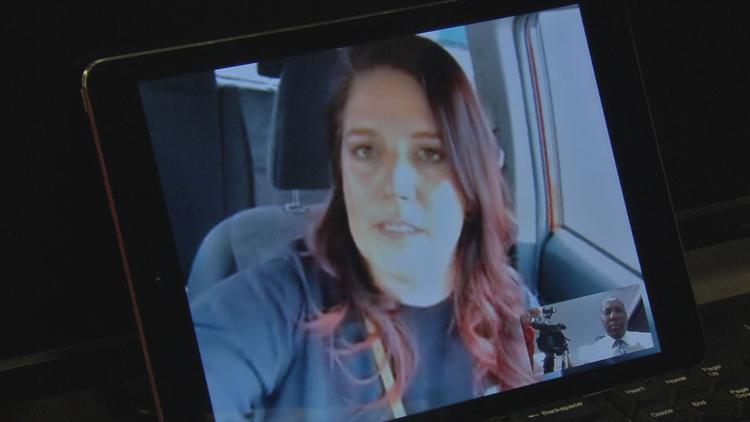 Her post pleading for help for Edwards has been shared thousands of times, prompting hundreds of calls from around the world, including one during our interview with Edwards.
The University of Kentucky's Transplant team said it's never seen such a response.
"This is all new to all of us," said Allyson Hinton, the pre-transplant coordinator for the UK Transplant Center. "This is a totally new and awesome experience to have."
There are 2,300 patients in Kentucky and Indiana waiting for organ donations. More than 1,800 need kidneys, and sadly, many will die while they wait. Nationally 13 people die each day waiting for a kidney.
"I feel like I jumped the line," Edwards said.
Many of those people calling in to help Edwards have started the screening process, but Edwards is still waiting on that perfect match. If nothing else, he hopes his tale will tell of how you can both live and give the gift of life.
"Those who reached out to help me that might not be a match or get the chance to help me please reach out to your living donor coordinator in your city," Edwards said. "Save someone else's life."
To be considered as a living donor, the potential donor should first contact the UK Transplant Living Donor Program at (859)-323-2467.
For information on being a living donor, CLICK HERE.
To donate to Marcus Edwards' GoFundMe page, CLICK HERE.
Copyright 2019 WDRB Media. All Rights Reserved.