LOUISVILLE, Ky. (WDRB) -- A junior at Mercy Academy was surprised Thursday morning when she found out she won the grand prize in an art competition. 
Mckayla Rakestraw's painting, featuring the iconic Twin Spires, signature Kentucky Derby red roses surrounding a horse and jockey reflected in the Derby trophy, was judged as best capturing "the spirit of the Kentucky Derby."
The annual competition sponsored by the Kentucky Derby Museum is called: "Horsing Around with Art: A Student's View of the Sport of Kings." The contest, now in its 33rd year, is open to students in grades 1-12 from Louisville Metro public or parochial schools. 
This year, more than 220 entries from 30 schools were submitted to the competition, according to a news release from the Kentucky Derby Museum. 
Rakestraw was not expecting to win, and was surprised when Kentucky Derby Museum's Patrick Armstrong, Education Coordinator Heather Hill and other staff members, along with several members of McKayla's family presented her with a dozen red roses and the news that she'd won the contest.
"Well I thought I was in trouble at first because the principal came and got me," she said. "But I'm kind of overwhelmed right now - like I didn't think I would win at all. So it's really exciting."
Mercy congratulated Rakestraw on its Facebook page Thursday morning.
The grand prize includes six box seats to this year's Kentucky Derby, and a $500 award for Mercy's art program.
Rakestraw says it took her a couple of weeks to complete the painting, and the hardest part was getting the roses and the reflection in the trophy just right.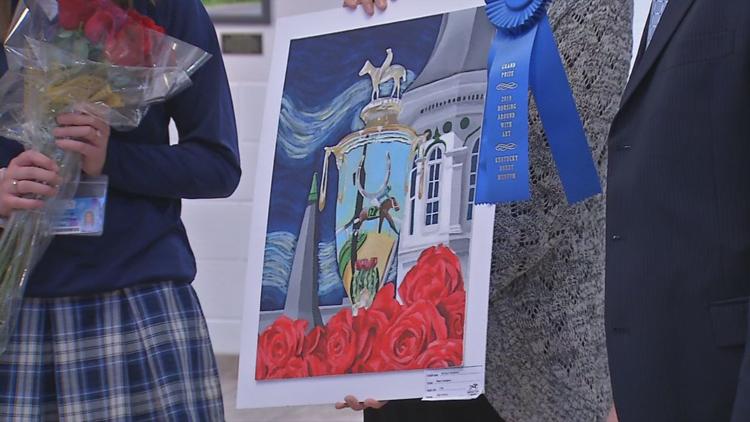 The attention to detail paid off. 
"I think the composition was fantastic, and the Van Gogh inspiration of the sky - we've had several comments on that - that drew the people into the piece," said Hill. 
"But the representation of the roses, and the trophy and the spires, it was just well done."
All winners and exhibiting students will be recognized during a ceremony at the Kentucky Derby Museum on February 12.
Rakestraw's painting will remain on display at the Kentucky Derby Museum for one year.
Click here for more information on "Horsing Around with Art," including a complete list of winners.
Copyright 2019 WDRB Media. All rights reserved.