LOUISVILLE, Ky. (WDRB) -- Employers nationwide are hungry to hire.
The national unemployment rate in June was 3.7%, according to the United States Bureau of Labor Statistics, up from May's 3.6%, which was the lowest rate in nearly 50 years.
That's where the unemployment rate has hovered for the last three years in the Louisville Metro Area. The last time the unemployment rate was below 4% in the Metro Area before this current economic cycle was nearly 20 years ago.
"Because unemployment is so low, there are so many positions open in the Louisville market," said Carrie Baylor, senior recruitment consultant with Job Post Media.
A job fair at Cardinal Stadium inside the Brown and Williamson Club on July 24 had more than 50 companies clamoring for talent.
"We are always recruiting staff," said Colleen Cotham, staff recruitment coordinator with the YMCA of Greater Louisville. "Whether it's childcare, housekeeping, membership, customer service."
Most of the companies are offering perks to get employees in the door and keep them there.
"Some of the things they're doing is they're increasing the benefits they offer to the employees," Baylor said. "Maybe making them eligible for health insurance earlier, upping their hourly pay ranges, different things or even some nontraditional perks such as offering lunches during the day or varying work schedules."
Even if you have a job, experts say it doesn't hurt to keep your eyes out. You could find a better gig without looking too hard.
"We really try to offer great benefits to our staff whether its free child care, a free membership for your family," Cotham said.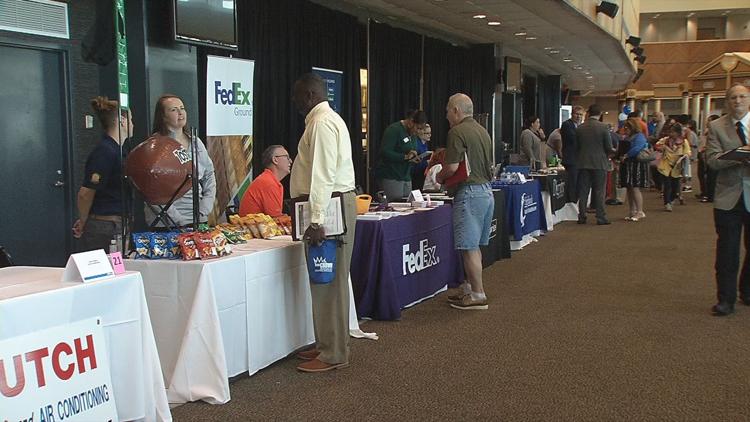 Companies like Futch Heating and Air will hire, and there's no experience necessary.
"The job pool, it's hard to find labor," said Adam Nolte, operations manager with Futch Heating and Air.
"Skilled trades are really hot right now," Baylor added. "It's a great opportunity to get into a high-paying job where an employer is willing to train you to get into that position."
Nolte said Futch employees earn a solid wage with full benefits and no student debt.
Click here for directory of companies and positions available at the fair. Many are still available.
Copyright 2019 WDRB Media. All Rights Reserved.