The holiday season is embodied by lights, which convey feelings of warmth, joy and comfort. But for children, unsafe situations exist — even during what's supposed to be the happiest time of the year.
Amid holiday merriment, parents can feel frustrated or overwhelmed — either due to financial strain, the expectations of visiting relatives, or taking care of kids who are out of school. Children may find themselves around parents at wit's end, or relatives they barely know. Any of those scenarios requires extra vigilance, says Shannon Moody, policy director at Kentucky Youth Advocates, which quarterbacks the "Face It" movement developed and funded by Kosair Charities.
Kosair Charities has worked for nearly a century to enhance the health and well-being of children. Face It addresses child abuse partly by building awareness — which during the holidays, includes reminding parents and caregivers of ways to keep children safe.
"For parents, the holidays can bring additional stress that's not as frequent or as concentrated during other times of the year," Moody says.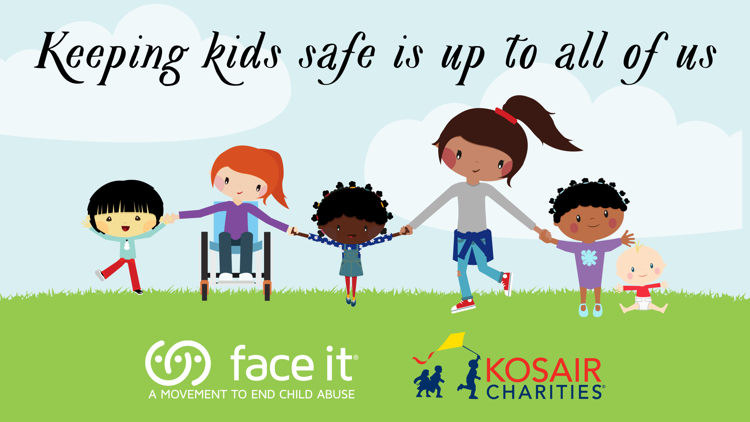 What's OK, and what isn't
Many people grew up with the expectation that they were to hug or kiss every relative who walked through the door during the holidays, even if they didn't know the person or felt uncomfortable around them. That obligation sends the wrong message to children, Moody says, because it forces them to do something they're not comfortable with — and later, can create issues around body boundaries and the concept of consent.
Instead, it's important to empower children to feel in control of their own bodies. While those conversations can feel awkward for parents, kids need to know what kind of touching is OK and what isn't — especially with a house full of guests for the holidays.
"They are really important conversations to have, especially in chaotic situations where there are several guests, and kids are spread out all over the house so it's hard to monitor them," Moody says. "It is the parent or caregiver's responsibility to make sure that they are having conversations with their kids about, 'How do you say no to a hug if somebody makes you uncomfortable?' Or, 'Who do you tell if somebody touches you in an area that they're not supposed to be touching you?'"
Ninety percent of children who are sexually abused know their abuser, Moody says. Warning signs may be a child who's unwilling to be around a certain person, or a kid who feels overly attached. Parents can implement safeguards by using the correct names for body parts, and who should see them. It's OK for certain adults to help during toilet training, for example, but not OK for adults to be in the bathroom once children learn to go by themselves.
Pressure and expectations
For parents, even a joyous time of year can bring frustration and judgment. Parents who are hosting family members for the holidays may feel overwhelmed, or that they're not meeting expectations. Add a crying baby to the mix, and there's the potential for the infant to be inadvertently mishandled — or worse.
"If your child is fussy during dinnertime, it creates pressure for parents to make sure they're meeting the expectations of their relatives," Moody says. "Often it's their own parents or siblings, people they love and respect and feel close to, who they often feel the most pressure from. So it's just making sure that parents remember, hey, you know what? It's normal for babies to cry."
Asking for help can often defuse the situation, given that relatives may feel more useful if they're assigned a task. Maybe the grandfather can read the child a book, or an aunt can rock the baby. Regardless, if parents of infants begin to feel it's all too much, it's important for them to put the baby in a safe place and take a few moments for themselves.
"That's one of the things we try to remind parents of, especially if they have kids under six months old," Moody says. "The peak of crying is about four months old, and that time is really sensitive for those kids who are at risk of physical abuse. That's when shaken baby syndrome happens. That's when crying can get to the point where it feels incessant. So make sure that parents feel it's OK to walk away and say, 'I just need the baby safe in their crib. I just need 5-10 minutes to step away,' so that they're not doing something rash."
It's a lot to take in, especially during a time of the year when parents can feel stretched thin. But parents need to give themselves a break, Moody says. "Giving themselves some grace and not being so hard on themselves is a really important part of being a parent," she adds. "I think we carry around a lot of guilt and feel a burden for not parenting the way that we want to, and that sometimes results in us constantly being frustrated or feeling overwhelmed."
Interested in learning more about protecting children, both during holidays and other times of year? Visit the website of Kosair Charities' Face It Movement at FaceItMovement.org. To donate to Kosair Charities, call (502) 637-7696 or visit Kosair.org/Donate. To receive parenting tips, jokes and inspiration, text "FacingIt" to 555-888.