Henry Hinson is a 6-year-old who plays the video game Roblox and watches Peppa Pig cartoons, and wants to be a chef, a doctor and a fireman when he grows up. He loves playing baseball and golf, would eat chocolate for every meal if he could, and when he looks at you in that certain way — well, just be prepared to melt.
"He will bat his eyelashes and take you for everything you're worth," his mother Erin says with a laugh. "He's cute, and he knows he's cute, and he's so good with people. He just has the personality that transcends any issues that the kid has, whether it's surgery or hospitalization or whatever it is."
Henry was born with spina bifida, a condition that occurs when the spinal cord doesn't close properly in the womb, often resulting in paralysis below the affected area of the spine. But being a full-time wheelchair user hasn't stopped Henry from swinging a golf club or a baseball bat, from trick-or-treating on Halloween, from attending daycare or taking part in arts programs, or from reaching his full potential.
He's done it with the help of proud, supportive parents, and Kosair Charities — whose grant program supports many of the organizations that improve the quality of life for Henry and other special needs children throughout Louisville and Kentucky.
"We all know it takes a village to raise a child, and that's never more evident than when you're raising a child who is complex medically. Our village exists because of Kosair Charities and their donors," Erin says.
"They don't try to go out and recreate the wheel. They come alongside people who are doing the work and infuse life into it," she said. "They know parents will be more successful when they have the resources they need."
More than a diagnosis
Those resources began to materialize before Henry was even born. Erin was 20 weeks pregnant when she learned her baby had spina bifida, and predictions were dire: she was told Henry's condition was incompatible with life, that she couldn't keep working if she had the baby. "It was a shock for the system," she says. "We spent a lot of time of grieving the loss of what we thought was a healthy, normal child. We didn't have a lot of answers."
She had always known of Kosair Charities — most everyone in Louisville does, given that the organization has been helping children since 1923. At the urging of a friend, she called them, and was connected with parents of other children with spina bifida, as well as resources that helped them prepare for the challenges ahead.
Now, Kosair Charities is "just like part of our family," says Erin, who also has an 8-year-old named Oliver. "They are an extension of Henry, because without them, I don't think Henry would be as successful as he is, and I don't think my husband and I would be as successful as parents."
Kosair Charities awards grants to organizations that assist children, giving out over $32 million over the past two years. Those donations have played a direct role in funding some of the organizations that Henry relies on, such as the Spina Bifida Association of Kentucky. Kosair Charities also supports Kids Center, where Henry receives physical and occupational therapy, as well as pediatric daycare Sproutlings, which Henry attended for four years — allowing his mother to continue to work.
"The way they thread through this community, it gives kids like Henry the opportunity to be more than a diagnosis," Erin says.
Mini-marathons and Halloween
But it goes beyond managing Henry's medical needs. Through First Tee of Louisville, a Kosair Charities partner organization, Henry has been able to discover golf, and learn how to swing clubs from his sitting position. He's been exposed to fine arts through the Arts for Kosair Kids program. He crossed the finish line in a local min-marathon, being pushed by Kosair Charities president Keith Inman.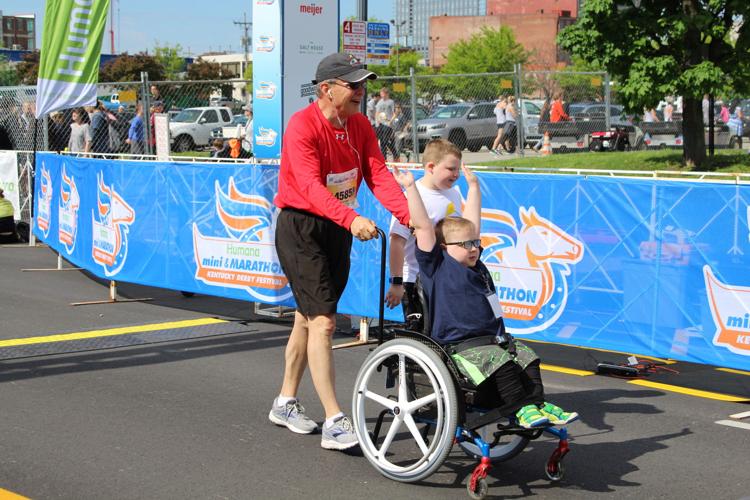 Through Kosair Charities, Henry has also been able to take part in events like trick-or-treating for Halloween, which can be difficult for kids who are unable to climb steps to a front door. And Kosair Charities has been there in other ways, too — like when a water main break flooded the Hinson's cars, with Henry's wheelchairs inside. Within a week, Kosair Charities was there with a replacement thanks to the Kosair Kids Financial Assistance Program. It's all part of the village the Hinsons have cultivated to help raise their son.
"We have spent the last six years of Henry's life looking for every opportunity to allow him to have a normal childhood. He would not be able to do that but for Kosair Charities," Erin says. "They are equipped and organized in a way that they can jump in when families are in the middle of a crisis. I don't know if we would be where we are today without them."
For nearly a century, Kosair Charities has worked to enhance the health and well-being of children in Kentucky. Use their online portal to donate, or for more information call (502) 637-7696 or visit Kosair.org.