LOUISVILLE, Ky. (WDRB) -- Janece Parsons lost her Jack Russell Terrier in April 2014. Her Oldham County family went to visit friends in Upton, Ky., and Army ran off with another dog. 
"He was a typically Jack Russell: in the trash can, wanting to jump out the window as you're driving, see a chipmunk, see a squirrel -- Boom! -- he would be after it," Parsons said. 
Parsons always believed loud noises from a nearby gun range spooked the two pups, prompting them to leave home. 
"So our friends went door-to-door, posted flyers for us," Parsons said. "I posted on Facebook, on Craigslist."
But nothing turned up.
"Every time I would go out I would be like, 'Is today the day where our dogs will be on the front porch or in the backyard playing?'" Parsons said.
Days turned to weeks. Weeks turned to months. Months turned to years. Parsons continued to hope for a fairy tale ending like the ones experienced by the two dogs and the cat in "Homeward Bound."
In fact, Army was more than just a lost dog. He was the heart of her family's story. 
"He's been through a deployment," she said. "My husband was in the Army. He's been to Iraq, and that whole long journey, (Army) was my companion, the person I told everything to."
Army was a close friend even after the deployment.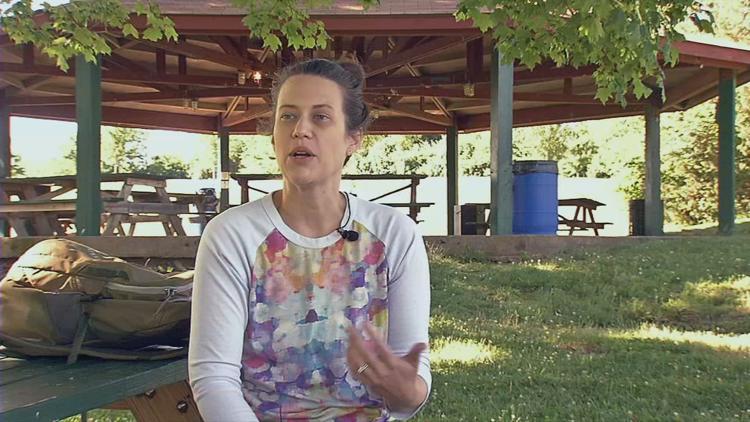 "When my husband got home, (Army) was his recovery dog," Parsons said. "He was actually injured in Iraq."
Tuesday brought a glimmer of hope, though, when someone called the Hardin County animal shelter saying they'd seen a dog tossed out of a car.
Animal Control checked his chip, and gave Parsons the news: Army had been found.
"I broke down," she said. "I was like, 'You found my dog!'"
No one knows where Army has been or whether the last five years were rough, but there are clues.
"His paws were soft, so obviously someone has taken good care of him," Parsons said.
He's 16 now, going blind and deaf.
"I knew he knew who I was by just my smell," Parsons said.
Now, Parsons plans to enjoy the time they have left together.
"This little guy hopefully can bring comfort to others, that ... don't give up. There is hope. They do come back," she said.
Army was one of two dogs that went missing on that day back in April 2014.
The other dog, Leia, is still gone. Parsons said this unlikely return has given new hope for her other dog. She said it also underscores the importance of microchipping your pets.
Copyright 2019 WDRB Media. All Rights Reserved.