LOUISVILLE, Ky. (WDRB) -- $10,000 worth of free rides are being offered to Kentucky residents to keep drunk drivers off the roads over the holidays.
Safe Ride Kentucky is teaming up with the Kentucky Distillers' Association to give out $10 ride credits through Lyft. Impaired individuals 21 and over can use the Lyft app to enter the promo code SAFERIDEKY2020 to claim a free ride between the weekend before Christmas and New Year's Day.
"We are proud to lead the coalition in offering discounted safe rides this holiday season for the third consecutive year," KDA President Eric Gregory said in a release. "We encourage all who will be venturing out to celebrate to do so responsibly and plan your transportation ahead of time."
The free rides can be claimed between 5 p.m., Friday, Dec. 20, and 5 a.m., Wednesday, Jan. 1. They are available while supplies last wherever Lyft is available in Kentucky. More information can be found at www.saferideky.org.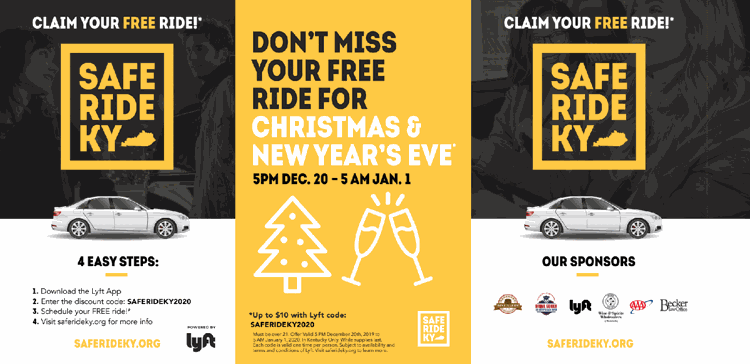 Since 2017, the Safe Ride Kentucky coalition has delivered nearly 9,000 safe rides during high traffic holidays including Christmas, New Year's, St. Patrick's Day, Independence Day, Labor Day and Thanksgiving.
DUI convictions have decreased steadily over the past five years in Kentucky, dropping from 21,785 in 2014 to 18,567 in 2018, according to Kentucky State Police data. In Jefferson County, that number was 2,331 in 2014 to a low of 1,1447 in 2018.
The Safe Ride KY coalition is led by the Kentucky Distillers' Association and joined by the Wine and Spirits Wholesalers of Kentucky, Becker Law Office, Independent Stave Company, Buzick Construction, AAA of Kentucky and supported by the Kentucky Office of Highway Safety and Louisville Metro Councilman Brandon Coan (D-8).
Copyright 2019 WDRB Media. All Rights Reserved.