LOUISVILLE, Ky. (WDRB) -- Seats from old Cardinal Stadium are selling quickly in an online surplus sale.
The Kentucky Venues sale of the seats began Monday, and by early afternoon, some seats were sold out. A public announcement on the GovDeals.com website says it has sold out of all seats in groups of two, three, four and five seats. According to the website, they hope to resume the sale on Tuesday. 
The seats are on sale through Feb. 8 for $50, but the seats are now being sold in groups of six, seven, eight and nine. CLICK HERE for a direct link to the page where seats are being sold. 
Many people have complained to WDRB News about not being able to get in on the sale. A representative from the Division of Surplus Property said they have received "thousands" of calls and emails about the seats. He said listings for the seats are being released on GovDeals.com in batches, and once each lot is sold out, the listing is no longer visible on the site.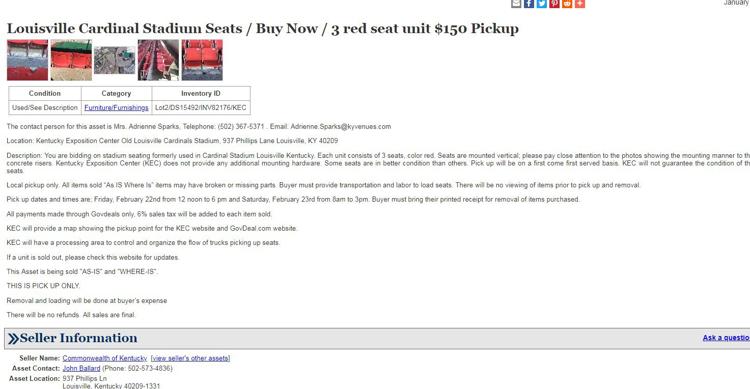 A kick-off for the demolition of old Cardinal Stadium was scheduled for last week, but it is expected to begin soon.
The stadium built in 1957 has a long history in Louisville and the Kentucky Exposition Center. Many remember attending sporting events and a variety of state fair concerts at the venue. The stadium fell into disrepair when the University of Louisville football team and Louisville RiverBats moved out in the late-1990s. The state began to dismantle the bleachers in 2014, and in 2018, funds were finally approved to tear it all down.
A Kentucky Venues spokesperson said money from the sale will be reinvested into the Kentucky Exposition Center. 
To find out more about buying stadium seats, CLICK HERE.
Related Stories:
Copyright 2019 WDRB Media. All Rights Reserved.