LOUISVILLE, Ky. (WDRB) – Authentic trainer Bob Baffert said "all systems are go" for his Kentucky-Derby-winning horse to head to the Oct. 3 Preakness Stakes.
"He looked in good shape today, like he's still full of energy. He's a horse that has a lot of energy, as you could tell in the Winner's Circle," Baffert joked Sunday morning in the Churchill Downs paddock.
Authentic was bothered by the ribbons that were attached to the garland of roses and nearly got away from his handlers, knocking Baffert to the ground in the process.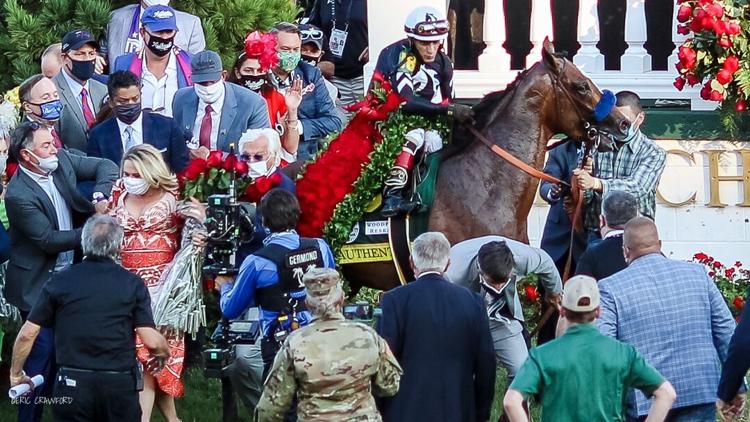 This came after Thousand Words, Baffert's other Derby entry, flipped over and fell in the paddock prior to the race and was scratched. Baffert said Sunday morning that Thousand Words was fine, but assistant trainer Jimmy Barnes suffered a broken wrist in the incident.
"Today's his birthday. Poor guy," Baffert said of Barnes. "But he was at the barn this morning early, checking the horses out." 
Thousand Words is also being pointed toward the Preakness. Both hopefuls will remain at Churchill Downs before shipping to Baltimore.
Baffert, who won a record-tying sixth Kentucky Derby on Saturday, spoiled favorite Tiz the Law's Triple Crown bid. Baffert is looking forward to the possible rematch. He is going to keep an eye on Authentic to make sure his Derby champ is ready.
"Tiz the Law, he's going to be tough," Baffert said. "As long as (Authentic) is doing well, if he gets on the plane, that means I feel good about it and he's doing well."
Related Stories: 
Copyright 2020 WDRB Media. All Rights Reserved.