LOUISVILLE, Ky. (WDRB) – A fourth-grade grammar assignment at Stopher Elementary has sparked a backlash from some parents who say one of the questions appears critical of Republican Gov. Matt Bevin, who is running for re-election Nov. 5.
In a Monday homework assignment, students had to determine whether a given sentence needed a comma before a conjunction and then underline the conjunction used.
One of the sentences that students had to analyze read, "He ran against Matt Bevin, for governor of KY so I voted for him."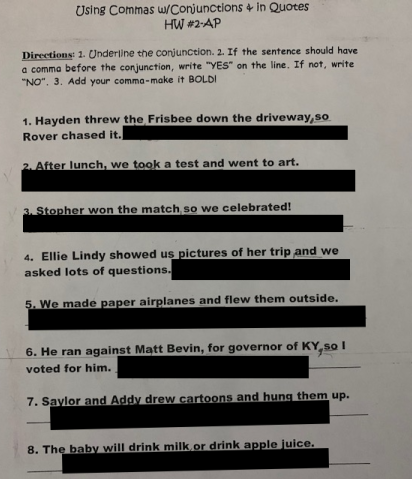 A Stopher Elementary parent, who requested anonymity to protect his child's identity, said in an email to WDRB News that the statement seemed like a political endorsement.
"I'm a huge believer of the separation of politics in education and that one should not influence the teachings of our children and their political opinions," he wrote in the message. "Teachers have an incredible influence over our children, as they generally spend more time with the child than do the parents.  As such, I consider this is an egregious act of intentional brainwashing."
Another Stopher Elementary parent who posted on Facebook about the homework assignment did not respond to a message seeking comment Tuesday.
Stopher Elementary Principal Brigitte Owens wrote in a letter to parents that the teacher did not intend for that sentence to be perceived as a political endorsement.
"We are addressing the situation and assure you that assignments will be more closely monitored," Owens wrote in the letter, which was provided by Jefferson County Public Schools.

The parent who initially reached out to WDRB News said Tuesday that he's satisfied with the school's response to the anti-Bevin homework question.
One mother of a former Stopher Elementary student says she understands why there's been public consternation with the teacher's grammar assignment. 
"But with that said, I think it's just another sign of our environment just being so darn polarized right now," Alicon Bradshaw said. "I think anything that is said that is political -- it doesn't matter who it's for and what side of the aisle or in the middle -- someone's going to take offense to it, and it's going to cause a lot of controversy and craziness, and it shouldn't be like that."
Neither Bevin's office nor his re-election campaign responded to a message seeking comment Tuesday.
Jefferson County Teachers Association President Brent McKim said while it's "generally safest" to refrain from mentioning current political figures in assignments, the Stopher grammar homework "did not ask anyone to vote one way or the other and was just a sample sentence to practice punctuation."
"Given how the Governor has repeatedly verbally attacked teachers, it's not surprising a teacher may have worded a sentence that could be interpreted as being implicitly negative about him without even realizing it," McKim said in a message to WDRB News.
JCTA's political action committee, Better Schools Kentucky, has given $4,000 to Democratic Attorney General Andy Beshear's gubernatorial campaign and $300,000 to Kentucky Family Values, a super PAC working to elect him, according to campaign finance filings.
Bevin will face Beshear on Nov. 5.
Copyright 2019 WDRB Media. All Rights Reserved.