BULLITT COUNTY, Ky. (WDRB) -- A 54-year-old Bullitt County man was hemorrhaging when his wife called 911 on Tuesday. Ray Hodge was throwing up blood, fighting the lung cancer that had consumed his body for the last three years.
"He never quit," Hodge's wife Shonda said.
But from the time Shonda Hodge hung up with a Bullitt County dispatcher Tuesday afternoon, it took 27 minutes for a paramedic to reach her husband, 911 records show. Of the three first responders that showed up at the Hodge's home, not one was a paramedic. Bullitt County's basic EMTs answered the call.
The difference between an EMT and a paramedic matters in terms of care. A paramedic can do more sophisticated procedures, which in this case, could have helped Ray Hodge breathe better.
On a stretcher, flat on his back, Shonda Hodge said her husband continued to vomit up pure blood.
"He kept raising up, and they kept pushing him down," she said, tears streaming down her face. "And I kept telling them, 'He can't do that! He can't lay down like that!"
Ray Hodge died that day.
WDRB News spoke to five Bullitt County EMS first responders: two on camera who asked to hide their identities, fearful that speaking out could cost them their jobs.
"There are some interventions that needed to be done immediately," one of the whistleblowers said. "So in this case, this patient may have been needing fluid resuscitation. This patient may have needed an advanced airway such as intubation, and that was withheld. We weren't able to do that."
Basic EMTs can't do that. Paramedics can. So why wasn't a paramedic sent to Ray Hodge's home?
It all stems from a change made just one day before Shonda Hodge called 911, Kenny Hardin's first move as the new Bullitt County emergency services director. Bullitt County has a critical shortage of first responders, only five full-time paramedics for a population of 80,000 people. About 20 part-timers fill in the gaps. That's not enough paramedics for every ambulance on every shift, some of which have only one paramedic on duty.
"I'm beginning to wonder if maybe my back seat might have been faster to qualified help than what we got," Shonda Hodge said.
 Under the old policy, paramedics would stay in a "chase car," stationed throughout the county, and rush to meet EMTs at the most critical scenes.
"A lot of times, (paramedics) hadn't responded to anything that wasn't something they felt they needed to go," Hardin said. "A regular EMT was handling a tremendous amount of it. (Paramedics) were choosing the runs they wanted to go on."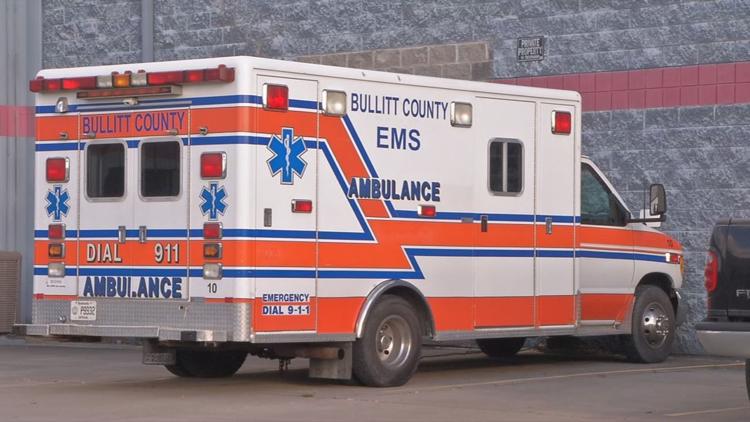 The new policy takes paramedics out of the chase car and assigns them onto specific ambulances, meaning they could get locked into a call that's not critical or delayed when they need to back up an EMT.
"There's a good possibility that the paramedic would have been on scene during this (when the EMT arrived)," one of the whistleblowers said. "All three of them would have been walking in the door together."
These EMTs say the new policy leaves holes when minutes matter most.
911 records show it was 15 minutes from the time EMTs arrived to when a paramedic reached Ray Hodge. The same medic who'd previously been in a chase car sat at the base and watched the EMTs leave. When they radioed for help, the paramedic met them in front of Roby Elementary School and jumped from his assigned ambulance into the ambulance carrying Ray Hodge en route to the hospital.
It was 2:15 p.m., 27 minutes after Shonda Hodge called 911, according to Bullitt County dispatch records.
"They took him there because he's gone," Shonda Hodge said through tears. "I knew."
"It may have absolutely been prevented," one of the whistleblowers said. "He would have had more of a surviving chance had we been able to provide certain interventions to prevent his death."
Hardin now says the chase car change, which took effect at 8 p.m. Monday, is being re-evaluated.
In March Ray and Shonda Hodge would have celebrated 24 years of marriage. She knew her husband was terminally ill. 
"You're supposed to feel relief when you call 911," she said. "I don't think they caused his death. Do I think they could have hurried it up quite a bit? Yes, I do.
"I still wanted him to get the best care possible." 
Copyright 2019 WDRB Media. All Rights Reserved.